2021 Orlando Magic Player Evaluations: Nikola Vucevic will be remembered as an Orlando Magic legend
In the midst of a horrible year for the Orlando Magic, there were few bright spots.
One of them was Nikola Vucevic.
The trade of Vucevic left Magic fans heartbroken, but the departure was different from previous all-star centers. This time around, Vucevic left while receiving love from fans. He left an impact on Orlando and left as one of the best players in franchise history.
It felt like there was still work for him to do. And even as the team fell apart around him and the team opted to restart, it still felt like Vucevic could be a pillar for the team to rebuild around. Or at least someone who could provide some stability.
Nobody confuses Vucevic as one of the members of the franchise's Mt. Rushmore. He lacked the playoff success and the consistency through his long tenure. But this season cemented his legacy with the team and flipped the discussion about him and his career with the team.
In a year where the Magic struggled with injuries, Vucevic was a constant and delivered every night. With the Magic, he averaged 24.5 points, 11.8 rebounds, and 3.8 assists while shooting 48-percent from the field and 40.6-percent from three.
The Orlando Magic had few positives this season. Nikola Vucevic though established himself as an All-Star and someone who will have a solid place in the team's history.
He continued that with the Bulls where he averaged 21.5 points, 11.5 rebounds and 3.9 assists per game while shooting 38.8-percent from deep and a 53.2-percent effective field goal percentage. Having a scorer like Zach LaVine showed a lot of promise, but injuries followed him again as LaVine missed two weeks for health and safety protocols and the Bulls missed the playoffs.
Vucevic always had to carry an unfair burden. He was constantly putting the Magic on his back and giving them chances to win. But unfortunately, it was not enough and Orlando spiraled.
Vucevic still put the league on notice as he became a two-time all-star this season. He showed he is an actual all-star by having two 40-point games and eight 30-point games.
Vucevic took this season and proved there was a next level to his game. And if only the team had stayed healthy, maybe history would have played differently. Vucevic showed that the 28 points, 11 rebounds, and 4-assists against the Bucks in the five-game series in the bubble would continue into the next season.
Even in a year where Vucevic's usage rate was high at 29.9 -percent, which ranks 15th in the NBA, he still held a positive defensive box plus/minus with a plus-0.1 and a total plus-5.6 on the floor.
He was always in the right position defensively. He also continued to improve on that end as a leader and as an individual defender.
The Magic were terrible around him, but Vucevic was a constant positive. Orlando struggled to try to replace him and the versatility he brought.
But maybe that was part of the plan. Orlando wanted to reset itself and find the star that Vucevic just could not be. Despite his best efforts this season.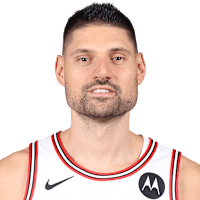 NIKOLA VUCEVIC
C,
Orlando Magic
A
In the end, this season will be remembered based on the success of the trades Orlando did at the trade deadline. But this season should also be remembered for how great Vucevic was for the Magic.
Overall, Nikola Vucevic had his best year in his career, but the Magic's record does not represent how good he was.
Individually he carried and did his best to give Orlando a chance to win, but due to injuries and bad luck, it was not enough for them to keep up in the standings.
But on his own, Vucevic ended his Magic tenure with a bang and will always be remembered as a Magic great. He deserved a better ending with Orlando, but regardless of how the season ended, he still earned an A on the season.