2020 Orlando Magic Player Evaluations: James Ennis settling into Orlando
The Orlando Magic acquired James Ennis to provide some stability and poise to a roster upended by injury. He delivered even with some down numbers.
The Orlando Magic had gone through so many injuries and struggled to find a way to make their lineup fit, that they seemed willing to try just bout anything to "save" their season.
The team was not in danger of missing the playoffs still. The Eastern Conference had started to sink to the bottom and the Magic were holding steady.
But, of course, the Magic still wanted to do more. They did not want to merely make the playoffs, they wanted there to be no doubt they were a playoff team. They still had dreams of climbing the ranks and maybe pulling off an upset — or at least being a tough out.
As the trade deadline approached, the Magic were still struggling to figure out how to replace Jonathan Isaac. They had cycled between Khem Birch and Wesley Iwundu depending on the matchup (allegedly). And it just was not working.
The team did not have much it could afford to give up. And the Magic were not a likely candidate to make a splashy move with all the injuries they were facing and their slim margin for error to make the playoffs.
Like last season when they found Michael Carter-Williams, the right rotation piece could be enough to help the Magic find some stability to make a playoff push. So they once again called up Elton Brand and the Philadelphia 76ers and picked up a player they were not using.
James Ennis built a reputation as an athletic finisher and tough defender. He was good for a few spot starts but not much else. He was not a great shooter but was good enough to get some respect.
More than anything, the Magic sought stability from James Ennis. They wanted someone who could better handle minutes at small forward without any incident. They were looking for a veteran they could trust for playoff minutes.
They got that. They got a player with a little bit of an edge — as he showed in his Game 3 dustup with Marvin Williams — and they got someone who could fill in the role necessary to start games.
Fitting In
James Ennis' production was never meant to be super impressive. He averaged 8.5 points per game on a 51.9-percent effective field goal percentage in 24.5 minutes per game in his 20 games played with the Orlando Magic. His presence in the starting lineup seemed to put every player back in their best spots.
Per Game Table

| Season | Tm | G | MP | FG% | 3P% | eFG% | FT% | TRB | AST | STL | BLK | PTS |
| --- | --- | --- | --- | --- | --- | --- | --- | --- | --- | --- | --- | --- |
| 2019-20 | TOT | 69 | 18.3 | .446 | .325 | .522 | .806 | 3.6 | 0.9 | 0.5 | 0.3 | 6.6 |
| 2019-20 | ORL | 20 | 24.5 | .451 | .286 | .519 | .838 | 4.8 | 1.1 | 0.6 | 0.4 | 8.5 |
| Career | | 347 | 20.1 | .455 | .350 | .533 | .795 | 3.3 | 0.9 | 0.6 | 0.3 | 6.5 |
Playoffs Per Game Table

| Season | G | GS | MP | FG% | 3P% | eFG% | FT% | TRB | AST | STL | BLK | PF | PTS |
| --- | --- | --- | --- | --- | --- | --- | --- | --- | --- | --- | --- | --- | --- |
| 2019-20 | 5 | 5 | 23.8 | .343 | .250 | .400 | .778 | 5.8 | 1.2 | 1.0 | 0.4 | 3.8 | 7.0 |
Starting James Ennis put Khem Birch back to the bench and eliminated all of the two-big lineups the team was trotting out — something Steve Clifford even recently admitted did not work out, mismanaging how roles within those lineups — and put Aaron Gordon out power forward and closer to the basket where he was significantly more effective.
Ennis was just a grinder who fit into the Magic as a whole, even if he was not able to make a huge defensive impact. That was never his role to begin with.
Defensive grinder
What the Orlando Magic wanted James Ennis to do was to get in and fit into the team's larger defensive scheme, attack off the basket with cuts and hit open 3-pointers. It is hard to say he did not do all those things, although to say how deep that impact went is a bit fudgier.
Ennis joined the team when the Magic's offense was taking off and their defense was cratering. His on-off numbers reflect that.
The Magic had a 110.4 offensive rating with Ennis on the floor, but had a 115.6 offensive rating overall from Feb. 10 to the end of the season (Ennis' first game). Orlando had a 111.2 defensive rating with him on the floor (not a great number), but the team had a 114.6 defensive rating overall in that time.
So there was at least a marginal effect on the team's defense. This is ultimately where Ennis provided the most value to the team — defensive consistency. He just happened to be on the team when they were at their worst defensively.
Among rotation players, James Ennis trailed only D.J. Augustin in on-court defensive rating. Ennis was largely apart of the Magic's best defensive lineups during his time with the team.
Ennis does not rack up a ton of defensive statistics. It is hard to measure what he does. But what he is best at is the ability to chase around cutters and recover quickly to challenge shots. Ennis' value is in how he gets to his spots quickly.
His anticipation and ability to beat even great players to their spots is what is most impressive.
Russell Westbrook coming downhill is daunting for any defender. But Ennis is able to beat him to his spot and knock the ball away for a steal.
This is a perfect example of Ennis' value defensively. Teams rarely attack him in isolation, but it is something they do occasionally. And he can hold his own consistently.
The Magic certainly could trust him to defend the best wing players or second-best wing players on any team.
Surprisingly too, Ennis is a good shot blocker for a player his size. That is a sign of his ability to contest shots too.
This is more a sign of his work rate and willingness to hustle.
Ennis had plenty of blocks like this where he comes off his spot to make a play and contest a shot. And every indication is Ennis is simply a hard worker who knows his place in this league is to make solid defensive plays and be reliable on that end.
That fit perfectly with the Magic's defensive schemes and his value there was very apparent.
Defensive metrics like RAPTOR or Real Plus-Minus, however, do not like him defensively. Indeed, Ennis can sometimes get caught out of position. His one-on-one defense is not elite by any stretch.
It is simply adequate.
Good enough on offense
That is probably why James Ennis has bounced around the league some. He proved himself good enough to earn a rotation spot and provide some solid foundation defensively. But he still has work to do.
And that goes double offensively.
Coach Steve Clifford said consistently that James Ennis is a reliable shooter. Yet, the stats simply do not back that up. Ennis shot only 28.6-percent on 3-pointers with the Magic this season. He is a career 35.0-percent 3-point shooter. So there is room for improvement.
He shot 38.5-percent on pull-up 3-pointers, suggesting he can hit in transition. That was where he was at his best. But his spot-up 3-pointers were poor — he had just a 43.2-percent effective field goal percentage on spot-up opportunities with the Magic this season, according to NBA.com's tracking statistics.
Teams were more than happy to let him shoot 3-pointers then. And that congests a lot of the team's spacing when he is out there.
Like on defense, where Ennis made the most of his opportunities is by moving off the ball.
He traveled 7.5-feet more than other similar players according to Basketball Index and derived 23-percent of his possession on off-ball movement. Both numbers are in the 73rd percentile in the league.
Like on defense, Ennis is good at sensing where there are openings and getting to them to make himself available.
Ennis here does a good job coming off the screen hard and immediately getting into his shot. It seems like a little bit of movement helps Ennis with his rhythm. He is not much of a stand-still shooter, but when he gets a step back move or some type of motion, he is able to find his rhythm.
This cutting ability also helps him sneak in for offensive rebounds and putbacks. His 2.1 offensive rebounds per 75 possessions and 1.3 putbacks per 75 possessions rank him in the 73rd percentile in the league and is certainly encouraging for a guard.
What's his role?
But all of this is just OK. Is it what the team wants from a starter?
That is probably asking too much of James Ennis. Every team needs a grinder who just fills in the gaps and plays on pure hustle.
Under that criteria, Ennis certainly played his role and played it well. His experience and confidence within the Orlando Magic's system were huge benefits in the playoffs.
As Steve Clifford would note in defending Ennis' poor shooting percentages, a lot of it was simply Ennis still getting used to his new team. Clifford said Ennis was playing better and getting more comfortable when the season went on hiatus.
There might be something to that. He scored 11.0 points per game (although still shooting 26.7-percent from deep) in the eight seeding round games and then scored 7.0 points per game in the playoffs, although his shooting percentage nose-dived to 34.3-percent.
That was especially impressive considering Ennis was late arriving to the campus after testing positive for COVID-19, one of two confirmed cases within the Magic.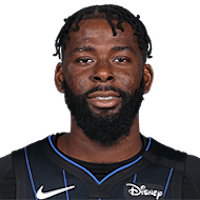 JAMES ENNIS
G/F,
Orlando Magic
B
Ennis holds a player option for the 2021 season. And he will face a difficult decision on whether to test free agency in this uncertain offseason.
He had a lot of control in deciding whether to head to the Orlando Magic in the first place — the way his contract was set up with the Philadelphia 76ers, he essentially had a no-trade clause. He said he saw Orlando as an opportunity to get playing time and thus approved the trade.
With Jonathan Isaac out yet again, it feels like Ennis will have that opportunity to play again. The Magic are not likely ready to trust Chuma Okeke as a starter right out of the gate at small forward and nobody wants to see the team try Aaron Gordon there again.
Barring any changes to the roster, Ennis looks like he will be the starter again.
Orlando could certainly use to see him return to his career averages as a shooter. If he did that, then he would be a very valuable player to a team that faces a lot of questions next season.