2020 Orlando Magic Player Evaluations: Evan Fournier's incomplete redemption
Evan Fournier was one of the few disappointments in the Orlando Magic's 2019 run. His 2020 season looked like it was his chance for redemption.
The Orlando Magic were disappointed with their 2019 Playoff showing.
They had that breakthrough win in Game 1 and it was an accomplishment in itself for a team that was out of the Playoffs for seven years to breakthrough. But with that taste, everyone wanted more. They wanted to deliver for a fan base that had stuck with them (sometimes unwillingly) through some very dark times.
The focus at the end of that season was on Nikola Vucevic. The Magic's All-Star center struggled to shake off the Toronto Raptors' physicality. And those who doubted him quickly pounced on this moment of weakness after a consistent season.
Much of Vucevic's season was building toward his potential redemption in a second trip to the Playoffs.
But Orlando's playoff frustrations in 2019 were not solely on Vucevic. It was a teamwide struggle to get used to Playoff basketball. The Magic knew the experience would help them prepare for a second go-round, but they would not know until they got there.
The team needed a steely determination to prove a lot of their doubters wrong. And if anyone had more to prove this season to put a poor postseason behind them, it was Evan Fournier.
Evan Fournier averaged 12.4 points per game on a 40.6-percent effective field goal percentage. That included a frustrating 1-for-8 shooting performance from deep in a tight Game 3. That was a cap to a disappointing season for Fournier where he simply did not play up to his standards.
The Bounce Back Season
But Evan Fournier had the bounce-back season that the Magic were hoping for, well at least for most of it.
In 2019, Fournier averaged 15.1 points per game (his lowest since his first year with the Magic) and shot a career-worst 34.0-percent from deep. This was an uncharacteristic season that nobody seemed able to explain.
But Fournier entered this season already on a tear and in a rhythm, having led France to the bronze medal at the FIBA World Cup, averaging 19.8 points per game (seventh in the tournament) on a 47.8-percent effective field goal percentage.
That carried over into the regular season.
Before the NBA shut down, Fournier was having himself a career year. As the team dealt with injuries, Fournier was able to provide a stabilizing force for the Magic.
That energy petered out some when the calendar flipped to the Playoffs for various reasons. Fournier's redemption season was not complete. Unlike Nikola Vucevic, Evan Fournier did not deliver in the biggest moment. That may very well have cost the team the tangible progress and validation it sought from the postseason.
And it is impossible to tell the story of Fournier's season without this part.
Per Game Table

| Season | G | GS | MP | FG% | 3P% | eFG% | FT% | TRB | AST | STL | TOV | PTS |
| --- | --- | --- | --- | --- | --- | --- | --- | --- | --- | --- | --- | --- |
| 2019-20 | 66 | 66 | 31.5 | .467 | .399 | .560 | .818 | 2.6 | 3.2 | 1.1 | 1.9 | 18.5 |
| Career | 523 | 381 | 28.4 | .449 | .375 | .528 | .807 | 2.7 | 2.6 | 0.8 | 1.6 | 14.1 |
Playoffs Per Game Table

| Season | G | GS | MP | FG% | 3P% | eFG% | FT% | TRB | AST | STL | TOV | PTS |
| --- | --- | --- | --- | --- | --- | --- | --- | --- | --- | --- | --- | --- |
| 2019-20 | 5 | 5 | 34.2 | .351 | .343 | .456 | .706 | 4.0 | 2.6 | 1.2 | 1.8 | 12.8 |
Still, it is important to point out Fournier had a good season, averaging a career-high 18.5 points per game and shooting 46.7-percent from the field and 39.9-percent from beyond the arc.
But in the playoffs, he struggled as he scored 12.8 points per game and shot 35.1-percent from the field and 34.3-percent from three.
Coach Steve Clifford revealed in a postseason teleconference that Evan Fournier got sick almost immediately upon entering the NBA campus at Disney. He was unable to do any physical activity for nearly a week — he went to practice and just sat and drank water. It was clear to Clifford Fournier was struggling to keep his conditioning up and have his legs under him.
Indeed, in the five seeding round games he played, Fournier averaged only 14.4 points per game while shooting 43.3-percent from the floor and 28.6-percent from beyond the arc for a 50.0-percent effective field goal percentage still.
Clifford said Fournier would never use that as an excuse. But Fournier's frustrating postseason play certainly had an effect on how competitive the Orlando Magic could be against the Milwaukee Bucks in the first round.
"I think it was like seven days where he couldn't do anything," Clifford revealed about Fournier's illness during a teleconference with media. "It's hard to come back from that, especially playing at that level and the games are that intense. It's never one thing. For sure, to play in a playoff series, you have to be at your best and healthy and he wasn't close to that."
Although this is the second year in a row struggling in the playoffs, the front office should not use these 10 games after the season's hiatus as the deciding factor.
Fit for the Future
While Evan Fournier played well during the season, his fit on the team is still in question. It was never about his production, but more about the playstyle he played with.
Fournier is the kind of player who likes to watch how the defense develops and is not always in a pure attacking mode. As the Magic try to pick up the pace, it is unclear whether the Magic can get the most out of Fournier in his current role as a secondary playmaker and ballhandler. It is equally unclear whether this is the best role for Fournier moving forward too.
Ideally, Orlando would use Fournier more as a cutter and spot-up shooter, two of his greater skills, rather than as a primary attacker off the dribble, someplace where he is average at best.
In this play, although it is a broken play, Fournier should take this chance and attack the scrambling defense instead of waiting for the defense to set up and settle for a poor shot.
Fournier does this too often, instead of attacking off of a pass and trying to score, he would stop the swing, and try to size the defender up and then attack.
Fournier's time on the floor led to a slight increase in the team's pace, according to BBall Index. But he still largely focused on pick and rolls and plays that take time to develop. Fournier is not beating most quality defenders off the dribble without that screen help.
Fournier often takes this beat to set up a pick and roll to attack the basket. He was not an efficient driver — not often able to get all the way tot he basket, but able to finish when he got there — but this was one of his preferred ways to attack.
In this case, Fournier shoots without hesitation and does not give the defense a chance to recover.
This is Fournier at his best and takes the Magic offense up to another level. Fournier was among the elite players in the league working off cuts and moving off the ball. According to BBall Index, Fournier shot a 57-percent effective field goal percentage off screens and 77-percent field goal percentage off cuts.
If anything, Orlando did not use him as a cutter and working off screens enough. And some of that is because the Magic needed to use him as a secondary ball-handler.
Fournier's offense is two sides of the same coin. The problem is Fournier is inconsistent with how he decides to play the game and the Magic put him in positions where he is inconsistent rather than using him completely to his strengths.
When Fournier is in attack mode and looking to score off the pass, then the offense is dangerous. But when Fournier decides to size up defenders and stops the flow, the offense starts to bail out defenses.
That disrupts the Magic offense and is part of the reason the Magic rank 24th in points per game and 23rd in offensive rating. It is part of why the team's pace remains so slow. The Magic have not been able to optimize Fournier or use him where he is at his best.
The Decision Ahead
The Orlando Magic's decision on Evan Fournier this offseason will be a tricky one then.
The Magic do not have full control over the situation as Fournier has a player option for next season, but the Magic are going to have to react based on Fournier's decision. What he does could dictate what the Magic can possibly accomplish this offseason and into the 2021 season.
It is very likely Fournier will opt-in to the final year of his deal. So the Magic will have Fournier to rely on offensively again. The question will be how much they should rely on him and how they use him.
That might depend on who else they bring in and what they do this offseason.
Inevitably though, the Magic cannot pay everyone. They are already bumping up against the salary cap and have big contracts to hand out to Jonathan Isaac and Markelle Fultz at the end of the 2021 season.
The Magic certainly need Fournier's shooting ability. But he may very well be the odd man out as the team tries to create its vision for the future. He still represents the old guard that many fans are trying to grow away from.
Final Grade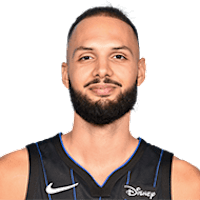 EVAN FOURNIER
G/F,
Orlando Magic
B
At the end of the day, Evan Fournier was solid for most of the year. He was a stabilizing force offensively, turning in a career season and being one of the few players to make it through the entire season without an injury — his elbow injury just before the league went on hiatus, excepted, which might have knocked him out for most of the remainder of the regular season.
Fournier is not a perfect player by any means. Even though he played well statistically and added important elements to the team, there is still a lingering feeling of where his ultimate fit is. That could be a problem that comes to a head in the 2021 season. Or the Magic could optimize him and put him in a role where he can be even more successful and efficient.
But a second straight poor postseason, illness notwithstanding, is a cause for concern. Fournier has not figured out how to make himself effective where things matter. And if the Magic are truly about winning and competing at a playoff level, Fournier has not been able to reach game 83, so to speak.
If this season was about Fournier's redemption from a poor 2019 campaign, then he only got halfway there. Conditions certainly conspired against him in the playoffs this season. But that is where players ultimately get judged.