Orlando Magic prepare to go young, integrate new players into rotation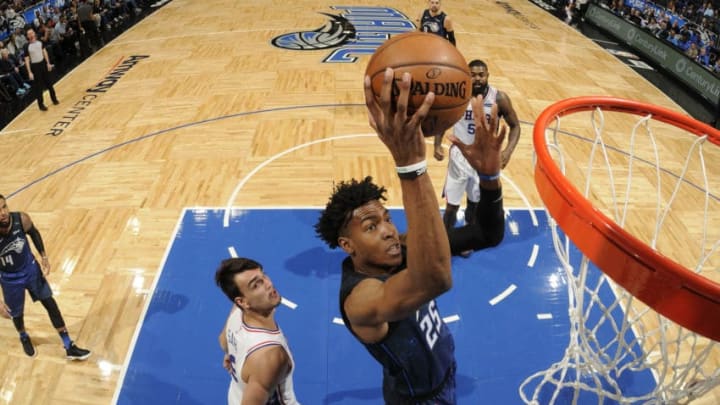 ORLANDO, FL - MARCH 22: Wesley Iwundu #25 of the Orlando Magic shoots the ball against the Philadelphia 76ers on March 22, 2018 at Amway Center in Orlando, Florida. NOTE TO USER: User expressly acknowledges and agrees that, by downloading and or using this photograph, User is consenting to the terms and conditions of the Getty Images License Agreement. Mandatory Copyright Notice: Copyright 2018 NBAE (Photo by Fernando Medina/NBAE via Getty Images) /
The Orlando Magic have two goals the rest of the year. They want to win. But they will do so by integrating young players into the rotation.
The Orlando Magic were essentially eliminated from the Playoffs a few months ago. The officially lost those Playoff dreams earlier this month. The season certainly took on a different goal from that point forward.
The impetus to win for some long-term goal certainly dissipated. Wins stopped having much meaning other than an ambiguous growth of culture. But the team dutifully kept trying to push forward.
Albeit now with a different goal in mind.
Coach Frank Vogel has admitted he wants to distribute his minutes differently. He wants to give young players a chance to grow and develop. They will get more time.
The rotation changes since this public pronouncement last week have been subtle. But the Magic's goals and the outlook for the rest of the season has changed. Undoubtedly it has changed. The starters will still get their time, but Vogel will introduce more of the young players into the rotation as the season winds down.
""We're still playing our guys pretty regular minutes and get those guys developmental minutes to grow and help us win," Vogel said last week. "Strengthening your youth is part of building a winning culture and part of positioning ourselves for next year to hit the ground running and start strong. These guys have opportunities to go. I don't think in the short term it will be too different than what we have seen in the last few weeks.""
The minute distributions have not changed a whole ton in the last three games. Aaron Gordon is averaging 32.4 minutes per game (his season average is 33.6). D.J. Augustin surprising leads the team in minutes played in that stretch — 32.6 minutes per game. Nikola Vucevic is averaging 29.7 minutes per game, down from 30.1 minutes per game for the season. Mario Hezonja is at 27.5 minutes per game, up from 21.0 per game to help replace Jonathon Simmons.
The Magic's regulars are still getting their time on the court.
Players like Rodney Purvis (19.3 minutes per game), Wesley Iwundu (21.8 minutes per game) and Jonathan Isaac (27.8 minutes in the game against the Toronto Raptors) are getting far more playing time than they might otherwise get. Bismack Biyombo has seen his minutes decrease to 15.9 per game from 18.6 per game to make some room for Khem Birch.
These all seem like minute differences. Orlando is still throwing out some funky lineups. The Magic's second-quarter lineup of Shelvin Mack, Rodney Purvis, Wesley Iwundu, Khem Birch and Bismack Biyombo has been admittedly a poor one. Vogel has said as much. It was no surprise he went away from that second unit that struggled in the second half to ensure the team wins.
Orlando Magic /
Orlando Magic
While the Magic are trying to play young players more, their primary goal remains to win.
What is clear from this early shift to playing younger players is the Magic still intend to play a relatively normal rotation. Vogel is not about to play young, unproven players when games are still in the balance. He wants to win.
But there are still things he wants to see. And still opportunity to give.
The primary thing the team wants to see is Aaron Gordon and Jonathan Isaac playing together. That experiment is on hold while Isaac recovers from soreness in his foot. He participated in some parts of practice Tuesday and appears further along than the coaching staff anticipated. Although he will miss Wednesday's game.
Other than that, the Magic want to see what their young players can do. Especially Wesley Iwundu, Jamel Artis and Rodney Purvis. Three players who are likely to be part of the Magic's system next year, but do not have a guarantee of doing so.
There is still something they can achieve. Now they will get more opportunity to do so.
""I want to go out on a positive note with the team," Iwundu said. "Just keep doing things myself to help the team win. Whether that's defense, pushing the ball in transition or being an all-around player out there and impacting the game in as many ways as I can.""
Iwundu has averaged 14.9 minutes per game this entire season, averaging 3.3 points per game. His role throughout the year has been more to provide energy than score. And his minutes have gone up and down throughout the year.
The last eight games have seen Iwundu get far more consistent minutes — 20.4 minutes per game. He played more than 20 minutes in four of those eight games. He is getting an opportunity.
And Iwundu needs that. He still has a long way to go and a long way to grow as a player. Vogel said he wants Iwundu to be comfortable shooting and aggressive with the ball. He still needed to play within himself and play his game, but not afraid to look for his own when the opportunity arises.
Iwundu has a still-developing shot and seeing him get some confidence on offense is an important part of his growth and development.
This is the aspect of playing more minutes that matters more than seeing someone play 25-30 minutes. These players are seeing an increase in minutes and getting an opportunity, but it is not going overboard.
It is plenty of time for a player like Jamel Artis or anyone else to make an impression.
""I want to make a stamp on the end of the season," Artis said after his call-up last week. "Try to make them sign me for next year. Whatever might happen. Whatever I can do, I'm going to try to do it to my best ability.""
Artis has played in 16 minutes in the last two games. He missed Tuesday's game against the Toronto Raptors to play in the Lakeland Magic's game during their playoff run. He played in only 4.5 minutes against the Phoenix Suns on Saturday in what was his third game in three days.
Surely, Artis will see his minutes tick up as the season winds down and the Lakeland Magic season ends. Their playoff game was postponed to Saturday and Vogel said he does not know the plan for sending players down for the game.
The focus on playing the young guys more is about playing for the future. The Magic are expected to re-sign Purvis for the rest of the year and give him a two-year deal to keep him in the fold. He used this time successfully to develop and grow as a player and prove his worth.
That is something the other young players still have to do. But they have to do it within the context of winning. That aspect still matters at the end of the day.
""With that comes more opportunity," Iwundu said. "But this time is also important going to the future to keep building that winning foundation we want to build here. I think going forward looking to these next 12 games will be good for the young guys at this point to get game time experience. You get put in different positions things that may come about in the future.""
The Magic still have two goals the rest of this season.
They are still trying to win games. Their rotation will reflect that, especially in the second half and the end of games.
Next: Orlando Magic got the modern offense Frank Vogel promised
But they are working to give these young players a chance. It is up to them to take advantage of it — even in some poor lineups — and prove their worth to the team.