Orlando Magic Grades: Brooklyn Nets 111, Orlando Magic 104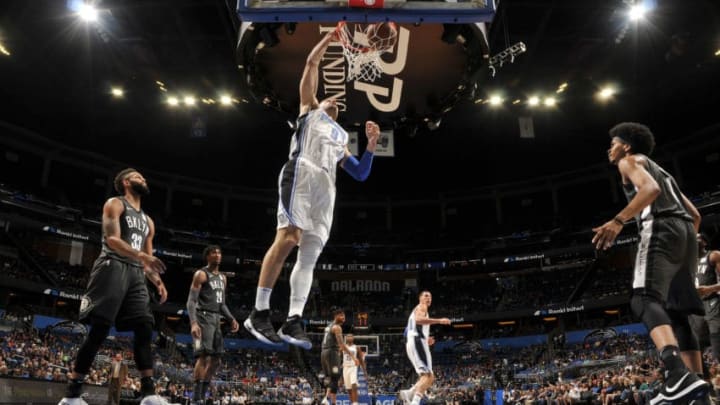 ORLANDO, FL - MARCH 28: Nikola Vucevic #9 of the Orlando Magic dunks the ball against the Brooklyn Nets on March 28, 2018 at Amway Center in Orlando, Florida. NOTE TO USER: User expressly acknowledges and agrees that, by downloading and or using this photograph, User is consenting to the terms and conditions of the Getty Images License Agreement. Mandatory Copyright Notice: Copyright 2018 NBAE (Photo by Fernando Medina/NBAE via Getty Images) /
The Orlando Magic struggled to slow a dynamic Brooklyn Nets scoring lineup. With seven players registering points in double digits, Brooklyn led comfortably.
The Orlando Magic dropped yet another game to an Eastern Conference bottom-dweller, but who is complaining?
The Brooklyn Nets handily defeated the Orlando Magic 111-104 in a game that saw seven players score 13 or more points for the Nets. At 22-52, the Magic sit just next to the league's worst, boding great for higher draft lottery picks.
The defense struggled from the start for Orlando, and though at first seemingly just a sluggish start, the Magic continued to do little to stifle the Nets' variety of scoring.
They fell behind 8-0 before coach Frank Vogel's first timeout. They were never able to bridge the margin. Orlando battled back and shared the ball well early, but continually the team found itself attempting to close the gap after multiple failed defensive stints.
Orlando found itself constantly fighting back, trailing by double figures and then working to get itself back into the game. Down by four to start the fourth quarter, the Magic went into a funk. They missed their first 10 shots of the quarter even with the team reloading its starters earlier to try to get that last spark.
Brooklyn raced past Orlando and rebuilt its double-digit lead. The Nets' attack proved constantly too much.
Point guards Shelvin Mack and D.J. Augustin had respectable nights, both scoring in double digits, shooting the three well and passing the ball effectively. With the backcourt generally depleted, Shelvin Mack found success playing the two spot throughout some of the night.
With guard Rodney Purvis grabbing his first career start, the Magic have now put their 23rd different starting lineup together. Injuries have been plenty for Orlando this season, and with just a few more weeks in the season, expect to see little of Evan Fournier or Jonathon Simmons, who were sidelined both this month.
Next: Orlando Magic prepare to go young, integrate new players
The Orlando Magic will complete their homestand against the Chicago Bulls on Friday.