Orlando Magic Summer League Grades: Magic's effort falls short in loss to Indiana Pacers
Final

108

85
Nothing is meant to be perfect in Summer League.
The teams are thrown together last second and there is a lot of inexperience on the floor. Nobody is expecting the cleanest of games.
What they are expecting is effort. That can make up for a lot of mistakes and certainly stands out for players who are trying to get noticed and make a roster. That is the baseline of everything.
There might be talent gaps at times — especially going up against some younger teams that bring with them a lot of main roster players — but effort makes up that gap. You can definitely tell when it is not there.
The Orlando Magic may not have been destined to defeat the Indiana Pacers this night. But they also never really gave themselves a chance.
The Orlando Magic had a lackluster second quarter where their inefficiencies exposed them against an experienced Indiana Pacers team as they fell for the second time in Las Vegas.
After a competitive first quarter, the Pacers blew the game open in the second with some good shooting from deep. But it was more about the Magic's poor execution on offense and slow transition defense. The Pacers pounced on every mistake and expanded their lead.
Orlando showed some fight the rest of the game.
Caleb Houstan led a charge in the third quarter to get the Magic within shouting distance. But the deficit was too great. Not for a team with the size advantage the Pacers had and the experience they had on the perimeter.
The Pacers defeated the Magic easily 108-85 in their second game at the NBA Summer League. There was no getting off the mat as the Magic struggled to find their footing and had a terrible quarter that put them in too big of a hole.
In the end, Orlando shot 40.5 percent from the floor and only 6 for 32 (18.8 percent) from beyond the arc. A lot of that came from a team that was settling for the first half-decent 3-point look. The Magic missed so many that it kept them from making any real progress.
Orlando committing 15 turnovers only added to the problems for the team. The Pacers seemed able to make good on every mistake and that only expanded the lead.
Without a veteran — Kevon Harris sat out Monday's game — the Magic did not really have the stability to inch their way back in. And the team lacked some of the cohesion and confidence to make it all the way back.
The result is not important. What is important is how the key players performed. And there were at least a few bright spots there: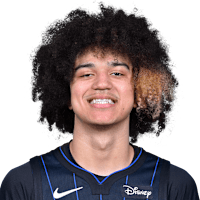 ANTHONY BLACK
G,
Orlando Magic
B-
After Anthony Black turned in a strong showing in his Summer League debut, everyone was eager to see what he would do for a follow-up. After all, Summer League is supposed to be a bit about how a player improves and grows through the course of the week.
Black came out much more aggressive and assertive in this game. He looked to get his shots up. And that part was good. So too was his defense as he helped really bottle up Bennedict Mathurin with some stellar defensive possessions. His energy was good early on.
But this was a game where some of Black's bigger flaws came to the front. He was really never able to get downhill with the Magic struggling to get stops and some of his aggression led him to taking some slowed-down shots and his struggles as a shooter were evident.
Black finished with eight points on 3-for-12 shooting. He was just off on that front. But he added seven rebounds and two steals to signal his defensive activity. And he did not turn the ball over after seven turnovers in his opening game.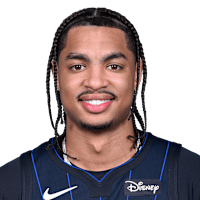 JETT HOWARD
G/F,
Orlando Magic
B
Jett Howard has needed some time to get his legs under him. He is a shooter first and so he will always get judged a bit on his shooting ability. That has taken a little while to get going. But it got going toward the end of this second game. I would almost be curious to see how he plays in a third game — I am personally hopeful both Anthony Black and Jett Howard play one more game, or at least half of one more game.
Howard scored 10 points on 4-for-9 shooting with five assists. He was part of the defense that helped corral Bennedict Mathurin (17 points, 4-for-16 shooting) and he helped move the ball. It never felt like — save for maybe an early shot here or there — he was pushing to take his own shots.
Still, it was hard for the Magic to get him more involved. Without Kevon Harris on the floor and with Anthony Black looking more aggressively for his own shot, the Magic just did not have great ball movement to work the ball to him consistently.
The Magic are finding it a bit hard to see everything they need to see from this group. The flaws on this roster are becoming more apparent.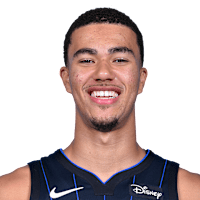 CALEB HOUSTAN
F,
Orlando Magic
A-
Caleb Houstan looked like the best player for the Orlando Magic throughout the game. And it was his energy and pick-up that allowed the Magic to get back into the game in the third quarter.
Houstan finished with 18 points on 5-for-10 shooting, making only one of his five 3-pointers and seven of his eight free throws. Those latter stats might be the most impressive with Houstan because he is usually limited to being a spot-up shooter. He did well on his drives to seek out contact and finish through it. It was a nice bit of growth.
His energy on both ends in the third quarter was the spark the Magic needed. That was good for the team to push ahead.
Still, the poor shooting remains concerning overall for Houstan. The Magic will need him to be a reliable outside shooter when the season begins and it is just not falling. Maybe there is faith that he will get more room and better spacing when the main roster is back together. But we are not seeing it right now in Summer League.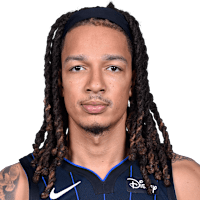 D.J. WILSON
C,
Orlando Magic
C
The Orlando Magic's main players are certainly exciting and have shown plenty to be optimistic about. But unfortunately, a lot of it feels hidden with how much the Magic's Summer League invitees have struggled. Through two games, it is hard to say any player has stood out enough to warrant taking a two-way contract.
D.J. Wilson is not eligible for that two-way contract because of his years of experience in the NBA already. He is the veteran on this team that is supposed to make everything easier for the young players.
He is doing that in some respects — he is a decent screener and has come from the weak side for some good blocks — but he is struggling in a lot of areas, especially as the interior presence locking up the glass and ensuring the team can get into its offense.
Wilson scored 10 points with eight rebounds (four offensive and four defensive). He had five blocks too. So there is some good there.
But Wilson consistently ends up switching and on the perimeter leaving the Magic exposed on the interior. And he has fouled a lot and looked a bit lost as the fulcrum of the offense that Wendell Carter plays within this offense.
It has not been a good showing for him overall.
The Orlando Magic's Summer League team returns to action Wednesday against the New York Knicks.