2021 Orlando Magic Player Evaluations: R.J. Hampton's Second Half Sprint
Coming into the 2020 draft, R.J. Hampton was touted as a potential lottery pick, and even a potential Orlando Magic pick. But he ended up slipping down to 24th overall and was taken by the Denver Nuggets.
The rookie did not get much run in Denver, however. He wound up sitting most games behind a crowded backcourt of Jamal Murray, Will Barton, Monte Morris, PJ Dozier, and even Facundo Campazzo.
This log jam limited Hampton to just more than an average of nine minutes per game in the 25 games he did play with the Nuggets. Further complicating things was a COVID diagnosis in February that kept him confined to a Chicago hotel room for two weeks.
The Nuggets had high hopes for the young guard but little patience to wait for a raw rookie to develop as they chased a potential run at the title. That is what ultimately changed Hampton's path too.
R.J. Hampton got a real chance to shine and showed why he was one of the best high school prospects in the class of 2019 as a trade to the Orlando Magic put him in a position to play.
The trajectory of his rookie year completely changed after the trade deadline when he was traded to the Orlando Magic as part of the deal for Aaron Gordon.
Although R.J. Hampton only started one game as a member of the Magic this year, his minutes jumped to 25 per game and the rookie got a chance to show how good he can be when given the opportunity.
It took Hampton a few weeks to settle into his new home. But once he did, Magic fans were able to see his confidence grow exponentially. He started putting up more shots and playing within the offense around him.
The rookie finished his Magic season averaging 11.2 points, 2.8 assists and 5.0 rebounds per game. He really started to put things together in the month of May, averaging 16 points, 5.6 assists, and 7.1 rebounds and capping his rookie season off as the Eastern Conference Rookie of the Month.
What he did well
R.J. Hampton's route to the NBA was not the conventional one.
Despite having interest from traditional college basketball blue bloods like Kansas and Kentucky, Hampton followed the same path as LaMelo Ball — going to play in Australia as part of the NBL.
His experience there can lend some insight to how he easily adapted to the change in scenery during his rookie season. Not many rookies are able to go through a trade and finish the season in the way Hampton did.
More attributable than his experience abroad, is his confidence.
Even as an 18-year-old, Hampton's confidence allowed him to bypass college basketball and bet on himself to make it to the NBA out of New Zealand. Once he landed in Orlando, his confidence on the court was tangible — whenever he is out there he looks as if he believes he is the best player, even if he is lined up across from LeBron James.
That kind of confidence is something this young Magic team needs, luckily they have two of these guys in R.J. Hampton and Cole Anthony.
Whether that translates into Russel Westbrook and Damian Lillard confidence or Dion Waiters and Aaron Gordon type of confidence won't be known for a couple of years.
But the future looks bright.
Hampton's speed with and without the ball allowed him to take advantage of transition opportunities and cut to the basket for high percentage shots. He also was able to use his quickness to create opportunities for others with drive and kicks.
As the season progressed and he grew more comfortable on the court, Hampton became a better rebounder and passer. He finished his last game of the season against the Philadelphia 76ers just one assist shy of a triple-double.
What we need to see more of
While some aspects of R.J. Hampton's game improved greatly in the second half of the season, others remained stagnant.
Coming into the 2020 Draft, Hampton was known to be a highly athletic and quick point guard with a scorer's mentality. But his skills and IQ were not quite up to the task of being the number one option yet.
The Magic saw this, especially in his earliest days with the team, as Hampton would often settle for low-percentage mid-range shots rather than using his quickness to get to the rim and finish or find an open teammate on the outside.
This led to Hampton being a pretty inefficient scorer, ending his Orlando season shooting only 43-percent from the field.
While his shooting overall was inconsistent, he never dialed in his three-point shooting. In Denver, he shot the three at a 28-percent clip, and just barely improved it in Orlando at 32-percent. At least he was fairly adept from the corners, hitting 11 for 23 from the corners for the season.
In today's NBA, to be a star, you need to be able to shoot the three-ball. Hampton's confidence and drive to be one of the NBA's best should help drive him to become a more consistent shooter all around, but especially from three. This will be a key to his future, especially as he continues to reign in his speed.
It was clear throughout the year that Steve Clifford was trying to bring him along slowly. He never quite trusted Hampton to run the show as the team's point guard. Not until he had to with injuries eating into his roster.
On the defensive side of the ball, Hampton looked to be an average rookie. He was neither tenacious nor lazy.
At 6-foot-4, Hampton has enough length to guard most one and two guards in the league. But he will need to improve drastically to even be able to keep up with top guards.
With Steve Clifford out as coach now, Orlando will need a new leader to steer Hampton's defense in the right direction.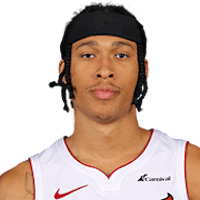 R.J. HAMPTON
G,
Orlando Magic
B
R.J. Hampton has a bright future in this league. Finishing the year as the Eastern Conference Rookie of the Month will surely only boost his already high confidence and fuel him to become the best version of himself.
If his progress continues on the trajectory Orlando saw at the end of the year, then as Cole Anthony would say, "Thanks, Denver!"