2021 Orlando Magic Player Evaluations: Gary Harris can get back on track
After being traded to the Orlando Magic at the trade deadline, Gary Harris showed signs of promise in just 20 games with the team. But to really evaluate his standing we need to look even further back.
Coming out of Michigan State, the Denver Nuggets drafted Gary Harris with the 19th pick in the 2014 draft. By the middle of his second season in the league, it looked like the Nuggets had selected the exact player they were looking for.
Harris showed great promise to be one of the more elite 3-and-D players in the league. In the 2018 season, he averaged 17.5 points per game on 40-percent shooting from three and played elite defense.
As the primary defender covering the top perimeter players in the Western Conference, Harris proved he was more than capable of being a contender's starting 2-guard.
All of this led to the Nuggets betting on Harris' future with the team by signing him to a four-year, $84-million extension.
But Harris' story is not complete without talking about injuries. In fact, Harris would probably not be on the Orlando Magic if it were not for injuries.
Injuries have been the story of Gary Harris' career. As he gets himself healthy again, the Orlando Magic hope he can provide veteran stability to a young team.
In his last couple of seasons with the Nuggets, and throughout most of his career, Harris has struggled mightily to stay 100-percent healthy.
As the injury list has begun piling up for the now 26-year-old, the Nuggets reluctantly included him in the deal for Aaron Gordon, losing a valued teammate and locker room presence but trading it for a player who could more readily defend the bigger wings for their playoff push.
Although he was likely included in the deal as salary filler, Harris is a smart risk for the Magic to take on. If he finds a way to get his body right, there is hope for him to regain his shooting stroke.
More notably, Harris is entering this last year of that big $84-million contract extension, giving the Magic flexibility if they need to move on.
So where does he currently stand with the team?
Harris provided veteran stability to finish up last season and even had a couple of moments where it looked like he could get back to his former self. Harris finished the season averaging 10.2 points per game with the Magic, but on an inefficient 42.9-percent effective field goal percentage (including 36.4-percent from beyond the arc).
The opportunity will be there for Harris to solidly himself moving forward. With a young, developing roster, the Magic will give him the chance to be the type of supporting player we know he can be.
Positives from last season
In his 20 games with the Orlando Magic last season, Gary Harris impacted the team in two major ways: defense and veteran stability.
Almost immediately, team defensive numbers for the Magic took a big leap with Harris on the floor. The Magic's defense was not much to write home about after the deadline and Harris was put in so many odd lineups especially toward the end of the season that the numbers do not reflect his defensive impact — the Magic had a 117.6 defensive rating with him on the floor and a 114.5 defensive rating with him off the floor.
He spent most of his time guarding the opponent's number one option on the perimeter, taking the pressure off of other guards like Cole Anthony and R.J. Hampton.
When on the floor, Harris wreaks havoc by causing deflections, jumping passing lanes and running through screens. There were glimpses of this last season for the Magic, but fans should notice this even more next year.
To round out the end of the season, Harris saw his minutes dip quite dramatically, mostly due to the Magic's working on their lottery odds. This brought his minutes per game down to 25. This number is misleading as Harris was playing 30-plus minutes during most of his first few weeks with the team.
A quick look down the Magic roster confirms Harris' veteran leadership is desperately needed. He is one of, if not the only player with any real deep playoff experience. In most of his early interviews in Orlando, Harris stated multiple times that he relishes the opportunity to be a leader, especially with the team's young guards.
If the team selects another young guard in this year's draft, Harris can provide that mentorship right away.
Places for growth
There is really only one thing here that matters: shooting.
If this season's playoffs have taught us anything it is that shooting is something that matters and something that cannot be completely taught.
It was the demise of the Los Angeles Lakers this year and for most of the last five years, it has been something that has nagged the Orlando Magic.
Gary Harris finds himself in a similar boat.
His shooting was never a question for him in college, as his shooting stroke was well-regarded coming out of Michigan State. In Denver, as we said earlier, shooting was never an issue until injuries hit.
For the Magic last season, Harris shot 36-percent from three and a brisk 37-percent from the field. This is a problem.
Harris brings a lot on defense, but in today's NBA you need to able to space the floor. For a player who has never really contributed much in the playmaking or rebounding categories, shooting becomes even more important.
The best news for the Magic is that Harris is not chasing after something he never had, he is just trying to get back to something he's already shown us.
The mechanics are there and the confidence is not necessarily an issue, it's the injures.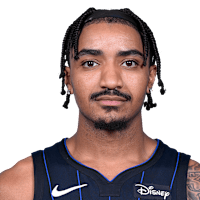 Gary Harris
G, Orlando Magic
B-
If I could give Gary Harris an incomplete grade, I would. It is tough to judge a player by just 20 games coming off an injury. And especially playing with lineups that are not designed largely to win.
The future of the Magic franchise will not hang in the balance based upon Harris' performance. But Gary Harris, as currently constructed, is exactly the type of player you want on your roster if you are looking to build a culture and bring along young guys.
The Harris from 2018 is the type of 3-and-D player a team needs in its rotation if it is going to contend for a championship.
Harris can get back to that level and likely has another season like that left in him. It will just be interesting to see how that fits the Magic's timeline.