2021 Orlando Magic Player Evaluations: Mohamed Bamba will be worth the wait
In the middle of April, the Orlando Magic were collectively hanging on by a thread.
Injuries decimated the roster, so only 10 players were available on a Friday night in Memphis against the playoff-hungry Memphis Grizzlies. Coach Steve Clifford, sidelined due to the league's COVID health and safety protocols after a positive test, was back in Orlando and acting head coach Tyrone Corbin was trying to summon his team to pull off an improbable upset.
The Magic fell to the Grizzlies 92-75 and showed every bit of their inexperience. In the postgame press conference, Corbin was candid about Orlando's performance and his message to his players in the locker room.
He also shared his honest perspective on Mohamed Bamba's career progression:
"He's fighting his way through a little bit more than when he struggled early in his career," Corbin said. "He's figuring it out and getting an idea of who he is and what's going to make him good in this league. When to flare, when to roll, being ready to shoot out of the [dribble hand-offs], and the physicality part — he's getting a little better at that every game."
From Bamba's evaluation a season ago, we noted the biggest key in his development going forward would be health — specifically, being available for most of the regular season, and more importantly, having the offseason to improve on his game.
Bamba missed the last quarter of his rookie season — including the team's playoff run — with a fracture in his leg. It flared up again and led to soreness that shut him down during the summer.
As he passed the year mark from that injury, the season shut down. Then he became a COVID long hauler, struggling to regain his conditioning after testing positive for the disease in June. He sat out the entire time in the bubble and despite noticeable physical gains, he could not stay on the court.
This has been the story of Bamba's career.
Mohamed Bamba's career to this point has been full of starts and stops. Injuries have dominated things. The Orlando Magic center will have his chance to get better and play to make his mark.
Unfortunately, Bamba suffered a variety of smaller injuries this season and missed 26 games.
That did not halt what was his best and most productive season of his career to date — 8.0 points, 5.8 rebounds and 1.3 blocks per game on a 53.5-percent effective field goal percentage. After the trade deadline, when the path for playing time cleared up completely for him, he posted 11.1 points, 7.5 rebounds and 1.6 blocks per game with a 46.9-percent mark from the floor.
There was finally hope for Bamba.
His upcoming opportunity to spend the offseason in the gym rather than rehabbing — the first time Bamba will be able to do so in his professional career — should prove invaluable.
With the increased optimism from Bamba's upcoming runway, there was also a lot to take away from the 46 games he was available for in the 2021 season. He displayed many of the same strengths and weaknesses from his first and second years in the league but also showed flashes of confidence in an expanded role at the end of the season.
Defense
Defense is where Mohamed Bamba makes his presence known, but he can further improve his skillset on this side of the floor.
As a proven rim protector, shot-blocking is still Bamba's single elite skill as a pro. He blocked 3.7 percent of opponent field-goals attempted this season, in the 91st percentile among bigs, per Cleaning the Glass.
But shot-blocking alone does not ensure a strong defensive presence inside. Opponents took an above-average number of attempts at the rim against Bamba and shot 62.5-percent on these looks, well above the league average efficiency.
Box score statistics — and really any quantitative metrics — do not do a good job of quantifying defensive performance, but the "eye test" offered some specific changes Bamba can make to his defensive game.
The first and easiest to correct should be his propensity to jump on pump fakes — a common deficiency of young, athletic rim protectors.
As outsiders, we can intuit the coaching staff has made this a point of emphasis for the twenty-three-year-old because he often wears his frustration on his sleeve after momentary lapses in judgment in which he leaves his feet.
This clip against the Golden State Warriors is frustrating because Mohamed Bamba has done everything correctly — he sprinted back to the paint, recovered to help on the pick-and-roll, and forced the Warriors' Eric Paschall to pick up his dribble outside of the restricted area. The foul erases all his effort and creates the most efficient offensive opportunity for the opponent.
These mistakes are even more disappointing because we have already seen Bamba make the right play against some of the NBA's craftiest creators.
Joe Ingles scores here but look how difficult it is for him to determine how to shoot over Mohamed Bamba's outstretched arms. Bamba's 7-foot-10-inch wingspan is a handful for even the most adept scorers.
The second facet of Bamba's defensive skill set that needs to be polished is his inconsistent willingness to fight for position inside. Too often he is content to allow more physical centers to put him under the rim:
Steven Adams lives for creating small advantages from acute angles and slight positioning changes on the block. But here, Bamba is loathe to even make contact with Adams. Rarely do you see a post-entry catch inside the charge circle.
Bamba's improved physicality will come from further confidence, a direct result of more repetitions on the court, and time in the weight room. It would not be surprising to see a dramatic shift in his development, particularly in the two areas highlighted above, with the full offseason available to Mo.
Offense
While Bamba is a rather known commodity on defense, he is still trying to find a niche on the offensive end.
Through three seasons, he has not improved his overall offensive efficiency or developed a polished offensive facet of his game. This is largely due to limited development time, but it could also be a sign that Bamba will not ever be an above-average offensive player.
This would be concerning, but certainly not career-ending. A hyper-athletic, long talent like Mohamed Bamba can still impact the game at the highest level, in the mold of Ben Wallace or Rudy Gobert.
To Bamba's credit, he has already shown more auspicious potential on the offensive end of the court than either All-Star at the same age. Last season, his 37-percent mark from outside was a testament to his special touch, rare for a young and rather undeveloped talent.
His efficiency on 3-pointers dropped to 32-percent this season, but he was equally as effective on shots defined as "wide open" by NBA Stats — those with six feet or more of space between the shooter and closest defender. This indicates Bamba's outside shooting may be sustainable, and that his next progression will come from comfort with a hand in his face.
Throughout this season, there were nights where he looked disinterested and sluggish, and others where his switch was flipped "on" offensively.
Bamba should watch this play every morning before heading to the gym because it perfectly encapsulates his potential as a player. When he's exuding confidence, like in the above clip, and when he has a size advantage, in most matchups, Bamba could become an accomplished inside scorer.
It is most impressive that he uses his dribble to create this shot, which would serve as a lethal combination with his soft hands.
There are plays, like the above, where Bamba effuses a swagger so potent it is as if he believes he is the best player on the court. He is one of the league's better rim runners, and because of his effort on this possession, he creates a back-to-the-basket opportunity with Ivica Zubac trailing the play.
Bamba is so excited to touch the ball that he eschews the easier opportunity for a face-up jumper and shows little conscience on the pull-up.
One of the areas Bamba has developed most in is consistently making contact on screens in the half-court. The fruit of his effort on the above play is a slight opening for James Ennis, and then the opportunity for him to attack an off-balance Steven Adams one-on-one.
Bamba again shows extreme confidence, he knows the move he wants to make and has no trouble using his length to get off the shot.
The consistent theme for Bamba, like a lot of young former lottery picks, is confidence. The above three examples were hand-picked, and hardly an accurate perspective of his offensive success last season. But all of these did come during the final thirty games when Nikola Vucevic had departed for Chicago and Wendell Carter Jr. was in and out of the lineup with injuries.
If Bamba can convince himself he is a deserving option inside for the Magic, it would not be surprising to see a more consistent impact from him on offense.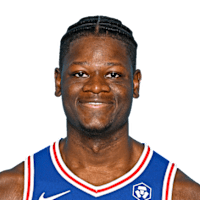 MO BAMBA
C,
Orlando Magic
C+
Grading Mohamed Bamba solely on his impact this season, fans may be disappointed by what they see from the young center. It is starting to feel like the two-way potential predicted at the time of his departure from Texas will never materialize.
Night to night, his progression seems almost slack, and sometimes non-existent.
But if you take a step back there is the mold of a player who is finally finding his footing, as Corbin pointed to. Maybe this is all that it will take for Bamba to transcend his current projection, and become much more than a backup center.
Bamba's first offseason as a professional, and his subsequent campaign in 2021-22, should tell us a lot.