2020 Orlando Magic Player Evaluations: Al-Farouq Aminu was an idea that never had the chance
The Orlando Magic signed Al-Farouq Aminu as their big offseason acquisition. But the idea never got a chance to get going thanks to an early injury.
The Orlando Magic entered the 2019 offseason with few chances to improve the roster, even if the team did not re-sign Nikola Vucevic and Terrence Ross. They had limited resources to take the next step.
Orlando's breakthrough playoff push proved the team had a playoff-caliber roster. Even one that could finish better than .500, a marker of success if not a guarantee for one or a necessary step to make the postseason.
What stood out though was a moment in Game 3.
The Magic were fighting an uphill climb to try to take a 2-1 series lead. The Toronto Raptors had not quite sunk their teeth fully into the Orlando Magic's playoff hopes. It was a back-and-forth affair in front of a packed and loud Amway Center crowd, hosting their first playoff series in seven years.
But Jonathan Isaac was in foul trouble. The team had locked down Kawhi Leonard thanks to a crazy effort from Aaron Gordon (and perhaps Leonard's illness). But Pascal Siakam was having his way. On critical possession after critical possession, Pascal Siakam took Terrence Ross to the post.
Siakam had 30 points and 11 rebounds in Toronto's 98-95 win, the closest loss of that five-game series. The moment stung for the team as much as its lack of shooting.
Orlando decided that one thing it needed to complete its collection of athletic wings was to go get another one — or two.
The Magic drafted Chuma Okeke knowing he would likely miss the 2020 season. They then used what little free-agent capital they had on Al-Farouq Aminu.
To many, the move confused. Orlando had signed another starter-caliber wing with little shooting ability. They were going to bring him off the bench behind Gordon and Isaac so they could always have a big-bodied, versatile forward on the floor.
It may not have been the best use of the team's limited resources. But it at least had some logic to it. There was a purpose or something the Magic wanted to complete about their roster in signing him.
Coach Steve Clifford said throughout the preseason he believed the Magic could be a top-5 defensive team. And having Al-Farouq Aminu in his arsenal would certainly accomplish that — Aminu has spent almost his entire career with at least 2.0 defensive win shares and a positive defensive box plus-minus, according to Basketball-Reference.
If only the Magic could make any conclusions on what they have in Aminu.
Those plans for Aminu and the Magic never came to fruition this year. He played in only 18 games, injuring his knee in December and exiting the lineup. He was then on his way back as he rehabbed without surgery when he had a setback. He would need surgery to repair a torn meniscus.
Plainly, Aminu's season was lost before it could really begin and before he could settle into his new role off the bench — his first time playing off the bench almost full-time since 2017.
Aminu averaged a career-low 4.3 points per game while shooting a career-worst 29.1-percent from the floor. It was really hard to figure out why Aminu was struggling so much with his shot.
Per Game Table

| Season | G | MP | FG% | 3P% | eFG% | FT% | ORB | DRB | TRB | AST | STL | BLK | PTS |
| --- | --- | --- | --- | --- | --- | --- | --- | --- | --- | --- | --- | --- | --- |
| 2019-20 | 18 | 21.1 | .291 | .250 | .343 | .655 | 1.3 | 3.5 | 4.8 | 1.2 | 1.0 | 0.4 | 4.3 |
| Career | 688 | 25.1 | .421 | .335 | .479 | .745 | 1.4 | 4.7 | 6.1 | 1.2 | 1.0 | 0.6 | 7.6 |
He shot just 13 for 43 (30.2-percent) on shots within 10 feet this season. He shot 55.8-percent on such shots in the 2019 season with the Portland Trail Blazers.
Aminu made just 10 of 28 shots (35.7 percent) on shots inside the restricted area. Most of his shots came right in the paint too. His 44 shots in the paint, according to NBA.com's tracking statistics, accounted for 51.2 percent of his shots.
In 2019, Aminu made 55.2-percent of his shots inside the paint and took 47.0-percent of his shots in the paint.
Explaining this drop is a complete mystery.
Aminu is not a great 3-point shooter, he will make them on occasion, but his inability to finish around the rim was far more concerning. And far more difficult to figure out.
He was still plenty active. He was able to cut and get to the basket. But the finishing element was just never there for him. While his defense certainly remains very valuable, it is hard to play with a player who simply cannot shoot from anywhere.
No one would blame Aminu for putting himself in a position to contribute though.
Aminu was active on the glass. He averaged 2.3 offensive rebounds per 75 possessions and was among the best players in the league in going out of his area to get offensive rebounds. He just could not finish those putbacks around the basket.
The question the Magic are asking themselves is whether this was a product of his knee injury, learning new teammates or just an odd quirk for him or whether this is a sign of bigger things to come.
Being 29 years old and entering his year-30 season coming off a knee injury — on top of the pandemic preventing him from completing his recovery on said knee injury leaves at least some question as to whether his offense will ever return especially since it is starting back at such a low level.
Those questions will likely follow his defense too. Because as bad as his offense was, Aminu was still very good defensively.
All his defensive numbers were largely on track with his career numbers and defensive reputation.
In his short time on the court, he posted 0.5 defensive win shares and a 1.4 defensive box plus-minus, according to Basketball-Reference. At just 18 games, his defensive win shares would track to 2.3, slightly worse than the 2.8 he posted in 2019 with Portland, but still a really good number.
Teams know Aminu is a strong defensive player and someone to avoid. Teams avoided chasing after him in isolations, according to statistics provided by Basketball Index. He averaged 1.1 loose ball steals per 75 possessions, a number that put him in the 95th percentile in the league. His 4.7 passing-lane steals and deflections per 75 possessions place him in the 90th percentile.
Aminu is not someone chasing steals or reaching too much. He is a disciplined defender.
But he is disruptive too. He makes it hard for a team to operate. And for a Magic team that wants to get out and run more, finding ways to create live-ball turnovers will help them take that important step.
Aminu makes a lot of plays like these. He is smart as a weakside defender, with the size to clog the lane whenever someone tries to roll. And he has good hands to get deflections when players throw over the top or to reach in and just take the ball when they bring it down.
Orlando signed Aminu exactly for this kind of defense and positional versatility. They never had to worry about whether Aminu will be in the right position or make the right play.
For a team that lacks rim protection, Aminu is as effective as anyone — outside of Mohamed Bamba and Jonathan Isaac — at deterring shots at the rim.
According to numbers from Second Spectrum pulled together by Basketball Index opponents shoot 3.4-percent worse at the rim over their expected field goal percentage when Aminu is defending the shot.
He was doing a lot of this with average defensive players on the floor with him. Coming off the bench likely made him a more disruptive force defensively. He was largely defending bench players or borderline starters. Still, Aminu has proven himself for several years as a starter. The Blazers certainly missed his defensive presence this season.
For sure, the Magic would have had some value in having Aminu on the floor when Isaac went down. He had a positive benefit on the defense.
With Aminu on the floor, the Magic posted a 100.1 defensive rating, the best mark of anyone on the team. Lineups with Aminu on the floor were devastatingly good defensively — the Magic had an overall defensive rating of 109.2 points allowed per 100 possessions through Nov. 29 (when Aminu suffered his injury).
Statistically — whether it was by Basketball-Reference's Box Plus-Minus or Jacob Goldstein's Player Impact Plus-Minus or ESPN's Real Plus-Minus or 538's RAPTOR metrics — Aminu's defense never made up for how poor his offense was this season. But they all say Aminu had a near-elite positive effect defensively — he ranked in at least the 85th percentile of the defensive version of all those metrics.
Those defensive numbers are not everything. But essentially the Magic signed Aminu for his defense. He delivered on that front.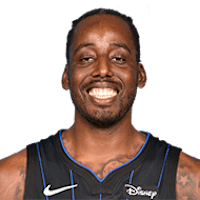 AL-FAROUQ AMINU
F,
Orlando Magic
INC
It is frankly impossible to give a full accounting of Aminu's season because he simply did not play enough. His 18 games were enough to get some sense of what he could give the team. And, in many ways, he provided the team exactly what it signed up for.
But it is still hard not to get over just how bad he was on offense. There was no real answer to it. It was not like he was playing to his weakness and taking loads of threes. These were all shots around the basket and putbacks he was not getting to fall.
Would he have turned things around if he was given the rest of the season? Certainly, his history in the league would suggest he was capable of doing so. The Magic are certainly hoping these numbers are an anomaly. Because his offense and his lack of production — he is essentially ignored at the 3-point line — was a drain.
His defense though is something the Magic will rely on again. Especially without Jonathan Isaac for the coming season, the Magic are going to trust Al-Farouq Aminu a lot in 2021, provided he is healthy. It would not be surprising if the Magic start the year with Aminu slotted into their starting lineup.
That is a sign of the veteran trust Clifford likely will put in him. That will not be given — he has to prove he is healthy and fully recovered — but Aminu provides the exact kind of defense the Magic covet.
It is still a debate whether signing Aminu was the right use of resources for the Magic last summer. Certainly, he does not help the Magic's glaring need for a shooter.
But the Magic largely got what they paid for in a lot of ways. He was an active and strong defender and for this season, he likely will be able to fill those starter minutes injuries have left behind.
With three years left on his deal, Orlando will need to see Aminu get back to that level and provide a bit more offensively.