Orlando Magic Grades: New York Knicks 105, Orlando Magic 103
The Orlando Magic made mistake after mistake as they could not dig themselves out one last time in falling to the New York Knicks on the road.
Final

103

105
The Orlando Magic had put themselves in a hole.
They knew it. They knew it was only them who could help them climb out. The New York Knicks are a spunky team and they will keep teams attentive or they could get caught — especially as they have played better recently. But they are still devoid of talent and consistency in key areas.
A playoff team is supposed to have the discipline to win the game. Even if shots are not falling. They are not supposed to be lazy.
Orlando was lazy in the first half. Playing poorly and burying themselves in a hole. They dug themselves out of it. The Magic locked in, got to the line and built a 10-point lead early in the fourth quarter.
Then they got lazy. That lead became a seven-point deficit. and the Magic had little time to climb out. But they did. They cut the lead to two with 45 seconds left and got the stop they needed.
This is where playoff teams show their mastery. They show their poise and rescue games from their worst performances.
What the Magic showed was the frustration and inconsistency that put them in a position to lose this game against a weaker Eastern Conference opponent. The kind of game that reminded everyone more of their six years of hardship at the bottom of the standings rather than the playoff team they have become.
Orlando got its stop to give itself a chance to win. Nikola Vucevic grabbed the rebound and turned upcourt, outletting to Markelle Fultz. The Magic were going without a timeout. Markelle Fultz pushed the ball upcourt but found nobody running with him and no lane to the basket.
He dropped it off to Evan Fournier. There was no longer time to get a timeout, but coach Steve Clifford was trailing the play trying to get a timeout called. Like the loss to the Dallas Mavericks earlier in the season, the players and the officials ignored him.
Evan Fournier had nowhere to go and he tripped on the Madison Square Garden floor. The Knicks got one more steal — the 20th turnover for the Magic — and walked away with a 105-103 win Thursday night.
The Magic really had no one to blame but themselves. It was their mistakes — 20 turnovers for 22 Knicks points — that allowed the Knicks to gain control and continually stem the tide or climb back into the game. It was the offensive rebounds — 10 for 14 second-chance points, including Reggie Bullock grabbing his own rebound twice before finding Elfrid Payton for a game-tying three.
It was the Magic's own shot selection and execution. After parading to the line for much of the second half, they settled for 3-pointers in the fourth quarter as they watched their lead dwindle.
The Magic looked for leadership but were overcome with frustration instead. And their defense suffered most for itas they could not get critical stops or knock the Knicks off course once they got back into the lead.
The Magic's biggest issue has been this lack of attention to detail. Throw in the team's sudden turnover issues and the Magic are going to have a hard time beating anyone. The Magic are in a bad way right now and this should be rock bottom. But it is hard to say whether it is or not.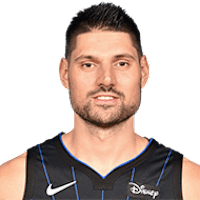 NIKOLA VUCEVIC
C,
Orlando Magic
C
The frustration was written all over
Nikola Vucevic's
face all game. He was not happy with how his team or how he was playing. He should not spare himself of his responsibility. But it all came out late in the first half when Vucevic committed a foul on
RJ Barrett
and then slapped the basket stanchion. He was angry.
He had reason to be. His defense was poor all night. He struggled to get Taj Gibson off his spot in the low post and gave up 19 points to his primary matchup. He did an OK job containing ball handlers, but did not do a good job staying with bigs and securing the glass. He got beat down the floor on several occasions.
Vucevic was still a big reason why the Magic got back into this game. He at least directed his frustration positively offensively. He scored 25 points on 9-for-13 shooting. He did his work offensively. But he too struggled with turnovers — four of them. Vucevic was not good enough long enough for a team leader.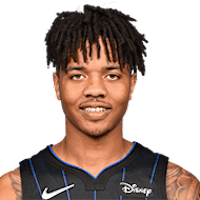 MARKELLE FULTZ
PG,
Orlando Magic
C
Markelle Fultz still has growing pains. It sometimes becomes necessary to take a step back and remember how young he is and how much inexperience he has. He is going to make mistakes and relying on him too much is going to bring some of these out. He is not quite ready to play at his best every night.
But, at the same time, this Magic team needs to win. They expect to win. And it is impossible to ignore that one of their best players and their point guard is having struggles that affect that bottom line. Fultz might have had his shot going and gotten to the basket, but they needed smarter and more precise playmaking.
Fultz might have scored 16 points on 6-for-9 shooting and had six assists. He could get wherever he wanted and score at will. But his five turnovers also loom large. He was lazy with a lot of passes and drove into traps. His dribble was far too loose and he lost the ball plenty. Making matters worse was how he struggled to contain Elfrid Payton. Fultz filled a stat sheet, but he needed to do more as the point guard to affect winning.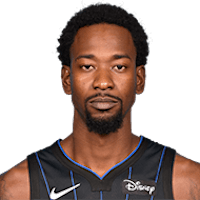 TERRENCE ROSS
G/F,
Orlando Magic
F
The Orlando Magic were trying to come back late in the game. With about a minute to play, Orlando still trailed by five points. They needed a good play to get them back into the game. Instead, the team came down the floor, ran a quick screen to get
Terrence Ross
the ball at the top of the key and he just took the shot. Never mind there were three players around him and no one to rebound.
This is quickly becoming Terrence Ross' late-game shot selection. And it is just terrible. It takes the magic completely out of their offense and often comes without getting that vital paint touch. Orlando needs Ross' gravity and him running around. But too often they let that derail the offense.
Too often, Ross lets that derail the offense. He finished with 10 points on 3-for-13 shooting, making just one of eight shots. Like last year's loss to the Knicks in Madison Square Garden, Ross shot the team out of the game. And that cannot happen right now for this team. Too many pieces are not the same consistently for Ross to have that ultimate green light.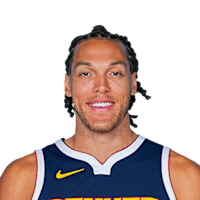 AARON GORDON
F,
Orlando Magic
C
Aaron Gordon
continued a string of encouraging offensive play. He scored 16 points on 7-for-14 shooting. It was another nice scoring performance. The Orlando Magic could rely on him to get the ball toward the basket and finish around the rim.
Aaron Gordon
added five assists. He had the right mindset and attacked quickly with only a few poor possessions where he over-dribbled and got caught in a bad spot.
His defense left something to be desired however. He struggled to check Julius Randle for much of the game. Randle scored 22 points and his 10 of 16 shots. Gordon struggled to match him physically. Gordon even struggled to find his man to box out. He gave up his share of offensive rebounds that way.
Gordon is coming out of the woods offensively it seems with a couple of strong games. Gordon was especially good as the Magic came back in the third quarter. And that at least is a small positive.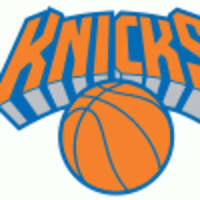 NEW YORK KNICKS
16-36,
13th East
A
The New York Knicks have had every reason to stop fighting right now. The team just made a big trade and their playoff hopes are long dashed. The coach was fired and the front office is in turmoil. It is a credit to them that they rallied to get their third straight win. There is no night off in the NBA.
Julius Randle continued to provide some unexpected versatility in the paint and the Knicks got big games from key players. Wayne Ellington and Reggie Bullock hit big shots to bring the Knicks back.
But it was really Elfrid Payton that controlled the pace of the game. He had 15 points, nine assists and seven steals. He was hounding Markelle Fultz all game and made it difficult for him to operate. The Magic should know how opportunistic Payton is. Orlando did not really listen to the gameplan at all.
The Orlando Magic now 22-30 and eight in the Eastern Conference, two games behind the Brooklyn Nets for seventh. The Orlando Magic hold a 3.5 game lead on the Chicago Bulls for the final spot in the playoffs.
The Orlando Magic return home Saturday to face the Milwaukee Bucks.