Orlando Magic Grades: Milwaukee Bucks 111, Orlando Magic 100
The Milwaukee Bucks made the 50/50 plays late without Giannis Antetokounmpo to defeat the Orlando Magic. The Magic split their pair against the East's elite.
Final

100

111
The Orlando Magic had ground their way back into the game. The defense did its job after a rough start to the game and slowly the offense was starting to bubble. A 19-point deficit slowly got whittled down to as little as two in the fourth quarter.
The Magic were in the fight. It would take scratching every loose ball out and every 50/50 play to defeat the East-leading Milwaukee Bucks (even without Giannis Antetokounmpo).
Increasingly, those plays fell the Bucks' way. there were two possessions in the game where the Bucks got four chances and three offensive rebounds to score. The first in the second quarter ended with a Donte DiVincenzo mid-range jumper.
The second came in the fourth quarter, ending in a Kyle Korver 3-pointer. The Magic could momentarily recover from these plays. But they add up.
There are only so many times that Nikola Vucevic can save the ball and make the right play only to see it go straight to Ersan Ilyasova for an open three. Or to see George Hill hit a three and get fouled only to see Ersan Ilyasova rebound the missed free throw and spot-up again for three.
Orlando again showed grit and fight when the team fell behind. But it could not close the game and left one on the board against an undermanned Milwaukee team in a 111-100 loss at Fiserv Forum on Saturday.
The Magic again fell behind on a big run in the late first quarter. Orlando gave up a 17-1 run when the team broke the lineup, struggling to get into the paint or create any kind of movement. The Bucks made them pay with a barrage of 3-point shots.
But Orlando was able to work itself back into the game. The defense started to pick up its intensity and the Magic were able to hit from the outside. Orlando made 14 of 35 3-pointers (40.0 percent). That was a big reason that kept the team in the game.
The Bucks struggled with the Magic's defense when they got themselves set. Milwaukee turned it over 22 times for 29 points. Jonathan Isaac tied a Magic franchise record with eight steals. Orlando was active.
But it came down to those 50/50 plays. It came down to executing and making shots. And it came down to scratching out that rebound or defending that 3-pointer.
The Bucks had 14 second-chance points on 13 offensive rebounds. They hit 13 of 37 3-pointers, making a flurry of them in the fourth quarter to create some separation.
Orlando had its chance. Down four with 10:53 to play, Korver hit that three on the third chance the Bucks got on that possession. Milwaukee extended the lead back out to 15 and the Magic ran out of time to get themselves back one last time.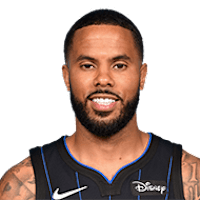 D.J. AUGUSTIN
PG,
Orlando Magic
C
Orlando Magic coach
Steve Clifford
said you did not have to look too deep into the box score to see where the difference in the game was for the team. Every starter for the Magic had a positive plus/minus (except
Aaron Gordon
, who plays with the second unit a lot). Every player off the bench had a negative plus/minus. Actually, every player off the bench (except for the deep bench guys) was at least -12.
D.J. Augustin was at the center of all of this. He had a -35 in 28:15 of play. Some of that might suggest D.J. Augustin was the reason the Magic struggled. And in some respects he was. The Magic fell behind by 19 with Augustin running the show. He struggled to get the team moving at all and had a lot of aimless dribbling that did not seem to get anyone open. He fell right into the Milwaukee Bucks' trap.
But his second stint was a lot more effective. When he was playing with the starters, he did get the team moving a lot better. He was able to dart into the lane and pass it to Nikola Vucevic to shoot or get to the basket and finish. He scored 12 points on 4-for-7 shooting and dished out four assists. He provided some stability. He just does not work well with the bench units he typically helms.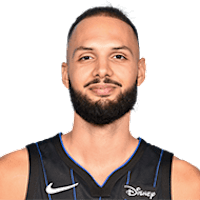 EVAN FOURNIER
G/F,
Orlando Magic
B
Finding a way to get paint touches against the Milwaukee Bucks is probably one of the most difficult things to do. They essentially play a zone defense, looking to drop and let players into the paint, only to surround them and keep them from those truly good shots right at the rim. It is tough to get a good look in the paint against this team.
Evan Fournier and Nikola Vucevic had a tough time getting their pick and roll game going. Vucevic was essentially hanging on the perimeter to try to space the floor and draw Brook Lopez away from the basket. He hit plenty of his 3-pointers to get things going.
It was still Evan Fournier leading the way off the dribble trying to get into the lane. He and Vucevic worked a pretty strong pick-and-roll game to score 23 points on 8-for-16 shooting, hitting four of seven 3-pointers. He was good at reading the defense and finding his spots to attack. Fournier definitely settled for shots at times and the Magic needed to get the ball moving. But he generally made good decisions. He struggled defensively against Khris Middleton for long stretches but buckled down late.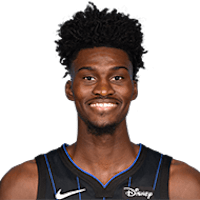 JONATHAN ISAAC
F,
Orlando Magic
B+
When
Jonathan Isaac
locks in defensively, it is impossible to miss him. And it is really hard for the Orlando Magic not to go up a level. He was pretty nondescript in the first half. He took some forced jumpers and did not really do a ton. He was not active.
The second half was about as good as he could play defensively. From the start of the third quarter, he was deflecting passes and sliding over to block shots. He had a franchise-record-tying eight steals. They were good steals too. He was sliding over like a safety and deflecting passes. He was just a monster disrupting everything defensively.
Isaac used that to get his offense going. He was good throughout the night attacking the offensive glass and finishing with some force on putbacks. Isaac scored 19 points to go with nine rebounds (four offensive). The Magic still are not running a lot for him, but he finds a way to impact the game. His defense is the catalyst for all of it.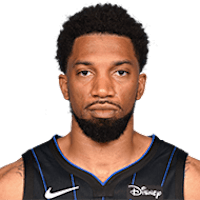 KHEM BIRCH
C,
Orlando Magic
F
If you are looking for an area where there was a real breakdown defensively,
Khem Birch
might be the place to go.
Khem Birch
, the energy big man that was such a key part to the turnaround last year, has struggled to match that efficiency and focus this year. He has not been a major impactor defensively and has struggled most on the glass. That was a big problem for the team when Nikola Vucevic was out with the injury.
This game was something worse though. Khem Birch struggled to hold his ground against Robin Lopez, giving up several straight push shots where Lopez backed him into a range he was comfortable to flip a shot over him. Birch had two points and three rebounds in 16 minutes. It felt like Orlando needed to get Vucevic in the game quickly, especially in the fourth quarter because Birch was a bit unreliable.
Mohamed Bamba missed a second consecutive game with a sprained ankle. While he also struggles to hold his ground, his size would have given the Bucks at least a little bit of pause. And he has grown a lot as a rebounder this year (although he still needs work). Not to mention, Mohamed Bamba is a threat to score where Birch rarely looks for his shot even around the basket. The Magic could have used that size again.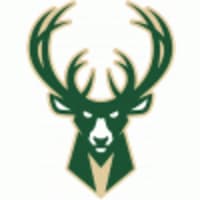 MILWAUKEE BUCKS
29-5,
1st East
A-
The Milwaukee Bucks played without Giannis Antetokounmpo and it was clear they missed him. They were not able to attack the lane as quickly and their defense was not as strong as it would have been with him. But, by another token, they still played much the same way. Their system still caught the Orlando Magic trying to drive into their sea of length and they could still share the ball to get open shots.
Milwaukee is a veteran team that understands its system and how to get good shots. They stick with it and they play hard. Ersan Ilyasova was the biggest killer making sure Milwaukee had many bites at the apple. He scored 17 points and grabbed 14 rebounds. All three of his offensive rebounds felt like killers.
The Bucks played with good poise even as the Magic's defense tightened its grip some. And eventually, they found their breakthrough. All because they were willing to stick with it. The Bucks got contributions from veterans who needed to step up and they beat a team that was still trying to find its way.
The Orlando Magic are 14-18 and eighth in the Eastern Conference, 2.5 games behind the Brooklyn Nets for seventh and 1.5 games ahead of the Chicago Bulls for eighth. They return to action Monday at the Amway Center against the Atlanta Hawks.