Orlando Magic Grades: Orlando Magic 111, San Antonio Spurs 109
The Orlando Magic did not let a deficit get them down as they ground their way to a major 111-109 win over the San Antonio Spurs.

109

111

The Orlando Magic were ready to scramble. It was only the San Antonio Spurs were too.

The team was trying to keep pace midway through the fourth quarter and trying to finally climb completely out of the hole built with another lackluster first half. But the Spurs were just as desperate to break their three-game losing streak.

The team forced a loose ball out to mid-court. But Evan Fournier was unable to track it down. Derrick White saved it to Dejounte Murray who found LaMarcus Aldridge open for three as the Magic scrambled to get back from the steal attempt.

San Antonio led by seven. It felt like this was not Orlando's night.

That is not how the Magic raced to the playoffs last year. Deep down this team is not one that loses its composure and gives up on the fight.

Orlando reached down and found that again. A quick 7-0 run powered from Terrence Ross and Evan Fournier's shot-making and D.J. Augustin's quick drives to the lane made it a game down the stretch.

It was again Evan Fournier and Terrence Ross hitting the big perimeter shots down the stretch with a dash of Markelle Fultz attacking the basket to keep the pressure up. Then it was the defense putting a vice on DeMar DeRozan for much of the second half.

In the end, it was the Magic hitting the shots.

Fournier got caught with the ball in a late-clock situation. He got a screen from Nikola Vucevic and got enough space to take a 3-pointer with about a minute left. It went in and the Magic had a three-point lead they would not concede to hold on 111-109 at the Amway Center on Friday.

Orlando battled all the way through, facing an early deficit and kept fighting. The team continued its trend of going to the foul line, hitting 27 of 34 free throws. That kept the team in it despite another difficult second quarter offensively and lackluster defense.

The team has proven this year it can do enough to give itself a chance in the game. It can tighten up its defense. It is just a matter of scoring.

The offense has started to come around and the team is starting to assert itself. The Magic were not about to give in on this one and they fought for their win.

" >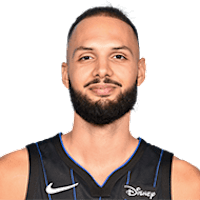 EVAN FOURNIER
G/F,
Orlando Magic
A-
Before last year, Evan Fournier was a reliable shooter and attacker on pick and rolls. He was not going to get all the way to the basket and he had to keep the ball moving. His tunnel vision was his biggest weakness. But he was always good for a few games where he just went off and hit a bunch of shots.
Last year was frustrating because he never had that breakthrough game. He never really had his legs under him and struggled to make the simple shots that defined his career.
That is not the case this year. This year, Fournier has been the Magic's most consistent offensive player and has been reliable as an outside shooter with some of those big performances. Fournier scored 26 points and hit five of his six 3-pointers. After some early season struggles, he has had much better rhythm and vision attacking off the dribble. It finally feels like Fournier is back.