Orlando Magic Grades: Orlando Magic 115, Detroit Pistons 91
The Orlando Magic again rolled to a victory in the preseason with some stunning ball movement and strong defense that has everyone buzzing.
Final

115

91
It has been a while since Markelle Fultz has really gotten the basketball world buzzing for the right reasons.
Back when he was with the Washington Huskies he would get the pro world buzzing with his nightly feats and scoring trips. There is a reason he was the number one overall pick. That part of him has not completely gone away.
Markelle Fultz is not all the way back yet. That much is clear through two preseason games. He is still in the happy to be playing phase of his comeback and is delivering some promising and intriguing performances.
Each trip out will leave another opportunity for him to get more comfortable and get better. And, yes, drop a highlight reel to let everyone know he still exists and still has plenty of promise.
Fultz had more than a few in his game Monday.
There was a steal and runout for a one-handed jam to put an exclamation point on the Orlando Magic's 115-91 win over the Detroit Pistons at Little Caesars Arena on Monday. Then there was the stop and pull up he hit too.
Fultz might still need some time to find his rhythm and there is still rust to work off, but he is shining for the team. It is hard not to notice him.
It is also getting harder not to notice Aaron Gordon and the rest of the Magic too. Just like Saturday's win over the San Antonio Spurs, the team seemed to click into place for an extended period of time to race ahead.
This time is was a 19-2 run in the first quarter, charged by Aaron Gordon's 13 first-quarter points. Orlando seemed to be ready to play at a different level than their opponent once again.
The Magic are building these leads with some impressive ball movement and suffocating defense. Not perfect on either end by any stretch, but the Magic are seemingly doing all the right things. They are moving the ball and working together.
For two preseason games, the Magic have looked especially impressive. Now it seems like it is a pattern.
It is hard not to be encouraged even with tougher challenges ahead.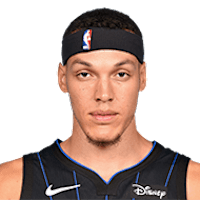 AARON GORDON
F,
Orlando Magic
A
Aaron Gordon found his groove fairly early. Never mind a couple of missed shots early on. They were rhythm jumpers within the flow of the offense that he just missed. Those are attempts you can live with. Especially when he eventually gets it going.
Aaron Gordon was able to squeeze his way into the lane and was not afraid to finish over and around Andre Drummond. That is probably what was most impressive about him. He is playing under complete control right now. Every move is quick, but still seems to have a ton of patience.
Gordon finished with 25 points on an efficient 10-for-17 shooting. He could still work to make more of his 3-pointers, but everything is very patient and under control. Gordon was not forcing anything Monday night. And 25 points in 25 minutes was as impressive as it gets.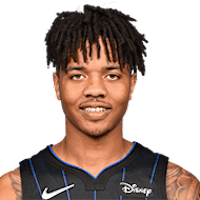 MARKELLE FULTZ
G,
Orlando Magic
B+
All eyes are obviously still on Markelle Fultz. It is probably a bit unfair to over-analyze every single one of his games. He is going to need some time to make mistakes and get back into the swing of things. He is far from perfect. That is not going to change. The hope is that he can continue to get better.
Still, it is hard to take your eyes off him. Fultz is making a positive impact on the floor when he is out there. The Magic do not have someone else like him who can get into the paint and work his way around the defense. He is not necessarily finishing at the basket, but he is adept at squeezing the ball over and around defenses and keeping his ball alive.
Regardless of where his shot is at, that is a valuable skill. And his shot is coming around. He scored eight points on 4-for-10 shooting. He did not hit any 3-pointers, but he was able to make from mid-range effectively. Fultz still needs to reduce turnovers and improve his defensive positioning. But Fultz's debut has remained impressive.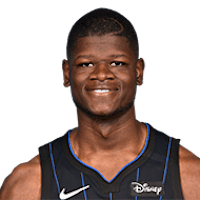 MOHAMED BAMBA
C,
Orlando Magic
B
Much like Saturday's game,
Mohamed Bamba
continues to do a lot of the right things offensively. He is running the floor and flashing into open space, especially as players like Markelle Fultz and
Michael Carter-Williams
attract defensive attention.
Mohamed Bamba
is making himself available.
This is how Bamba is likely to play this year. The Magic want to get him involved in simple pick-and-rolls and have him play with energy running the floor. That is how Bamba got to 13 points and eight rebounds. He hit a pair of 3-pointers in the third quarter to boost his scoring.
Bamba is getting better with his defensive positioning too. He can change shots with his presence alone. But Bamba also lost contact a few times defending Christian Wood. And while he was able to body Andre Drummond off his spot on a few occasions, he still got bulldozed a bit around the paint. Bamba is making progress, but he still has provided some positive moments.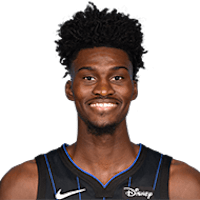 JONATHAN ISAAC
F,
Orlando Magic
B+
Jonathan Isaac
can be everywhere. His defensive acumen and understanding are off the charts for a player his age. He chased down a block early on that seemed impossible to reach. Then in the second quarter, he intercepted a pass and drew a foul to stop a fast break. Then late in the first half, he slid in front of
Blake Griffin
and drew a charge.
Jonathan Isaac does just about everything. And his defensive impact is clear every time he steps on the court. Seeing him fill out a stat line and be everywhere there was something impressive too.
Isaac finished with 16 points, seven rebounds and five assists. It was a strong all-around game. Isaac generally kept the ball moving and made the right play and right pass. He still needs to get his feet under him on his shot to be more consistent.
The Orlando Magic finish their preseason road trip Wednesday when they head to Atlanta to take on the Atlanta Hawks.