Markelle Fultz is good to go for Orlando Magic training camp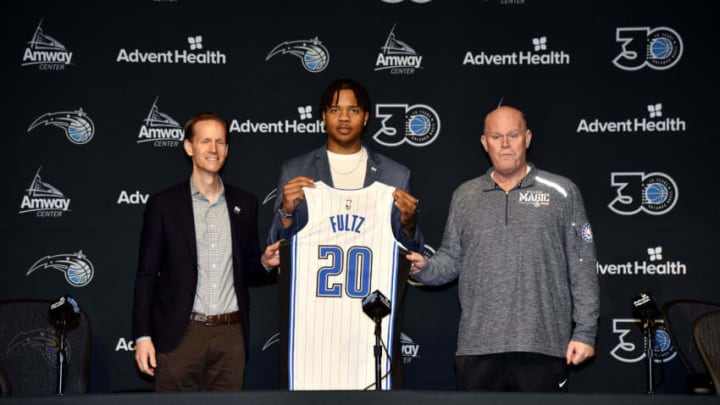 After a long recovery process, Markelle Fultz is set to return for the Orlando Magic for training camp. (Photo by Fernando Medina/NBAE via Getty Images) /
The Orlando Magic openly acknowledged Markelle Fultz's progress after a voluntary workout in Orlando. And officially cleared him for camp.
All summer long, the Orlando Magic have kept a tight lip when it comes to Markelle Fultz.
Ask anyone — even last week in interviews with John Denton of OrlandoMagic.com and Josh Robbins of The Athletic — and the answer is invariably the same. They are happy with Markelle Fultz's work ethic and progress. But he remains evaluated on a day-to-day basis and nobody is sure when he will return to the court.
That is no longer the case. Magic president of basketball operations Jeff Weltman said Markelle Fultz's rehab will continue and he remains day-to-day, but he will be a full participant when the team opens training camp next week.
Fultz is obviously one of the biggest variables in the Magic's season.
The former number one pick has played in only 33 games in two seasons as he dealt with first a knee injury and then thoracic outlet syndrome that greatly affected his ability to shoot. Orlando acquired him as a high-upside play. And it is easy to let imaginations run wild.
Especially as there has been little information about Fultz's progress or his status for the upcoming season. Everyone has been hungry for information. With just a month before camp opens, planning on what Fultz could provide or even if he will be in the lineup has remained one of the biggest mysteries.
The Magic appear ready to re-introduce Fultz to the world. With training camp on its way, now is the time.
The highly edited melt of Fultz getting his work in from the Magic's official twitter account is really the first time they have publicly acknowledged or displayed Fultz's work in any shape or form.
They obviously had the plan to only expose him to the public eye when he was ready to come back. They were quiet to keep the pressure off him. They never wanted to set a timetable for his return.
Publicly declaring him ready for camp is the first time the Magic have given any concrete statement of his progress or his return.
Indeed, even opening up some of his workouts would have been a big step. The Magic opened up the end of a voluntary workout at the Advent Health Practice Facility to the media Wednesday. Fultz was front and center as he was shooting with Michael Carter-Williams and Josh Magette.
Fultz spoke with the media after finishing his workout and expressed his excitement to get back on the court. Again, another sign of the team's comfort with Fultz's progress and his confidence heading into camp.
It certainly seems like he feels his long journey to recover from thoracic outlet syndrome is nearing an end. Or at least nearing a point where he can play more consistently.
""It's a long process. As anybody knows in the NBA, you are never 100 percent. The work of getting back and being a competitor is tough because you always want to be on the court. I had to take the right amount of rest and the right amount on the court. Just to be back out there, I love the game. Just to be out there and being able to compete and help this team feels great.""
That certainly sounds like a player who is back.
But there should always be caution. It still seems like the team will monitor his health and how he is feeling. He will participate fully in training camp. But it still sounds like Orlando will exercise caution. His long-term health is certainly still paramount.
The hope is obviously that Fultz will return for camp and be ready to play without any relapse. The Magic do not want to see him start and stop with his return and miss significant time.
And if he is fully healthy and ready to go, there is still no sense of what kind of player he will be when he returns to the court. Fultz still has to earn a spot in the rotation.
But it seems the Magic's patience with Fultz and his recovery has paid off. He and they feel comfortable that he is ready to rejoin the team and resume his career and his development.
All that anticipation will come to a head when training camp opens next week.