2019 Orlando Magic: 5 questions for the second quarter of the season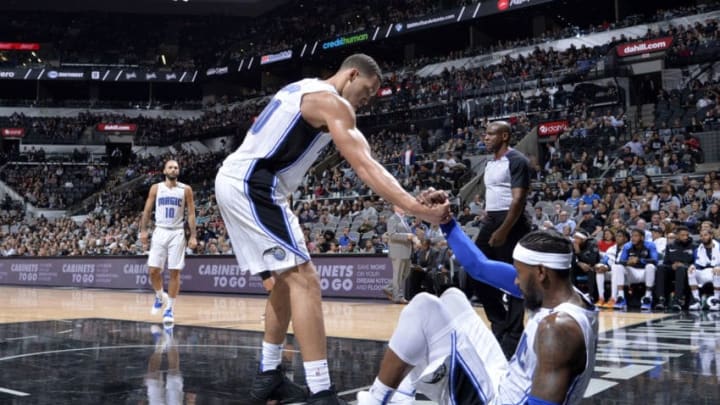 SAN ANTONIO, TX - NOVEMBER 4: Aaron Gordon #00 helps up Terrence Ross #31 of the Orlando Magic during the game against the San Antonio Spurs on November 4, 2018 at the AT&T Center in San Antonio, Texas. NOTE TO USER: User expressly acknowledges and agrees that, by downloading and/or using this photograph, user is consenting to the terms and conditions of the Getty Images License Agreement. Mandatory Copyright Notice: Copyright 2018 NBAE (Photos by Mark Sobhani/NBAE via Getty Images) /
ORLANDO, FL – NOVEMBER 9: Aaron Gordon #00 of the Orlando Magic dunks the ball against the Washington Wizards on November 9, 2018 at Amway Center in Orlando, Florida. NOTE TO USER: User expressly acknowledges and agrees that, by downloading and/or using this Photograph, user is consenting to the terms and conditions of the Getty Images License Agreement. Mandatory Copyright Notice: Copyright 2018 NBAE (Photo by Fernando Medina/NBAE via Getty Images) /
The Orlando Magic surprised the league with a solid first quarter and room to grow. How do they keep it going? That is the question for the next 20 games.
The Orlando Magic came into the season with low expectations.
After few changes to the roster outside a new coach and a promising young rookie, fans and national experts expected the same results this season. Another disappointing and frustrating year — likely — out of the playoffs. Expectations were low.
Not to coach Steve Clifford. He did not put a ceiling or expectations on the team. But he did not preclude or limit the team either. He asked, why can't this team make the Playoffs? Even with all of its shortcomings and flaws, he saw a greater team at play. And Clifford has been well known to wring everything he can out of the teams he has coached.
The start was less than ideal. It was what everyone feared from this team — an anemic offense that could not create much traction and a defense that did not have the talent or drive to compete. It never felt like the Magic were farther away from success.
Something clicked though. The work the Magic were putting in behind the scenes was slowly building up. Maybe Clifford adjusted some or maybe the Magic players finally fully bought in, seeing their way did not work.
Something has worked. The Magic went 10-11 through the first quarter of the season. After losing four of their first six games, the Magic won seven of the next nine. And they quickly put themselves in the Playoff race.
Unlike last year, when it already felt like the season had turned a quarter of the way through (the Magic were outside the Playoff picture, but still within striking distance). This year, there is undeniable hope as the team appears to be getting better. They certainly have shown a newfound resolve.
The offense has been on a tear. But it feels like it is in a much more sustainable way than the hot-shooting that characterized the first 12 games last year. The team is actually fun to watch and gritty and resilient on defense.
It is still imperfect. The team is still below .500 and sitting in eighth in the Eastern Conference. There is still a lot of work to do and a long way to go for this team to reach its ultimate destination.
And, as the Magic know, things can change quickly in this league. If the team lets up a little bit, the season can head south fast.
That leaves a lot of questions for the team as the next 20 games get set to unfold. The Magic can cement their place in the Playoffs in that time. But they have to answer some key questions to do it that were left behind in the last 20 games.