Orlando Magic Grades: Orlando Magic 105, Phoenix Suns 99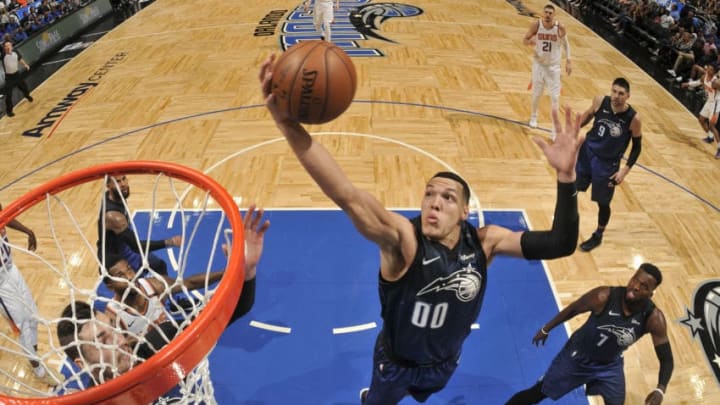 ORLANDO, FL - MARCH 24: Aaron Gordon #00 of the Orlando Magic grabs the rebound against the Phoenix Suns on March 24, 2018 at Amway Center in Orlando, Florida. NOTE TO USER: User expressly acknowledges and agrees that, by downloading and/or using this photograph, user is consenting to the terms and conditions of the Getty Images License Agreement. Mandatory Copyright Notice: Copyright 2018 NBAE (Photo by Fernando Medina/NBAE via Getty Images) /
The Orlando Magic needed to reach down and pull out a strong second half to defeat the lowly Phoenix Suns. It was ugly, but they found a way to do it.
The Orlando Magic seemed to be reeling in the second quarter. Their young lineup was incapable of getting any traction offensively or moving the ball effectively. Their defense was lax.
It all seemed to infect the other players on the roster. When the starters returned, they too were lackadaisical. An undermanned, underperforming and terrible Phoenix Suns team was running roughshod over them. It felt like even a modicum of effort would be enough for the Magic to rebuild their lead. And at times, it did not seem like Orlando was interested.
The Magic needed to show some pride to get a home win.
They delivered this night against one of the league's worst teams. Probably more than they had to. But eventually, they got the job done with Aaron Gordon and D.J. Augustin leading the way.
Orlando went from scoring 12 points in the second quarter to 39 points in the third quarter. The Magic took the lead and started pulling away, holding off the Suns 105-99 at the Amway Center on Saturday.
It was not pretty. It was not anything resembling good basketball for long stretches. Two of the worst teams in the league going at each other was often a test of wills. Whoever was able to make enough plays would win the day.
That proved to be the Magic in the end. They woke up from their stupor to get the ball moving and play something resembling the kind of basketball they want to play.
Coach Frank Vogel challenged them to commit more in transition defense. They slowly did and slowly began to deliver. The results changed as the Magic pushed their way into the lead.
There is little to celebrate in eking out a close win against a struggling Suns team that has won just once since the All-Star Break. Orlando relied on its bedrock players and got them to step up and score a victory.
It is not much. But the Magic dug deep to get the win. As inconsequential and frustrating as it might be.
Next: A game day with Orlando Magic assistant Jay Hernandez
The Orlando Magic take on the Brooklyn Nets on Wednesday as their homestand winds down.