Orlando Magic Grades: San Antonio Spurs 108, Orlando Magic 72
A sluggish Orlando Magic team ran into a buzzsaw. The San Antonio Spurs routed the Orlando Magic in an embarrassing blowout victory.
The San Antonio Spurs knew they needed a win. The Orlando Magic… knew they wanted to get home.
The Magic's pit stop in Texas after their nine-day West Coast swing always had schedule loss written all over it. The news that Aaron Gordon would not get clearance from the concussion protocol and Evan Fournier's continued absence only made the task harder.
Then the Spurs fell out of the top eight spots in the Western Conference. It was a formula to create the potential for an embarrassing scoreline. The Magic were entering the hornet's nest.
San Antonio levied a 19-2 run on Orlando in the second quarter as part of a 38-19 period that blew the game wide open. Things got only worse from there. The Spurs started the second half on a 14-2 run to put the game completely away.
Orlando failed to take those punches and completely let go of the rope. What was a close, competitive game in the first quarter, quickly became a sloppy blowout. There was nothing to feel good about in a 108-72 defeat to the Spurs at AT&T Center on Tuesday.
The Magic took one to the chin and never responded. They had nowhere to go with both of their key starters struggling to get going offensively. Their defense consistently broke down and showed little resistance to the Spurs.
This was as bad as things could get for any team.
Orlando shot 34.1 percent from the floor. The team had poor ball movement and ended with 20 turnovers. Some of that was from a team trying to do too much to get back into the game. But really, it was a credit to San Antonio's defense. The Spurs were harassing and dictating to the Magic what they were going to do all game long.
Orlando never stood a chance.
And with neither of the team's key star players — Nikola Vucevic and Jonathon Simmons — able to pick up the slack, it was game over. The two each scored 10 points, but on a combined 8 for 27.
The Magic finally hit a rock-bottom moment in this disastrous season.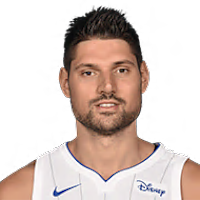 NIKOLA VUCEVIC
C,
Orlando Magic
D
Nikola Vucevic
is the start of everything for the Orlando Magic right now. Without the key players out with injury, Vucevic is the man. He is the one Orlando wants to run through and they know they need him. It almost felt like they were forcing the ball to him to try to get him going.
<narrator voice> He did not. Vucevic scored just 10 points on 5-for-14 shooting. He added 14 rebounds. But those are the typical counting stats you expect from Vucevic. The problem is the Magic just need more from him. Especially in this moment.
His poor offensive game only made his struggles defensively all the more prominent. LaMarcus Aldridge took him to school on the low block and Vucevic was simply powerless to stop it.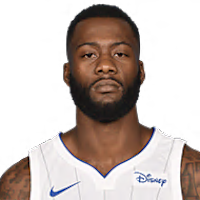 JONATHON SIMMONS
G/F,
Orlando Magic
C-
Jonathon Simmons
was playing his first regular season game back in San Antonio. There was some sense he was trying to play above his head in that game. Then again, the Orlando Magic needed that considering they were so undermanned. Jonathon Simmons has performed admirably in the two games since
Evan Fournier
and
Aaron Gordon
got hurt.
This was his back-to-Earth game. Simmons is not the ideal number one option. He is not someone who is going to play at that level every night. Not the way the Magic need him to.
Simmons scored 10 points on 3-for-13 shooting. He got his normal looks and just could not hit them. That is how Simmons' season has gone. So a game like this felt inevitable. Especially with the pressure he likely put on himself to perform.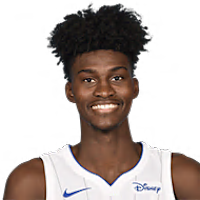 JONATHAN ISAAC
F,
Orlando Magic
B
About the only positive for the Orlando Magic all night was the play of
Jonathan Isaac
. At least, in the first quarter. He had a block on the very first defensive possession of the game and made a ton of strong defensive plays after that. He is already someone other teams have to be cognizant of.
Offensively, his confidence is growing too. He had a nice step-in 3-pointer that he drained with tons of confidence. And he hit a couple of dribble moves. Jonathan Isaac is not forcing much offensively yet, but he is starting to expand his game. And that is a positive sign. He finished with seven points on 3-for-5 shooting.
Isaac, like everyone else, gave in to forcing things too much in the second half. He made plenty of rookie mistakes and his three turnovers were the sign of someone trying to be a bit more aggressive and getting out crafted by veteran players.
SAN ANTONIO SPURS
38-30,
9th West
A
The San Antonio Spurs needed a win. After getting embarrassed Monday night against the
Houston Rockets
and falling out of the Playoff picture momentarily, this was a team that was going to play determined to turn things around. Gregg Popovich would make sure of it.
From the start, the Spurs were dialed in defensively. And they ratcheted up that defense again and again. Orlando was shooting int he 30s all game long. It was difficult to score. The Magic's defense for the first six or seven minutes was about all that kept it close.
LaMarcus Aldridge, back from injury, just tore up whoever was guarding him inside, scoring 24 points in just less than 26 minutes. He made every shot he took it seemed. And the Spurs found it easy to create turnovers and get fast-break opportunities. Just an easy night for San Antonio.
The Orlando Magic are right back in action Wednesday night as they return home to face the Milwaukee Bucks.