Orlando Magic Grades: Milwaukee Bucks 111, Orlando Magic 104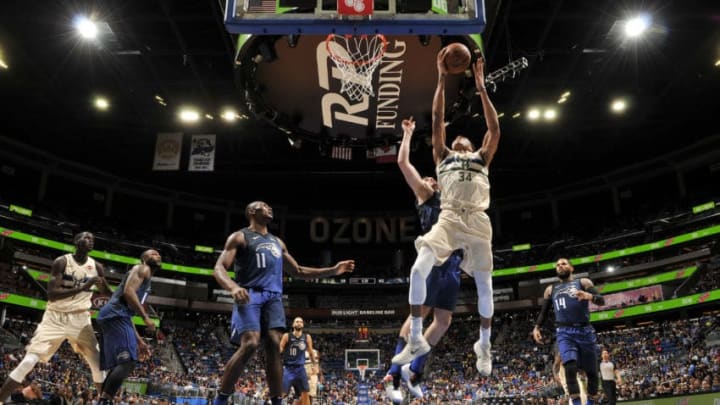 ORLANDO, FL -FEBRUARY 10: Giannis Antetokounmpo #34 of the Milwaukee Bucks drives to the basket against the Orlando Magic on February 10 2018 at Amway Center in Orlando, Florida. NOTE TO USER: User expressly acknowledges and agrees that, by downloading and or using this photograph, User is consenting to the terms and conditions of the Getty Images License Agreement. Mandatory Copyright Notice: Copyright 2018 NBAE (Photo by Fernando Medina/NBAE via Getty Images) /
The Orlando Magic were more than game, but could not stop Giannis Antetokounmpo or take the lid off the rim in seeing their win streak snapped.
The Orlando Magic were fighting, trying to break that seal that had founds its way over the basket. The team was chasing the lead in the fourth quarter, but never let the Milwaukee Bucks out of their sights. The Magic were feisty, searching for their first four-game win streak since December 2015.
The ball just would not cooperate.
After Evan Fournier's breakaway layup cut the lead to three points, the Magic could not secure the stops they needed to climb back. Nor could they get the shots to fall.
On one telling possession, with the Magic down by three points, Evan Fournier drove the lane and waited that extra beat to draw the defense in. He dished it out to Mario Hezonja on the wing. But Giannis Antetokounmpo closed quickly. Mario Hezonja had to side step to get open and take a more difficult 3-pointer.
It went no good, but the Magic got the rebound. Jonathon Simmons got the ball and attacked, getting all the way to the basket. But his shot would not go in either.
That was the kind of night the Magic were having. The Bucks held on for a 111-104 victory at the Amway Center on Saturday, snapping the Magic's three-game win streak.
Orlando shot just 44.6 percent from the floor and an icy 8 for 30 from beyond the arc. It was hard for the Magic to find scoring in long stretches of the game. The Bucks took control in the third quarter and seemed able to keep their distance after a back-and-forth first half.
Milwaukee used a steady diet of Giannis Antetokounmpo and a surprise lift off the bench from Jason Terry — with his three 3-pointers — to pace the team to a victory. The Bucks shot 52.4 percent from the floor.
Orlando never really had an answer for Antetokounmpo, lacking a player with his athleticism and length. He dominated the game with 32 points, five rebounds and five assists. But the Magic had a tough time defensively throughout. Their communication not as tight.
And the Bucks seemingly found their shots whenever they needed to and stopped every run the Magic tried to make.
The Orlando Magic hit the road Monday to take on the Chicago Bulls.