2016-17 Orlando Magic Player Evaluations: Marcus Georges-Hunt
The Orlando Magic made a somewhat surprising late-season signing to bring in Marcus Georges-Hunt. He was intriguing but has a long road to stick in the NBA.
The best D-League players are often the ones who surprise you most.
Yes, there are players on young teams who come out of nowhere and put up incredible numbers. And those diamonds in the rough are becoming reasons to continue mining the D-League.
But most players who get that call up are ones who have to carve a role. They may put up ridiculous numbers in the D-League as the leaders of their team, but most likely they are not going to be the star when they get to the NBA.
Finding players who can do a little bit of everything is a must when searching for players who can make it. They must be able to shoot and work without the ball or be lockdown defenders or be players who can get others involved. They just need to be able to fill a role.
Marcus Georges-Hunt seemed to fit into the cracks of this identity. He showed himself capable of doing a lot of different things. When it comes to the NBA Draft, that rarely stands out. In the Draft, teams want to see potential at one skill and draft on potential more often than not.
That leaves quality players like George-Hunt looking for a home. These players are more fully developed and capable of contributing quickly. Just maybe not impactfully. They fill the box score, doing whatever their team needs them to do.
That is what Georges-Hunt did in the D-League this year for the Maine Red Claws where he averaged 15.8 points per game, 6.2 rebounds per game and 4.5 assists per game. He recorded a triple-double earlier in the season, impressive considering he is a shooting guard. Georges-Hunt shot 46.2 percent from the floor.
He had the efficiency and all-around game that would seemingly translate. He just needed to find a way to stand out more clearly and get noticed.
Georges-Hunt was not necessarily on anyone's radar when the Orlando Magic signed him for the rest of the season with a non-guaranteed second season in 2018. Astute Magic fans were more familiar with Patricio Garino, who signed the same day as him. No one knew what to expect from Georges-Hunt.
Essentially, his stat profile suggested he was the quintessential Jack of all trades, master of none that gets talented players buried because nothing about them truly stands out.
In the few minutes Georges-Hunt played for the Magic considering how late into the season he signed, that part might be true. Yet, Georges-Hunt did stand out in some way despite not making much of a statistical impact.
Georges-Hunt scored 14 points in 48 minutes across five games in his short stint with the Magic. He was signed with so little time left in the season, it was going to be tough to draw too many conclusions. He got some time and raised plenty of eyebrows.
Sure, his shooting was not great. Georges-Hunt made just two of his seven shots in a Magic uniform. He scored his points by getting to the foul line — making 9 of 10.
Offense was not necessarily Georges-Hunt's forte. His shot would likely have come around if he had more time on the court and more time to show what he could do.
But Georges-Hunt was clearly strong on the defensive end. He uses his size well and has surprising quickness and athleticism. Just nothing top-end. No one is expecting Georges-Hunt to challenge for a starting spot
Just nothing top-end. No one is expecting Georges-Hunt to challenge for a starting spot anytime soon.
Georges-Hunt is a role player. He just now has to prove his defense can translate, his shot can come around and he can contribute consistently. The Magic essentially held him out except for late-game blowout situations, only giving him meaningful minutes in meaningless games.
He looked good and intrigued with his play. But he has a long way to go and still has to prove himself on the court.
Georges-Hunt is not a sure bet to make next year's roster. He showed enough, perhaps, to conclude the Magic were right to take the chance on him. But he has to continue proving himself again and again.
That will start in Summer League, where he will likely play for the Magic's Summer League team as one of the team's featured players alongside their draft picks. That will continue into training camp.
This is an extended audition and the chips are stacked against him.
But there is a roster crunch coming. Maybe one both he and Patricio Garino realized when they were given this chance.
Orlando will undoubtedly turn over part of this roster and add as many as four players through the draft. That will inevitably put a squeeze on the roster. Orlando's quick audition for Georges-Hunt may not last so long.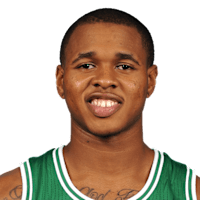 MARCUS GEORGES-HUNT
SG,
Orlando Magic
B-
That is part of what made signing Georges-Hunt and Garino so late in the season so odd. It did not seem the Magic would have enough time to properly evaluate him or give him a real chance.
Georges-Hunt got the guaranteed money of being on a NBA roster and getting a second year to continue working with the team. He will likely head to Magic training camp for that last chance.
He has to prove himself all over again. Such is the life of someone coming from the D-League. Security is fleeting and every time you step on the court, you have to prove your worth.
Georges-Hunt played well in a Magic uniform. Or about as well as can be expected. But his future remains up in the air.