2020 Orlando Magic Player Evaluations: Aaron Gordon's bizarre season leaves questions
It has been clear that Aaron Gordon played well when healthy, but the problem has been he has been unlucky when it comes to injuries for the Orlando Magic.
Aaron Gordon's promising 2019 season was supposed to be a stepping stone to taking a leap toward stardom. He had his best all-around season, bumping up his assists and rebounding and improving his efficiency even if his raw scoring went down.
In his first turn on a Playoff team, Aaron Gordon was the most trusted player on the team, averaging the most minutes per game. And in that playoff series, Gordon had the responsibility of defending Kawhi Leonard — a hard task to succeed in. He not only acquitted himself well defensively but had a small breakthrough offensively.
If there was a hint of Gordon's potential stardom, it was in his 15.2-points-per-game and 53.2-percent effective field goal percentage performance. He scored 25 points on a 10-for-17 shooting performance in Game 4 had the NBA world focused on him.
The Orlando Magic made few changes to the roster. Any hope for improvement was likely to come from internal development. And that put all eyes on Gordon to become not only a defensive stalwart but a starring offensive player.
But, instead, Gordon had himself an injury-riddled season. From a jaw injury in the second preseason game to a hamstring injury to end the season, Gordon could never get himself into a rhythm and have himself the offensive season most thought he could have.
He sprained his ankle in November and came back after three games. But playing through the injury in December, he admitted in January that he was still feeling tightness. It was clear he was not moving right.
A step backward?
Aaron Gordon took a step backward offensively from last year, scoring 14.4 points a game, on 44-percent shooting and 31-percent from three. This was down from the previous year. Although he can not be completely absolved from his struggles, it is important to point out he did play through those injuries.
Per Game Table

| Season | G | MP | FG% | 3P% | eFG% | FT% | ORB | DRB | TRB | AST | STL | BLK | PTS |
| --- | --- | --- | --- | --- | --- | --- | --- | --- | --- | --- | --- | --- | --- |
| 2019-20 | 62 | 32.5 | .437 | .308 | .484 | .674 | 1.7 | 5.9 | 7.7 | 3.7 | 0.8 | 0.6 | 14.4 |
| Career | 403 | 28.6 | .448 | .319 | .499 | .701 | 1.6 | 4.8 | 6.4 | 2.4 | 0.8 | 0.6 | 12.8 |
Once Gordon started to get healthy, he started to play better.
In the 13 games he played after All-Star Break, he scored 15.4 points per game on 48.7-percent shooting and 31-percent from three while also grabbing 8.9 rebounds and dishing out 5.7 assists. He also got his first career triple-double in that stretch.
Then in the four games, Gordon played in the bubble before he got hurt yet again, he averaged 15.3 points per game on 51.2-percent and 45.5-percent from beyond the arc. He also grabbed 8.5 rebounds and dished out 3.3 assists per game in only 25.9 minutes per game as the team eased him back into play.
The Orlando Magic did a better job in this stretch putting him in the paint and limiting his 3-point attempts. Gordon's playmaking showed through in these moments.
Gordon was good at making incisive passes to cutters as the Magic picked up their pace. Gordon took fewer of the pull-up 3-pointers and was more patient waiting for the play to develop. He did not make any complex passes, he just played with more composure and better pace.
He did not get the chance to play in the playoffs because of a strained hamstring he suffered when Kyle Lowry hit him on a dunk attempt in the Orlando Magic's loss to the Toronto Raptors inside the NBA campus. He could not run consistently in practices and the team did not feel comfortable putting him on the floor to battle Giannis Antetokounmpo.
Defensive dependability
But one area where Aaron Gordon remained dependable throughout the season was with his defense.
The injuries caused his numbers to slip some — his defensive win shares went from 3.3 to 2.3 and his defensive box plus-minus went from 0.3 to 0.1, still just his third career season with a positive defensive box plus-minus. But he still had a largely positive defensive impact.
According to numbers from Basketball Index, he spent most of his time defending the best players on the other team. Gordon's defensive numbers certainly suffered. His defensive numbers were a mixed bag — Defensive Real Plus-Minus really liked him but RAPTOR and PIPM metrics hated his defense.
It is still really hard to measure defense numerically. But everything points to Gordon have as inconsistent a year on the defensive side as he did on the offensive side.
He could still make some incredible plays. And he did not let everyone forget that.
This play illustrates how valuable Gordon is on defense as he can guard some of the best guards in the NBA.
Gordon can switch onto elite guards from elite forwards. The ability to switch on to all positions is special in this league and is one of the reasons the Magic ranked 10th in defense overall without their best defender for most of the season.
The Magic were not as good defensively overall. And Gordon struggled. The team's 109.7 defensive rating with Gordon on the floor was worse than the team's overall average and significantly worse than the 105.9 defensive rating the Magic had with Gordon on the floor last year.
With Gordon getting back to his defensive mentality, it makes him more dangerous on both sides of the floor.
Inconsistent with injuries
His inconsistent season mirrors his injury-filled season.
When Aaron Gordon found himself healthy, the numbers showed he was effective and was effective on the offensive end of the floor. Overall in the 13 games after the All-Star Break, he was a +4.5 per game, up from a -2.6 in the plus/minus box. Then in the four games he played inside the campus he was a +7.
He was able to find ways to become effective for the Magic, whether it was scoring off hustle plays or being a passer on the offensive end, but it is also important to note he was still a good versatile defender for the Magic.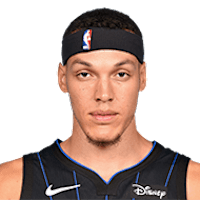 AARON GORDON
F,
Orlando Magic
B-
For the season, Gordon deserves a B- grade as he deserves some leeway for his struggles because of his injuries. But he also needs to take some blame.
He struggled to shoot the ball for the majority of the season but found other ways to be effective on the offensive end while still providing defensive pressure for Orlando.
It has been clear that Gordon played well when healthy, but the problem has been he has been unlucky when it comes to injury. It is going to be up to Orlando to make a tough decision on his future.
The Magic should not move on from Aaron Gordon until it is proven that he can not play alongside Jonathan Isaac. The defensive upside at the wing is to appealing until they show it will not work offensively.
Especially with Isaac out for the 2020-2021 season, Orlando should give Gordon another (hopefully healthy) season to prove what he can do on both ends.