2020 Orlando Magic Player Evaluations: The tantalizing, polarizing prospect of Mohamed Bamba
Orlando Magic center Mohamed Bamba remains one of the franchise's main development projects after his sophomore season.
Mohamed Bamba entered the league in 2018 heralded for his cerebral personality and raw talent.
Scouts and draft evaluators gave credence to his NBA-ready rim protection and soft touch. They also cautioned his small frame, lack of physicality and ostensible lack of motivation could require a longer development timeline.
The consensus was Mohamed Bamba would not make an immediate, tangible impact on winning at the professional level.
During the 2020 season, Bamba showcased both the strengths and weaknesses highlighted from his sole season at Texas. But those waiting for Bamba to take that leap and earn a spot in the starting lineup would find themselves disappointed.
Bamba showed better understanding and growth as he got more NBA reps, especially after finishing last season on the injured list with a fracture in his leg and then an offseason that saw him miss most of Summer League with a bone bruise, but consistency was his biggest issue.
It simply took Bamba a long time to get his legs under him again after the injury. And then when it finally seemed like he was making progress, the season went on hiatus because of the pandemic.
"This is not negative, guys come out of college so early now that when people say he played in a big-5 conference, the level of play in the best college game sand the pro games is not even close. It's a huge step," coach Steve Clifford said in a teleconference after the season ended. "I think he has made good progress. He can really shoot the ball. Everything else has improved. It's going to take time. The injuries have been a part of it too. I think he has a better understanding of what it takes to become a good player in the NBA. I think he understands what he has to do to get there."
No matter, Bamba worked to put on the much-needed muscle to better battle in the paint. Then, of course, he caught COVID-19 and could never bring his conditioning back up to help his team inside the campus once the season resumed. The team decided to send him home before the Playoffs.
He once again lost out on valuable playing and preparation experience. His career to this point has been a series of these false starts, sprinkled with little bits of hope.
Bits of hope
His numbers throughout the year do not suggest a player who improved dramatically. But Bamba certainly took positive steps.
Per Game Table

| Season | G | MP | FG% | 3P% | eFG% | FT% | ORB | DRB | TRB | AST | STL | BLK | PTS |
| --- | --- | --- | --- | --- | --- | --- | --- | --- | --- | --- | --- | --- | --- |
| 2019-20 | 62 | 14.2 | .462 | .346 | .526 | .674 | 1.6 | 3.3 | 4.9 | 0.7 | 0.4 | 1.4 | 5.4 |
| Career | 109 | 15.1 | .471 | .328 | .526 | .624 | 1.5 | 3.4 | 4.9 | 0.7 | 0.3 | 1.4 | 5.7 |
He improved his 3-point percentage by 4.6 percentage points on the same volume of attempts, after shooting an underwhelming 30.0-percent as a rookie. He shot 38.2-percent on above-the-break 3-pointers, a strong number for a center and among the best in the league. But he still needs to improve his outside shot.
He also had a team-best 18.5-percent total rebound rate. According to stats from Basketball Index, Bamba finished off offensive rebounds well, averaging 3.1 putbacks per 75 possessions and 4.1 offensive rebounds per 75 possessions, both numbers rank in the 90th percentile of the league.
Shot-blocking, his strongest asset as a prospect entering the NBA, continued to earn him minutes in the deep Magic frontcourt rotation. The numbers would say Bamba was the league's best shot-blocker this season — he averaged 3.5 blocks per 36 minutes. According to Basketball Index and data from Second Spectrum, opponents shot 14.6-percent worse at the rim when Bamba was defending it.
It is odd that so many players were still willing to test him at the rim. Bamba was hunted at the rim a lot. Bamba more often than not made them pay for that decision.
The eye test would also suggest he leads the league in "mental blocks." His presence alone is enough to convert layups into circus shots.
Only a handful of players Bamba's age have the physical gifts to play the modern NBA game. His 3-point touch and shot-blocking aptitude make him a coveted two-way prospect.
Floor flexibility
Mohamed Bamba's ability to stretch the floor provides the Orlando Magic with roster flexibility.
At full health, the Magic could feature Mohamed Bamba alongside any one of Jonathan Isaac, Nikola Vucevic or Aaron Gordon for a "5-out" lineup offensively. Or, aligning his minutes with Khem Birch and one of either Al-Farouq Aminu or James Ennis provides additional defensive length off the bench.
Pairing Mohamed Bamba with Magic Head Coach Steve Clifford, known for reverence for the defensive side of the ball, portended well for Bamba in his development. And the improvement showed year over year. During his sophomore season, Bamba's team defensive mistakes were fewer and far between.
He was not caught in "no man's land" as often, a frequent occurrence during his injury-shortened rookie season.
Bamba also showed improved help-side defense in his rotations and a dedicated propensity to keeping his arms "high and wide." With a 7-foot 10-inch wingspan, Bamba's length can plug holes in the Magic perimeter defense.
He can continue to propel his defensive growth by displaying more physicality inside. Bamba is great at finding a body when a shot goes up to secure the rebound, but even when he is in the proper position larger opponents bully him out of the way.
On defense, length alone will not deter the league's best finishers. Brawny bigs like the Miami Heat's Bam Adebayo feast on opponents who are not comfortable muscling in the post.
As a center, if you develop a reputation as a doormat, coaches and opposing players will target you relentlessly. The Magic and Bamba are aware of the need to improve his physicality, and that will ultimately start with him putting on additional weight. But even with the league targeting him at the rim, Bamba held his own.
Finding offense
Additional size and physical toughness will help him offensively as well.
Mohamed Bamba shot 61-percent on attempts within five feet of the rim, a figure includes the added benefit of easy put-backs off of offensive rebounds.
On post-up play types, a better indicator of pure offensive efficiency inside, Bamba shot 25-percent on six such attempts and turned the ball over on 29-percent of possessions — worth a mere 0.35 points per-possession, according to NBAStats.com.
Fortunately for Bamba and the Magic, these turnovers often came from poor adherence to basic fundamentals, which are easy to correct with dedication.
He has a disposition of lowering the ball from the chin to his waist upon the gather, where opponents are waiting to snatch it away. Kyle Korver and Gary Trent, both at least half a foot shorter than Mohamed Bamba, were beneficiaries at the expense of the unsuspecting sophomore.
More than anything, these mistakes show Bamba's inexperience — an indication he could develop an inside game as his career progresses.
There is a future state where Bamba never becomes a back-to-the-basket scorer. If he can shoot from outside at an efficient rate and continue to offensive rebound like DeAndre Jordan-lite, he can carve out minutes in the rotation.
Bamba just has to improve his overall offensive game. He was also not an effective roller in pick and rolls. According to Basketball Index he had a negative impact on his rolls, scoring only 0.80 points per 100 possessions on a 43.8-percent effective field goal percentage as the roll man according to NBA.com's tracking statistics.
Bamba popped on 64-percent of his pick and roll opportunities, both a sign of his confidence as a shooter and a sign of his lack of strength to finish around the rim outside of putbacks.
It did not help however that Bamba played with some of the Magic's worst lineups. Once Markelle Fultz entered the starting lineup he rarely played with him and he never quite gained chemistry with the bench-heavy lineups he played with.
Looking to the future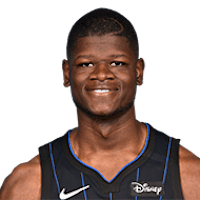 MOHAMED BAMBA
C,
Orlando Magic
B
Mohamed Bamba's improvement last season, particularly during the 2020 calendar year, bodes well for him developing into an efficient outside shooter. If he does meet this expectation, it will open opportunities inside to make the remaining offensive transition easier.
The upcoming 2021 season is critical in this respect, particularly given the additional minutes available in the rotation with the confirmation that Jonathan Issac will be sidelined throughout.
For a player his size, Bamba also possesses a strong handle.
"Feel" — the term generally used by scouts to compliment a player who has raw talent and is a coin-flip prospect — was often included in his draft profiles. If Bamba develops into a high-volume shooter, he will need to rely on a two-dribble pull-up to keep expanding.
When the hype surrounding Mohamed Bamba crescendoed following the Magic's selection in the 2018 draft, coach Steve Clifford tempered expectations with explicit requests for Magic fans to be patient.
Bamba is and was incredibly raw, blessed with the gifts of a modern big man, without the basketball IQ or physical strength to implement them effectively at the NBA level.
The upcoming season will be a testament to Bamba's work ethic and the limits of his body following his COVID-19 diagnosis. He already proved through the league's pandemic hiatus that he is motivated to improve with the muscle he put on in quarantine. But now the pieces have to come together and he has to stay healthy to take advantage of his physical tools.
"Mo has been dealt a bad hand so far," Jeff Weltman said in a teleconference after the season ended. "The great thing about Mo is he keeps coming back and keeps fighting. He has a great attitude and approach. The NBA is all bout adversity. That's what this league is about first and foremost. Mo keeps coming. He will have to forge ahead. He is in the infancy stages of his career. His body is filling out. He has already shown flashes when he has been given the chance of becoming a good player."
The process of getting back onto the court to rebuild his conditioning is an uncertain one. Both president of basketball operations Jeff Weltman and Mohamed Bamba say Bamba has been cleared of any long-term impacts from the disease. But a full recovery could take months rather than weeks.
With reports surfacing last week that the start date for the 2020-21 NBA season is still to be determined, Bamba may have ample time to both recover and focus on his development.
Whether you are a die-hard Magic fan or a casual fan of the NBA, Bamba's junior season will be worth the wait.