Orlando Magic Rumors: Orlando Magic will wear classic blue throwbacks in 2019
The Orlando Magic are set to be one of the teams adding a Classic Edition jersey to their set next year. The classic blue pinstripes are set for 2019.
The Orlando Magic will be back in their classic blue pinstripe uniforms next year. At least for a few games.
Conrad Burry of SportsLogos.net reports the Magic will be one of the seven teams confirmed to be adding a "Classic Edition" jersey to their regular four-jersey Nike set next year. It appears the team will rock the classic blue pinstripe uniforms they debuted in the 1995 season and became their regular road uniform in 1996 or 1997.
It makes sense too. Next year will be the Magic's 30th anniversary. Wearing some type of throwback uniform would make sense as part of the anniversary celebration.
And everyone loves the classic pinstripe jersey sets. The Magic almost have to go with these jerseys to celebrate their anniversary.
Orlando has used the blue pinstripe uniforms as throwback jerseys in the past. This will not be their first time cracking them out.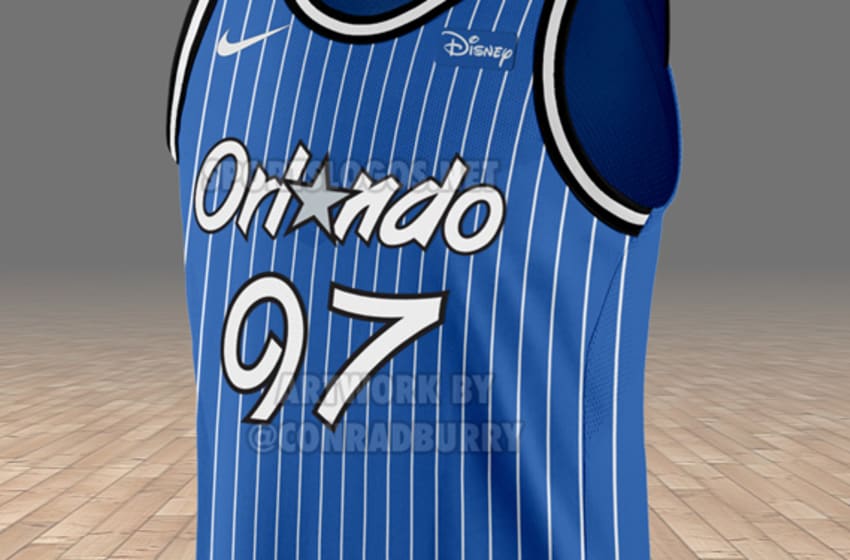 If the jerseys turn out anything like Burry's approximation, then they will look pretty good. The blue pinstripes were always among the best jerseys the Magic have ever worn. It is an easy choice for a distinct jersey to celebrate the team's anniversary.
The jerseys were originally introduced during the team's 1994-95 run to the NBA Finals. That was back when alternate jerseys were not an every night thing. The blue jerseys quickly replaced the Magic's black pinstripe jerseys as their primary road jerseys.
The pinstripe uniforms always have held a special place in everyone's hearts. The original jerseys are often cited as one of the best and most iconic jerseys of the 1990s. The change to the in-laid stars jerseys during the team's 10th anniversary season in 1999 was met with some sadness.
Every time Orlando cracks out the pinstripes for any occasion, it always gets fans excited. And fans will certainly be excited to add these uniforms as a fifth option in next year's Nike set.
The next question though is what else the Orlando Magic will have planned for its 30th anniversary. There has long been speculation that the team might opt for a bit of a rebrand of its current uniforms in Nike's second year of its apparel deal. There is no word about that.
The Magic have worn their current uniform set since the 2009 season. And considering the losing over the last few years, a new look might be something to refresh the look and feel of the team. And the 30th anniversary is certainly a reason to celebrate and introduce something new.
The pinstripes will always be a part of the Magic's legacy. And it is good to see them come back in a Classic Edition jersey next year.