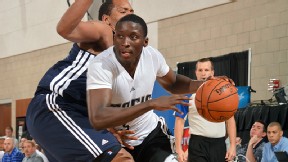 I am admittedly still cleaning up my notebook from Summer League a month ago. That week gives you a treasure trove of story ideas and storylines to follow, not mention quotes and information. I do not believe I am sitting on anything too important (I covered most of the major Magic storylines I wanted to cover on this site already).
One of the key storylines throughout the week was point guard play. The Magic notably were experimenting with Victor Oladipo at point guard and were generally pretty happy with the results despite Oladipo admitting he was a bit of a fish out of water.
The other point guards to watch that week were Trey Burke of the Jazz and Michael Carter-Williams of the 76ers. Both had their ups and downs throughout the week. Burke struggled with his shot and that seemed to cloud his entire performance. Carter-Williams was probably given too much freedom to do what he wanted and seemed to be missing shots left and right and turning the ball over in the middle of some decent distribution and point guard play.
For all three — along with Patrick Beverley of the Rockets, Jeremy Lamb and Reggie Jackson of the Thunder and Tyshawn Taylor of the Nets — the week was a learning experience. I recounted what was learned and what needs to be improved on for Crossover Chronicles today:
There was a surprising amount of point guard storylines going on at the 10-team Orlando Summer League.

"The ability to make plays," Magic Summer League coach James Borrego said of the biggest challenge for point guards in the NBA. "In today's NBA, point guards that can break down defenses off the dribble and create havoc change the entire game. I think we saw a young man [in Victor Oladipo] that has and possesses those skills to break down a defense off the dribble. I think on top of that, I think he also showed he can shoot the ball, he can defend the point guard and he has the tenacity and the winning quality that helps us moving forward."

Oladipo presented the most interesting case not only because he was the No. 2 overall pick and was making a complete position switch this summer — Oladipo admitted he had never played point guard at any level before. Oladipo performed in a major way, scoring 19.0 points and dishing out 5.0 assists per game.

He had his warts — inconsistent passing and turnovers are the norm for young point guards — but he showed the Magic their little experiment is worth continuing when the games start counting on October 29.

"[The biggest challenge is] playing through my mistakes," Oladipo said after his first game at point guard. "I think I did a pretty good job of that today. Make sure I don't get too frustrated, especially bringing up the ball when they start pressuring me. It's all a learning process. Once I get used to that, I think I did a pretty good job playing through my mistakes today.

"I've got to keep growing so I don't make the same mistakes over and over. They're patient with me, but sometimes I'm not patient with myself because I want so much of me so I can help my team win. I'm going to continue to keep learning and credit my teammates."
It is yet to be seen how much point guard Oladipo will play for the Magic this coming season. Jameer Nelson is certainly the starter with Ronnie Price and E'Twaun Moore joining Oladipo for time behind him.
Either way, it seems like Oladipo did learn something from the experience.