Throughout much of the Finals, Tracy McGrady has been an obsession for the media.
T-Mac was once the superstar of the NBA, a legitimate scoring champion and one of the best players in the league. There were legitimate arguments between McGrady and Kobe Bryant when McGrady was in the league. That is something you can forget when you watch McGrady, now at 34 years old and a time when he is supposed to be nearing the end of his prime, move so slowly on the court and without the ease and athleticism he displayed in four years with the Magic.
Orlando never built the team around McGrady to reach the championship heights Bryant reached. McGrady turned in a brief glimpse of greatness as he never achieved the team success he deserved. Everything — whether it be Grant Hill's constant injuries or Yao Ming's inability to take over games and avoid his own nagging injuries — worked against McGrady and eventually his body betrayed him.
I told [Tim Duncan] he better get me [a championship]," McGrady told Jonathan Abrams of Grantland of his new San Antonio teammate. "Shit, all the stuff I went through in my career? Sh*t. I'm probably one of the only quote-unquote stars in this league that had to go through a lot of sh*t."
McGrady's brief presence in the NBA Finals was a bit of a sideshow. A mix of nostalgia and regret for a whole bunch of NBA fans and Magic fans filled whenver McGrady was shown on camera. He was not the star he should have been at this point, he was a spectator like the rest of us.
McGrady's career story is actually quite amazing when you look at the whole thing. That is what Jonathan Abrams of Grantland did in recounting McGrady's career and the never-ending obstacles that always seemed to be placed in his way.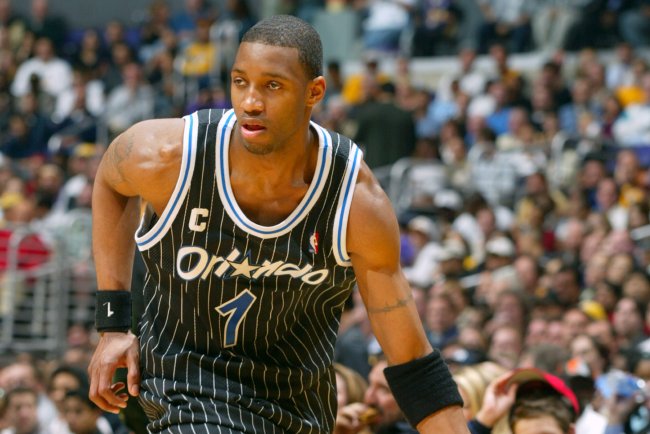 It started in Toronto where McGrady was somewhat buried on the bench with a coach who did not know how to reach the 18-year-old rookie. Then it was in Orlando where he blossomed but never had the supporting cast with Grant Hill always being injured.
Tracy McGrady's career has turned into a real tragedy as his talent went unfulfilled because of circumstances that were completely out of his control in many, many ways. His mix of teammates in Orlando were never quite up to snuff, but so too were the rumors that McGrady did not put in all the work (a criticism that dogged McGrady throughout his career certainly partly because of his sleepy-eyed look and the ease he played).
Coaches appreciated his talent, but always sensed they could get more. Johnny Davis, a former assistant and head coach with the Magic, expressed this in talking about McGrady:
I'm sure there were times when he wondered, Well, why are you questioning my work ethic? I just gave you 37 points. But, had he worked harder, maybe that was a 47-point night. Maybe there was no need for him to try to make one at the buzzer. Had he done this the whole game it wouldn't have even been close. Only he knows that. We look at it and we say, 'Man, he's not working hard enough.' But sometimes guys have an easiness about them that makes it appear that way, and again only Tracy can answer that.
If you follow Abrams' post, you get the sense coaches blame each other or his younger coaches for keeping McGrady from being the best player he could have been. There were even people in his inner circle who wanted McGrady to go to Chicago in that free agency period to chase the money rather than going home.
The Playoff failures overshadowed much of McGrady's career. It is something that he cannot get back and probably could not because of everything that happened to him.
As it seems as though McGrady's career is set to come to a close (certainly in the NBA), all that is left is the what-ifs? of McGrady's career.