For those wondering where Anfernee Hardaway has been since retiring from the NBA, he has been back in his hometown of Memphis. Aside from the stray local commercial (he owns a franchise in a local pizza restaurant, I believe) and the stray TNT appearance alongside former teammates Dennis Scott and Shaquille O'Neal, we do not see much of Penny Hardaway.
He has been quite active in basketball however, even away from his second home of Orlando.
Hardaway bought a piece of the Memphis Grizzlies under new principal owner Robert Pera's group. But the big work Hardaway has done has been in the community he grew up in.
Yes, the stories are true. Hardaway is indeed a middle school basketball coach, coaching the very team that he played on when he was growing up in Memphis. There is more to the story though. And that part of the story is developed in CNN writer Wayne B. Drash's book On These Courts.
The book chronicles Hardaway's return to Memphis and his middle school, Lester Middle School, to coach at the request of his friend Desmond Merriweather. The assistant coaching gig became permanent however when Merriweather was diagnosed with colon cancer. The story, originally published on CNN, drew lots of attention and was expanded for this book.
Shannon J. Owens of the Orlando Sentinel caught up with Hardaway with his book officially hitting book stores this week. Here he explains what he hopes readers get from this story:
First of all, they gave Desmond 24 hours to live when he first got diagnosed at the hospital and he's still living. The first thing is to just have faith that God can make anything possible. That's the first thing I want people to understand. The second thing is, no matter who you are and where you are in life is, God can always send a blessing and I've been a blessing to that neighborhood and to that school to inspire those kids to want to do more, be better people, be better students, to be better basketball players and do something positive in life.
Hardaway is steeped deeply in Magic lore, but the memory of him as one of the best players in the league throughout the mid-90s has largely been forgotten. Hardaway though is not out and about trying to reclaim that former glory. He said he was enjoying retired life of playing golf and traveling.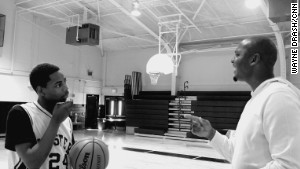 However, Hardaway has always been involved in the Memphis community and although this opportunity "caught him by surprise" as he tells Owens, it was one he wanted to pursue to help out a program that helped him.
It does seem odd that a guy who was once the best point guard in the league is coaching a middle school team (and not at least a varsity high school team). Different people have different callings and this is clearly Penny's.
Hopefully we will be seeing Hardaway in Orlando at some point during the Magic's Silver Anniversary season (maybe to raise his No. 1 to the rafters, although there are no reported plans to retire anybody's jersey — now just seems as good a time as any). But if we do not, there will be good reason.
Hardaway is not only helping a friend in a fight for his health, but also helping his community in a tangible way. Those kids are lucky to have a man like Penny giving his time and his knowledge back to his community after years of success in the NBA.