For those into NBA fashions, one of the big days of the year is the NBA Draft. It is the first real piece of team gear each player puts on to represent his team. And who can forget Chris Webber and Anfernee Hardaway literally switching hats after the 1993 draft day trade.
There have been some great NBA Draft hat designs.
The NBA has released what the Magic's upcoming draft pick will be donning when he walks across the stage to shake David Stern's hand. Take a look (h/t SLAM Online)
I do not know if I am completely sold on the understated design, although I do like the blue highlighting the black-on-black coloring for the hat. The one thing you do not see in this image is the Magic logo placed under the bill of the cap, which is kind of cool.
If you like what you see, the NBA Draft hats are available online at the NBA Store for $27.95. You can browse through all the Draft hats there too.
And while we are at it, check out these great Draft hats of the past (after the jump):
Dennis Scott, 1990 NBA Draft
Brian Williams (Bison Dele) — 1991 NBA Draft
Shaquille O'Neal — 1992 NBA Draft
Anfernee Hardaway/Chris Webber — 1993 NBA Draft
Keon Clark — 1998 NBA Draft
Mike Miller — 2000 NBA Draft
Dwight Howard — 2004 NBA Draft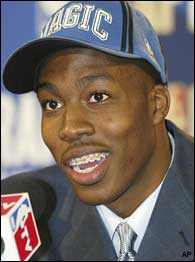 Fran Vazquez — 2005 NBA Draft
J.J. Redick — 2006 NBA Draft
Andrew Nicholson — 2012 NBA Draft
Which Draft hat is your favorite? I own the 2005 Draft hat and, unlike Fran Vazquez in a Magic uniform, it is still going strong!