On opening night, the Magic sported a veteran-looking lineup with Jameer Nelson, Arron Afflalo, Hedo Turkoglu, Glen Davis and Nikola Vucevic. Only Vucevic could be considered "young" and the team was establishing the base for its future growth by bringing rookies along slowly.
That experiment lasted all of one game. Hedo Turkoglu broke his hand and the Magic had two starting lineups in two games.
It did not take long for other injuries to take their toll on this roster and the plan to bring several rookies along slowly was pretty much stopped. The Magic now have had 20 starting lineups in 65 games, the most in the league. Now the Magic are using a lineup that indeed has a lot of young players — second-year player Nikola Vucevic is joined with rookies Maurice Harkless and Andrew Nicholson and there were a few calls for second-year forward Tobias Harris to make an appearance at the beginning of the games before he started his first game in a Magic uniform a week ago.
For first year coach Jacque Vaughn, the shifts in the starting lineup have been something he has had to adjust to on the fly. There have been plenty of growing pains as Vaughn has had to throw young players into the fold sooner than anticipated just to field his best team.
"I don't think we can expect to see any lineup the way this year has gone," Jacque Vaughn said before Sunday's loss to the Grizzlies. "We lead the league in most lineups and that is by circumstance. We'll deal with whatever circumstance comes about.
"If the first game of the year w edon't have a player hurt, I would love to have the same five guys that I started at the beginning of the year playing right now. Injuries and other things don't always cooperate. Just like the opponents don't always cooperate. I'd like to box them out but they don't cooperate all the time. They don't allow that."
The year has been about the improvement and Vaughn has continually said he would put players in a position where they could succeed. That has meant inconsistent minutes at times for rookies like Maurice Harkless, Andrew Nicholson and DeQuan Jones — each have started more than 15 games this season.
Vaughn has taken a wait-and-see approach when it comes to the starting lineup each night. Andrew Nicholson, Maurice Harkless and DeQuan Jones have gone from starting one game to out of the rotation the next. Lately it has been Nicholson sitting out, having started 14 conseecutive games before last week when Harris entered the lineup.
The back and forth in and out of the rotation arguably could take some of these players out of rhythm. But with the success Harkless has had — Harkless was forced into the starting lineup perhaps before he was ready, starting 20 consecutive games at the beginning of the year before seeing his playing time cut and then re-entering the starting lineup a month later for good — it is hard to question Vaughn's management of his young players.
Vaughn though has done a good job setting a standard he wants to see from his young players. And has been quick to reign in playing time if he feels the player is not benefiting in his development for the future. Vaughn has had to throw out an incredibly young roster and there is bound to be a few players under 23 out on the floor at any time.
"The best way to show a coach you want to play is when you get into the game you play extremely hard," Jacque Vaughn said after the loss to the Grizzlies. "Coach is always watching – your mannersims, your facial expressions. You owe it to your teammates at the end of the day. When you are in the game, you owe it to your teammates to be in the right coverage and to play hard."
When asked though what Vaughn thought of the old adage: "It's not who starts the game, but who finishes it," Vaughn took his diplomatic approach by saying every minute of the game counts — not the start, not the finish. What is important to him, as he has said numerous times, is putting his young players in positions to succeed.
Vaughn said he would not try to force the ball to his young players to get them experience in late-game situations or anything like that. He will continue to take advantage of matchups he feels are successful.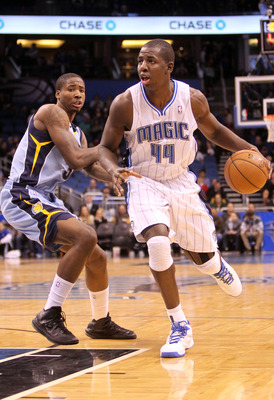 Again the point appears to be teaching the young players the right way to approach their jobs and their roles on the team so they will be ready to contribute when the wins come in the future for this franchise.
"I think that is one of the most important things that can come out of this game is that no matter what time of the game it is – whether it is the fourth quarter you are in, whether it is the first quarter you are in – there is a standard that you have for yourself," Vaughn said after the Grizzlies blew out the Magic two weeks ago. "There is a commitment to your teammates. You owe your teammates to play as hard as you can every time you step out on the floor because it's not guaranteed that you will get another opportunity."
That might be part of the impetus of moving Tobias Harris to the starting lineup. The Magic want to see what he can do against the opposing team's best players. After his hot start in a Magic uniform, Harris has settled into his new role, averaging 13.0 points per game and 10.0 rebounds per game in three starts.
Harris has started before this season, playing for the Bucks at the beginning of the season when Luc Richard Mbah a Moute was out. But he likely did not have the full faith the Magic seem to be investing in him for the rest of the season.
Harris has been marvelous in his brief time with the Magic and has earned his way into the starting lineup with his play.
"I think it is a big opportunity for me," Harris said after his first start against the Pacers a week ago. "At the same time, I think they have a good feel for my game and what I bring to the table and the type of player that I am. Each and every night, I am just going out there and playing as hard as I can and trying to continue to fit into this and continue to mesh with all these guys so we can be a better team."
For now the rotating starting lineup seems to have settled down with Jameer Nelson, Arron Afflalo, Maurice Harkless, Tobias Harris and Nikola Vucevic holding down the fort. Each has different things the Magic want them to accomplish. And, as we have seen, there is no guarantee that Vaughn will turn to them late in games if it is tight — Vaughn has gone with Al Harrington at power forward on several occasions late in games.
What is important is that despite the revolving door of lineups, the Magic continue to build confidence in these young players and put them in positions to succeed. Andrew Nicholson will undoubtedly find his way back into the rotation at some point. And, if another injury occurs, the Magic have learned this year how to adjust.