Andrew Nicholson has never been a flashy player. If he were, he might have gained the interest of bigger college programs and been on a much bigger stage.
Instead, the steady post player toiled his trade quietly and consistently at St. Bonaventure for four years. That has always been Nicholson's way it seemed. He came to basketball relatively late.
When he got to Orlando though, the team had a player that coudl come in and contribute immediately. He may not have had the flash of young talent like Andre Drummond. He would get overlooked for his consistency in naming the BBVA Rising Stars Challenge roster. With Drummond's injury, however, Nicholson was next in line as he often seems to be — ready to contribute and play the way he knows how.
Andrew Nicholson will be part of the festivities in Houston, selected to replace Drummond in the BBVA Rising Stars Challenge on Team Shaq (going up against teammate Nikola Vucevic). Much like Vucevic, Nicholson does not have the highlight-reel capability that you usually think of for an All-Star exhibition like this. These two young players do not have the flash likely to dominate these games.
That may be the very thing that Orlando likes about players like Vucevic, Nicholson and rookie center Kyle O'Quinn. They all know the work ahead of them at this next level and took the time in college to really develop their skills and who they are at players.
For Nicholson and O'Quinn, they spent four years at St. Bonaventure and Norfolk State, putting big numbers up against mediocre competition perhaps, but getting comfortable with their skills and being confident they could translate it to the next level.
"There is a maturity level that you see," Jacque Vaughn said in late November (when they were all still getting their introduction to the NBA). "Whether it is how they conduct themselves on a daily basis and how they are able to grab on to concepts. I think if you were to umbrella and say it is one thing, it is the maturity level."
Certainly Nicholson, O'Quinn and rookie Maurice Harkless have needed that.
Nicholson was probably the most NBA-ready with a highly developed post game and the ability to contribute immediately offensively. He has seen his playing time go back and forth at times this season — starting in a string of games at one point and then becoming non-existent for a striang of games. Right now, Nicholson is starting and playing major minutes with Glen Davis out of the lineup. His improvement on the glass and on defense have been noticeable as he takes to the NBA game and learns its ins and outs.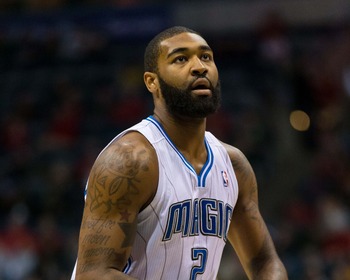 Kyle O'Quinn had to wait a little longer for playing time. Now, though, O'Quinn is receiving time on the court and his energy has been noticeable too. He has played 10 or more minutes in five of the last six games and is averaging 7.3 points per game in the last seven games. O'Quinn has shown an ability to get in there and mix things up.
While O'Quinn was patiently waiting for his opportunity, he said his four years in college definitely had helped him prepare for the next level. With the practice time and the opportunity now, O'Quinn is taking advantage.
Most definitely [being in school four years helped prepare him]," O'Quinn said in December. "Because you know what it takes, but you don't really want to accept it. So it's kind of like you go through the same thing all over. You go through college and you reap the benefits at the end. You put yourself in that perspective that maybe that thing should happen now."
For a rookie like Maurice Harkless, he definitely had growing pains to go through that Nicholson and O'Quinn perhaps did not. Even Nikola Vucevic, who spent three years at USC before being drafted by the 76ers last season, had a highly developed skill set entering the league. He just needed the opportunity to display it.
Harkless though is much more raw. He needed a lot more work before being thrown into the lineup.
While there were flashes of his athleticism and defensive ability early on, he clearly was not ready to play starter's minutes when he was thrown into the starting lineup early in the season. After getting some more personal attention in practice to work on his skills and receiving an opportunity thanks to injuries, we can see how Harkless has improved. He is more comfortable with the ball in his hands and has a better sense of what his role should be.
Like with most rookies, thre are ups and downs. Harkless scored only four points last night against Portland as Arron Afflalo returned to the lineup and J.J. Redick also came back to take up more possessions. Harkless again has to find his spots to be aggressive and work on his jumper.
The one key to remember is something Jacque Vaughn has repeated ad nauseum this year. Orlando is not goign to put their young players in situations where they feel they cannot succeed. That assumedly continues today as it did previously.
We believe in Maurice and we're going to continue to believe in him," Jacque Vaughn said in December when Harkless' playing time had dramatically decreased. "He has done a great job of getting better, of playing at the pace we would like him to play at and doing the intangibles – rebounding the basketball, blocking shots, running the floor. Not a lot of additional stress we want to put on him. With that, I think we've seen some growth from Maurice."
That certainly has proven itselt out as Harkless continues to develop.
What has become clear is that Orlando is developing its rookies in a productive manner. They are not getting more than they can handle, it would seem. And so, the experience that each received in college has dictated somewhat how they develop. The more seasoned palyers were ready to contribute sooner than expected.
Each has had to go through their own adjustments though. The successes, however, have to excite management about what is in store for them in the future.