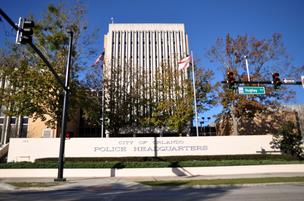 The Magic and the City of Orlando are closing in on a deal to purchase the parking lot across the street from Amway Center and the Orlando Police Department Headquarters. Mark Schlueb of the Orlando Sentinel wrote last weekend that the team would pay the city as much as $12.7 million.
The question that the Sentinel, and many other concerned citizens have, is whether the city is getting a good deal.
Arena projects always have their critics. That is nothing new. The statistics and the studies done to promote arenas and their economic impact can be argued in many, many ways. In any case, these are massive publicly financed buildings that cities — and by extension the taxpayers — invest a lot of money and a lot of political capital into.
Doug Head, A president for a bipartisan government watch group, is not a fan of this deal:
The price, to me, looks like they are accommodating the Magic, not accommodating the taxpayer.
Schlueb, in reviewing city documents, seems to reach the conclusion that the Magic are getting a nice deal on the property. Schlueb reports that the land was appraised and the value given was for the property if it were currently vacant. That land is obviously not vacant right now. I am not certain how that would affect the value.
The same appraisal method was used on the site proposed for Orlando City Soccer's new stadium a few blocks away. The property the Magic are looking at is much closer to I-4 and was appraised at a much higher value.
It is important to remember here that the Magic will be picking up the tab for the $100 million entertainment complex they have proposed. The city does not appear to be making any contributions to this project.
The details for the purchase of the land and the plans for the entertainment complex are still being worked out. If it does what it is intended, it will help complete the vision Mayor Buddy Dyer had for building a hub for Downtown Orlando.