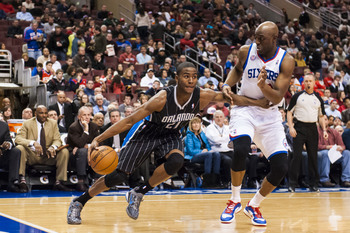 The team that will take the floor at Amway Center on Sunday afternoon is pretty similar to the team which finished the season on the main floor in April.
The Magic announced their Summer League roster on Monday for the Southwest Airlines Orlando Pro Summer League and it features six players who suited up for the Magic last season. That includes regular starters Tobias Harris and Maurice Harkless as well as Andrew Nicholson, Dequan Jones, Doron Lamb and Kyle O'Quinn. It is not far-fetched to say the Magic will use and experiment with lineups that feature all current NBA players.
The roster also includes Orlando's two rookie selections, second overall pick Victor Oladipo and second round pick Romero Osby.
It is conceivable that these eight players will remain with the Magic off of this Summer League team. That is perhaps a sign of the youth movement the Magic have undertaken the past two offseasons. This is another chance for these players to get some experience playing together and work on their games in a competitive atmosphere.
The Magic might very well have the best team each time they take the floor, but do not expect the contract players to play heavy minutes or even play all five games. The practice time might be more valuable for these guys.
The summer league also should afford the Magic some time to experiment with different lineups. A rumor of that has already appeared to bounce up as Adrian Wojnarowski of Yahoo! Sports reports:
Something interesting to watch in summer league: Orlando's Victor Oladipo getting major run at PG – in mold of young Russell Westbrook.

— Adrian Wojnarowski (@WojYahooNBA) July 1, 2013
Rob Hennigan has hinted as much in calling Oladipo a "guard" during recent press conferences. It is worth the experiment at this point of the season. There is no harm in having Oladipo work a little bit more on his ball handling, a perceived weakness of his.
It is not like there are a ton of point guards on the roster either. Guard Rodney McGruder from Kansas State was known more for his scoring outbursts last year in Manhattan than his point guard skills. He averaged 15.6 points per game on 44.2 percent shooting with just 2.0 asissts per game last year.
A.J. Slaughter might be more of a true point guard. He was named team MVP for Cholet in the France Pro A League after averaging 15.8 points per game on 57 percent shooting, 51 percent 3-point shooting and 4.7 assists per game in the second half of the season after battling appendicitis for much of the early stages of the season.
It might be an experiment worth having to try Oladipo at the point. But maybe give Slaughter his fair shot at getting a training camp invite as the backup point guard or as a third point guard on the roster.
Also give a fair shot to sharpshooter Matt Gatens. Gatens played for CB Murica last year in Spain. Gatens was an incredibly good shooter while in school at Iowa.
UCF product Keith Clanton also is getting his shot to impress on this roster. At 6-foot-9 and fighting against Osby and a roster stacked with power forwards, it seems like a stretch for him to last much longer than this week.
The Magic will kick off Summer League on Sunday at 11 a.m. against the Celtics. The games are closed to the public but should be airing on NBATV.