BREAKING NEWS: Adrian Wojnarowski of Yahoo! Sports reports the Magic have traded J.J. Redick to the Milwaukee Bucks. Wojnarowski reports the Hawks backed out of a three-team deal between the two teams.
Orlando has traded J.J Redick to the Bucks, league source tells Y!

— Adrian Wojnarowski (@WojYahooNBA) February 21, 2013
Another post is coming detailing the deal further. The Magic have traded J.J. Redick, Gustavo Ayon and Ish Smith to the Bucks for Beno Udrih, Tobias Harris and Doron Lamb. They have also traded Josh McRoberts to the Bobcats for Hakim Warrick. Lots of youth and expiring deals in that deal.
Eds. note: This will be a running post featuring an analysis of all the trade rumors and fan ideas throughout the day. Please check after the jump for more analysis and information as it is updated throughout the day!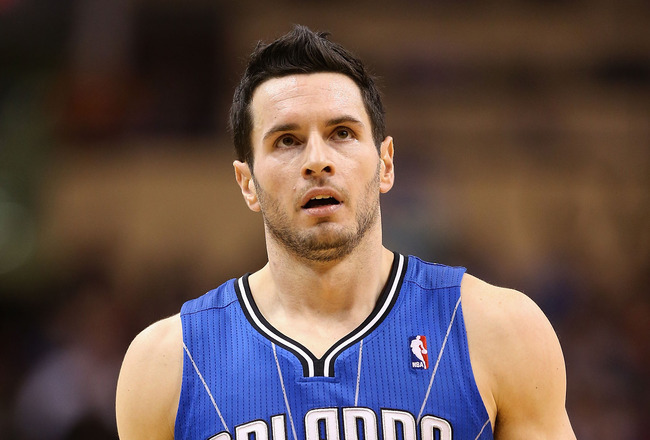 After months of rumors and uncertainty, trade deadline day is here and the Magic will finally have to make a decision on J.J. Redick.
Of any of the players available at the trade deadline, Redick seems the most logical to get moved. However, it is still uncertain whether Orlando will pull the triggeron a deal. There are several factors playing into this decision.
To review:
Redick is putting in a career season this year, averaging 15.1 points per game, 4.4 assists per game and shooting a career-best 45.0 percent from the floor. This has come all while seeing his minutes and role expand on a team that is struggling at the bottom of the Eastern Conference.
That might very well be the key. Redick, while professing a desire to stay in Orlando, also wants to play for a contender. Redick has been among the veterans on the team that has expressed frustration over the team's losing streak this year and, while remaining professional, and putting his work in. He has done all that the Magic and fans could ask of him.
But, as he told Josh Robbins of the Orlando Sentinel after last night's loss to Dallas, the thought of playing for a winner has weighed on his mind:
Asked specifically if he wants to remain with the team through the end of the season, he sighed and said, 'There's just too many variables to say that. There's just too many variables. The shortest way to answer that is I wouldn't be disappointed if I end up going to a team that is playing for a championship if that were to happen. Look, if any player is in this situation and they're on a team that's one of the five or six teams in the league that have one of the worst records and they go to a contender, it's not a bad thing.

'If I were to stay here, though, it'd be great.'
When the new management stepped in, it seemed almost certain that Redick would be traded before the deadline. His expiring contract made him an attractive piece for a team looking to acquiring shooting before the deadline. The Magic have and seemed very open to the idea to trading him.
Something changed though as this season progressed. Management became more open to the idea of resigning Redick became an option as management was reportedly impressed with his work ethic and ability. Of course, then came the bigger issue — resigning Redick.
It is still very very unclear what Redick might make on the open market this summer as an unrestricted free agent. Some reports believe that Redick's agent Arn Tellem will be asking for a contract around $10 million per year for the next two or three years. He is currently making $6 million and will want a raise thanks to this career season.
The question Orlando has to ask is what Redick is worth to them on the market? If the price has gone too steep, the team has to trade him.
That decision has not yet been made. Just about everyone feels the Magic will weigh their options before today's 3 p.m. deadline and make a decision to pull the trigger on a deal or keep him for the rest of the season.
Orlando has plenty of options too.
At this point it is easier to figure out who has not made an offer for J.J. Redick. Just about every team has to have inquired or made some kind of offer — serious or not — to get Redick.
This puts Orlando in a powerful position to pick which deal they want to take. They get to see waht the market is and try to set the price. That price, according to several reports, is a player on a rookie contract or a first round pick. The first round pick seems to be what the team is really after. That could be the sticking point in any deal for a lot of teams.
So here are the latest rumors and fan-offered ideas:
Of course the option a lot of people want to see is Redick stay in Orlando. This is a difficult position for Orlando. Likely, as mentioned before the Magic will be unwilling to re-sign Redick to his asking price and they do not want to be left with nothing for him. There is obviously a ton of interest in Redick. That cannot be ignored.
However, Orlando does not want a bad deal for Redick. If they think there is a chance and they are willing to resign him and they do not get the deal they like, the Magic will probably take their chances or try to work a sign-and-trade in the summer.
It is becoming more likely. Ken Berger of CBS Sports is reporting it is becoming more likely the Magic hold on to Redick past the deadline. Larry Ridley of WESH Channel 2 in Orlando adds a report that the Magic are not getting the offers they like. That would point to Orlando standing pat.
Here is the latest from Larry Ridley from about 2:30 p.m.:
Another #NBA source close to #Magic on trading JJ Redick "I think they will" but offers aren't as strong as they'd like

— Larry Ridley (@mrlarryridley) February 21, 2013
***
Throughout the week, Milwaukee has emerged as a potential favorite to land Redick. The Bucks have big stomachs right now and are thinking of pairing Josh Smith with J.J. Redick somehow. When Ken Berger of CBS Sports first reported the deal, he kept the caveat that the offer of Luc Richard Mbah a Moute is dependent on the Bucks acquiring Smith. However, the Magic's interest in Mbah a Moute has certainly cooled.
The Bucks though will keep trying and reports today are that their offers are slowly escalating. However, the Bucks may be slowly falling out of the mix, as Adrian Wojnarowski of Yahoo! reports.
They appear to be making one last push however. Josh Robbins of the Orlando Sentinel reports at 2:45 p.m. that the Bucks and Magic and an undisclosed team are working on a three-team deal involving Redick.
The Magic are working on a 3-way trade, which would include J.J. Redick. Milwaukee is one of the teams.

— Josh Robbins (@JoshuaBRobbins) February 21, 2013
According to Sam Amico of Fox Sports, that third team is the Hawks and the deal would send Josh Smith to the Bucks as well.
According to sources, 3-team trade involving Bucks and Magic would also include Hawks, resulting in Josh Smith to Bucks.

— Sam Amico (@SamAmicoFSO) February 21, 2013
The Bucks have lots of assets to offer the Magic. Many of the deals you have sent me have suggested many of these assets. Luc Richard Mbah a Moute, Beno Udrih and Mike Dunleavy have all been suggested.
Unfortunately, what Orlando really wants is a first round draft pick. It is sounding like Milwaukee is less likely to part with that.
From @1stIndianGM: Orlando acquires Larry Sanders, Mike Dunleavy, Beno Udrih and a pick; Milwaukee acquires J.J. Redick and Hedo Turkoglu
From @EspyMagic_44: Orlando acquires Ersan Ilyasova, Luc Richard Mbah a Moute and a pick; Milwaukee acquires J.J. Redick and Hedo Turkoglu
A couple of problems with these deals. This is a big haul for Orlando and the Magic would definitely jump on it — especially for Sanders. Turkoglu is probably a non-starter in trades because of his suspension despite his non-guaranteed deal. Ilyasova might be a non-starter for the Magic. Despite his ability to stretch the floor, he just signed a big contract and the Magic are looking for pieces they can either flip or will expire in the next two years.
*** The big rumor that emerged in the last 24 hours involved the Spurs trying to get into the Redick race. Redick, as I told Project Spurs eariler today, is the perfect kind of player for San Antonio's culture and would give the team another great shooter.
Those rumors appeared to have died as quickly as they started. Adrian Wojnarowski of Yahoo! Sports reported at about 12:30 p.m. this afternoon that the Spurs have dropped out of the Redick running. Likely Orlando did not like the low first round pick the Spurs could offer and likely were not interested in the young prospects like Dejuan Blair or Nando De Colo that the Spurs could offer.
Time to move on.
***
Reportedly Philadelphia is the latest team to enter the fray for Redick. The 76ers had not been previously connected to Redick. However Yahoo!'s Marc J. Spears reports the Sixers are one of the teams interested in Redick as the trade deadline draw nearer to a close.
What kind of deal could Philadelphia offer?
The Sixers do have a couple of nice young players in Evan Turner and Arnett Moultrie that could interest the Magic. Their position just outside (or inside) the Playoffs could also make their first round pick pretty valuable. This team certainly would be a dark horse to acquire Redick. Take a look at the suggested deal below:
From @T_Schroth: Orlando acquires Evan Turner and Arnett Moultrie; Philadelphia acquires J.J. Redick
Here, the Magic get two young players on their rookie deals who could contribute pretty quickly. Turner would be a bigger get because of his versatility than Moultrie, who might copy too much of Andrew Nicholson's role and development. This is a deal that makes sense. Maybe you pull out one of those players for a draft pick? Would that work?
There are no other reports to substantiate this kind of offer. But this is more in line with what the Magic are seeking for Redick.
***
Indiana also seems like a team that could use Redick as a shooter. They have been marginally connected to Redick in the last day or so and are very active in the trade process. They are reportedly shopping Gerald Green, Tyler Hansbrough and others on their roster to get a deal done.
The price of a first round pick might be too high. That is what Ric Bucher is reporting. That seems to be the theme running throughout the trade rumors coming down the pike today. Teams are leery of giving up a first round pick in exchange for Redick.
Does Indiana have any assets?
The Pacers have a lot of expiring contracts in Augustin and Hansbrough. And Lance Stephenson has turned in a nice year. But the Pacers likely would want assurances Redick would resign before making a deal, or committing a first round pikc like the Magic want.
From @ZOliver8812: Orlando acquires Gerald Green, D.J. Augustin, Orlando Johnson, 2nd Round Pick; Indiana acquires J.J. Redick
This trade works. However, the Magic take on a ton of salary in Gerald Green's three-year, $3.5 million per year deal. That is probably something the Magic do not want. Again, the Pacers probably want assurances that Redick will resign if they pull the trigger on this deal.
As of about 2:30 p.m., count Indiana out according to Chris Broussard of ESPN.com:
Indy falls out of hunt for JJ Redick, source says

— Chris Broussard (@Chris_Broussard) February 21, 2013
***
From @jrivera84: Orlando acquires Eric Maynor (& filler); Oklahoma City acquires J.J. Redick
The idea of acquiring a young point guard is definitely appealing. The Magic are likely trying to do that sometime in the future — possibly the draft. Eric Maynor is a good young player who can be a solid addition to this young team. To do this deal, however, the Magic would need to acquire young players like Jeremy Lamb and Deandre Liggins to make the deal work. Is Oklahoma City willing to part with all that young talent to acquire Redick. However, Oklahoma City would have to feel good about its chances of persuading Redick to stay.
***
The Knicks and Bulls were also recently linked to Redick. However Ken Berger of CBS Sports reports the Bulls do not want to dip into the luxury tax and do not seem likely to resign Redick so their interest has cooled. And talks between the Magic and Knicks involving Iman Shumpert are also pretty much dead, according to Alex Kennedy of HoopsWorld.
Keep it here for a review of the proposed deals that have been rumored to be out there and an analysis of YOUR proposed deals for J.J. Redick throughout the day.