J.J. Redick will make his much-anticipated return to Amway Center tonight as a member of the Milwaukee Bucks.
The February 21 trade of Redick to Milwaukee was difficult for everyone — for the Magic organization, for Magic fans and for Redick himself. It was an emotional day, but one the Magic felt they had to do considering the free agent prospects for Redick this upcoming summer, the logjam the team has created at shooting guard with Arron Afflalo taking up starter-type cap space and with the haul the Magic have brought in.
That will not dissipate any of the emotions of the evening for anybody. Redick was emotional when he spoke to David Baumann the day after the trade as he drove to the Orlando International Airport to catch a flight to Milwaukee. He was probably just as emotional as he said goodbye to teammates on the Magic team flight from Dallas to Memphis before returning to Orlando.
Unlike the Dwight Howard reunion a month ago, Redick could very well be greeted with a standing ovation as Jameer Nelson suggested Magic fans do. I suspect Magic fans will comply and greet him extremely warmly throughout the evening.
For Milwaukee, though, the team has to be hoping Redick enjoys some home cooking and gets back on the right track.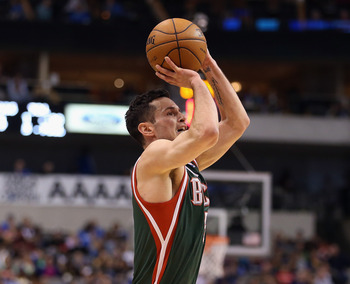 His role has shrunk just a bit since moving from the struggling Magic to the playoff-bound Bucks. Coach Jim Boylan has used the small lineup of Brandon Jennings, Monta Ellis and J.J. Redick at times throughout the season. Obviously having shooters like Jennings and Ellis leaves little room for Redick.
In 23 games with Milwaukee, Redick is averaging 11.9 points per game while shooting 41.6 percent from the floor and 33.6 percent from beyond the arc. In 50 games with Orlando, Redick averaged 15.1 points per game while shooting 45.0 percent from the floor and 39.0 percent from beyond the arc. Redick has seen his PER drop from 16.1 in Orlando to 12.7 in Milwaukee.
The Bucks are 11-13 since the trades. But they did clinch a Playoff spot for the first time since 2010.
The Magic too have been pretty happy with what they have gotten. Beno Udrih and Tobias Harris have been great additions and Harris has inspired a lot of optimism among Magic fans with his scoring ability. Both Udrih and Harris have expressed how greatful they are for the opportunity they are receiving with the Magic this second half of the year.
So far, the Magic's acquisitions have accumulated more win shares (2.6) than the Bucks' (1.4). Jury is still out on whether the deal ends up being good or not. It might depend on how much Redick gets as a free agent.
Obviously though, Redick is happy to be playing for a Playoff spot again and for the opportunity, just like Harris and Udrih are in Orlando.