Kevin C. Cox/Getty Images/Zimbio
Jacque Vaughn's rookie season as a coach was very tough to judge.
The Magic had a mish-mash roster cobbled together around the Dwight Howard trade and a lot of young players that nobody really knew about. This time last year, nobody had a clue that Nikola Vucevic would become a rebounding machine or who Maurice Harkless was. Let alone, Tobias Harris was not even on the team's radar, at least as fans.
It was hard to figure out where the team was going and what the team's philosophy was going to be. Jacque Vaughn, it seemed, was instilling the culture of the Magic program rather than installing specifically the kind of play the Magic will employ. Many players on the roster probably figure they will not be part of the plan three or four years down the road.
Now, though, the Magic are one year removed from that franchise-changing trade and have several pieces they are considering building around. More likely, Maurice Harkless, Tobias Harris, Nikola Vucevic and Victor Oladipo have long-term futures with the Magic. Orlando should begin forming the foundations of a playing style that uses these players the way they intend to when the final product is done.
The Magic have been notoriously close-lipped when they talk about anything regarding the future of the team or strategy or anything.
However, the announced idea of playing Victor Oladipo at point guard reveals some of the Magic's thinking regarding their future style of play. There will be a heavy emphasis on versatility and having guys play multiple positions.
This is what Rob Hennigan suggested in an interview with John Denton of OrlandoMagic.com:
You look at players and you look at the game, but we try to look at it a little differently. We try to look at players who we feel can fit the style that we want to play. It's not as much about allocating a concrete position as it is identifying what are the areas of the game that Player X can impact. We're trying to find players who can impact a lot of areas at the same time regardless of what position they are playing.
Certainly having guys who can impact the game in multiple ways is a good thing. Doing more with fewer players is always the goal.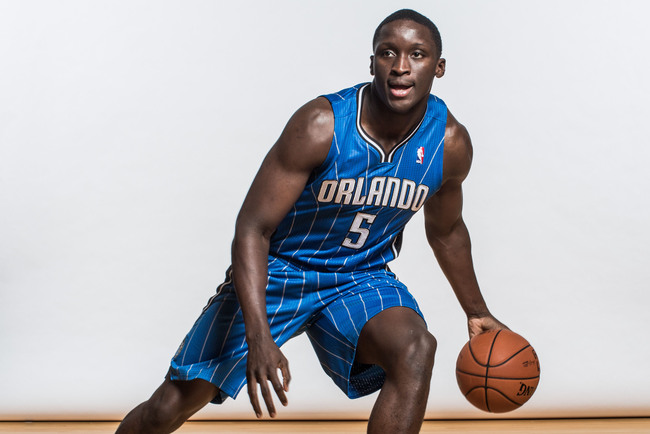 Nick Laham/Getty Images/Bleacher Report
So right now, the Magic are building the roster with that in mind. They want to be able to play Oladipo at both guard positions, and Harkless at shooting guard and small forward, and Harris at power forward and small forward. They want players who can play inside and outside.
This is generally the direction the NBA is going right now with the so-called "positionless basketball" promoted especially by the champion Heat. It is no surprise the Magic are trying to find their own version of this.
This sort of philosophy tells us the Magic are looking for players who can easily interchange with each other. Now figuring out how that pieces together long term is another matter.
Jacque Vaughn has been touted as a leader and developer mostly because that is all he has really been charged to do. This year, Vaughn should be expected to gain a more distinctive coaching and playing style to add to this program and organization. What that style is or what kind of team the Magic will become under Vaughn is still a huge mystery.
Now that the roster is taking shape and Vaughn has that year under his belt, maybe who the Magic will become will come into clearer focus in 2014.