Dwight Howard's performance in the 2009 Playoffs is the lone Magic player that cracked Kevin Pelton's ranking of the greatest individual Playoff performances for ESPN.com coming in at No. 37. That does trail 2009 LeBron James, who according to Pelton had the greatest postseason from a player who did not win the championship.
Howard averaged 20.3 points per game and 15.3 rebounds per game in the 2009 Playoffs. However, his impact was truly felt on the defensive end. He had 2.6 blocks per games, but his advanced numbers were even better. In the 2009 Playoffs, Howard led the league with an on-court defensive rating of 98 points per 100 possessions and 1.9 defensive win shares, according to Basketball-Reference. With Howard off the floor, the Magic were 12.6 points per 100 possessions worse.
There is no doubt Howard had an incredible postseason in guiding the Magic to the NBA Finals. Pelton writes on Howard's postseason that year:
Tucking his cape beneath his Magic jersey, Howard became Superman to lead Orlando to an unexpected spot in the NBA Finals. Howard grabbed better than one in four rebounds in the postseason, the best postmerger mark by any regular not named Dennis Rodman. Howard finished an Eastern Conference finals upset of LeBron James and the Cavaliers with 40 points and 14 boards, shooting 14-of-21 from the field and 12-of-16 from the free throw line.
Pelton rated Michael Jordan's 1991 Playoff performance (his first title) as the best in NBA history. Notably for Magic fans included on the list is 2009 Kobe Bryant at No. 17, 2009 LeBron James at No. 22 and 1995 Hakeem Olajuwon at No. 30.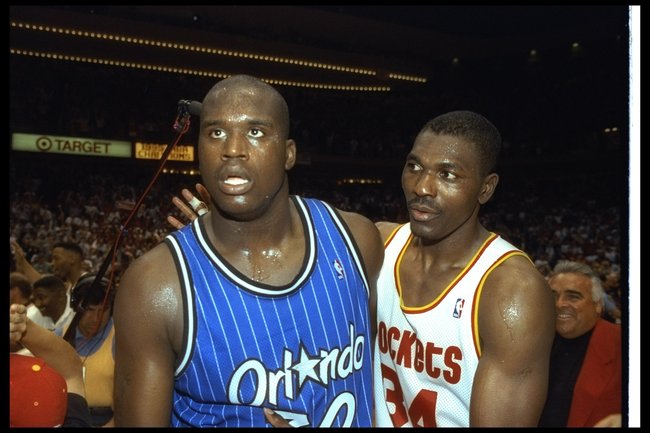 Notable Magic Playoff performances that did not make the list include:
1995 Shaquille O'Neal — 25.7 PPG, 11.9 RPG, 26.1 PER, 3.0 WS, Lost NBA Finals
1996 Shaquille O'Neal — 25.8 PPG, 10.0 RPG, 27.4 PER, Lost Eastern Conference Finals
1995 Anfernee Hardaway — 19.6 PPG, 7.7 APG, 58.2% TS%, 19.1 PER, 2.4 WS, Lost NBA Finals
1996 Anfernee Hardaway — 23.3 PPG, 6.0 APG, 55.7% TS%, 24.5 PER, Lost Eastern Conference Finals
2010 Jameer Nelson — 19.0 PPG, 4.8 APG, 61.2% TS%, 20.9 PER, Lost Eastern Conference Finals
It is hard to call any of these Playoff performances transcendental. If Howard does not lead the Magic to the Finals or make such a big impact on defense, he probably does not crack the top 50. Each of these performances were very good no doubt, but they lack something to their resumes. The deep Playoff runs in the 1990s certainly seemed to be in the discussion for the top-50 (particularly Shaq's strong offensive showing in 1995).
Again, winning seems to be weighed pretty heavily in this discussion.
That is why you do not see Anfernee Hardaway's Playoff performance in 1997 crack the list — he averaged 31.0 points per game and posted a league-best 29.9 PER in the five-game first round series loss to the Heat. That is also why you do not see any of Tracy McGrady's performances on the list either — McGrady averaged 33.8 points per game in the 2001 Playoffs, 30.8 in 2002 and 31.7 in 2003.
So I turn the question over to you: Who had the greatest individual postseason performance in Magic history?