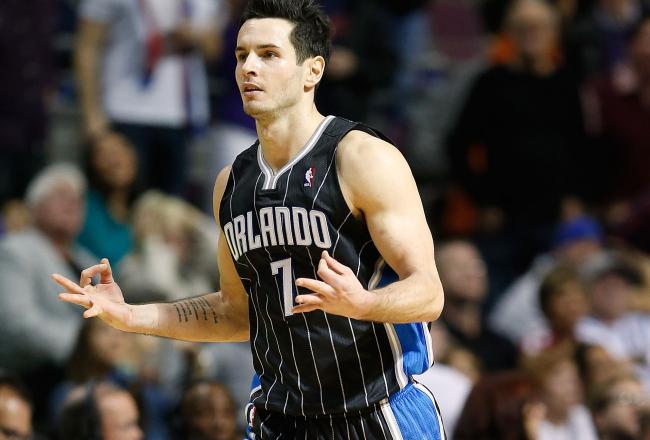 Tonight at 7 p.m. on TNT, the NBA will announce the participants in the "other" All-Star events including the BBVA Compass Rising Stars Game to be played Friday, February 15 and the competitors for the All-Star Saturday Night skills competitions.
Like last year, the Rising Stars competition will feature a mix of rookie and second-year players on teams selected by Charles Barkley and Shaquille O'Neal. That draft will take place tonight at 7 p.m. on TNT in what should be an entertaining hour of smack talk and ragging that makes the TNT shows fun. Nikola Vucevic has already been added to the roster pool and will be a representative for Orlando in the game.
The intrigue for Orlando, however, will come in the naming of the All-Star Saturday Night participants.
J.J. Redick has been snubbed out of the 3-point contest ever since he started getting more playing time. It was assumed he would get the home nod last year, but it went to Ryan Anderson who was among the league leaders in 3-pointers made, percentage and attempted. No one complained too much about Anderson getting the nod there.
Although Redick begrudgingly said he would still have won the contest, defeating Kevin Love who was last year's winner and will not be able to defend his title.
For those that have inquired- I was not asked to be in the 3pt contest.I would have been honored to participate.And I would have won it.

— JJ Redick (@JJRedick) February 24, 2012
This year, Redick certainly has a case. His role has expanded and he has become a bigger presence offensively. His name cachet — fans in Washington and Charlotte still boo him for his college exploits at Duke — still carries weight and would add some spice to the competition. Redick also claims he has never lost a shooting contest — despite Gilbert Arenas' attempts to beat him.
Statistically, Redick is shooting 39.9 percent from beyond the arc, but has seen his attempts bump up to a career-high 6.2 per game — a 51.2 percent increase from last year. Redick would be a good choice.
And adding spice to the competition will be the presence of the conference competition. Dwyane Wade will be captaining the East squad and he has supposedly already begun working to try and get LeBron James to throw his hat into the 3-point ring. James is not a pure shooter, it should be noted.
Nobody seems to know where Wade might go. But if he gets four picks the top 3-point shooters in the East by 3-point percentage are Kyle Korver (46.4 percent), Steve Novak (44.4 percent), Mike Dunleavy (44.0 percent) and Ersan Ilyasova (43.6 percent). Redick is way down on that list and Korver and Novak would be great contest participants if they wanted it.
Also on that list ahead of Redick from the East are All-Stars Kyrie Irving and Carmelo Anthony. They will be in Houston anyway and would add some star power to the event.
Despite the best efforts from #RedickForThree, Redick may be out of luck in cracking the competition. Unfortunately.
So let us move on to the Rising Stars Draft tonight. I am not sure who gets to pick first or how that is going to work. But let us consider how the draft might go:
| | | |
| --- | --- | --- |
| | Team 1 | Team 2 |
| 1 | Kyrie Irving | Damian Lillard |
| 2 | Bradley Beal | Kenneth Faried |
| 3 | Andre Drummond | Klay Thompson |
| 4 | Kemba Walker | Anthony Davis |
| 5 | Brandon Knight | Harrison Barnes |
| 6 | Chandler Parsons | Kawhi Leonard |
| 7 | Nikola Vucevic | Dion Waiters |
| 8 | Alexey Shved | Tristan Thompson |
| 9 | Tyler Zeller | Michael Kidd-Gilchrist* |
Above is how I see the draft possibly going down. Of course, it is probably impossible to predict what Charles Barkley or Shaquille O'Neal would do. I would suspect though that Vucevic will be drafted in the sixth or seventh round of the draft, possibly the eighth. Michael Kidd-Gilchrist almost certainly will be replaced because of the concussion he suffered last week.
In all likelihood, with the presence of solid big men like Kenneth Faried, Andre Drummond and Anthony Davis that Vucevic will not be starting in this game to help it maintain some of the name-power. Vucevic might very well be the best center in this game, but his name does not carry much weight. Unfortunately that might matter in the selections.
Either way, the trip to Houston for the All-Star Weekend and playing in the Rising Stars Game is a great reward for his fantastic half season.