Late Monday, Sports by Brooks reported that Stan Van Gundy would join Bill Simmons for an ESPN studio show based in Los Angeles during the NBA season.
A source tells Orlando Magic Daily that this report is "completely not true."
UPDATE: Van Gundy tells the Orlando Sentinel's Brian Schmitz that he is talking with ESPN but that nothing is final as of now.
This does not mean Stan Van Gundy will not be on TV at some point this season. A recurring appearance on ESPN's coverage seems pretty likely as Van Gundy's pure entertainment value will be too much for network executives to pass up. Van Gundy though may not be looking for anything full time and probably not with that kind of travel out to Los Angeles for the studio show.
Of course, that is subject to change. That is what I am told as of now.
Right now, Van Gundy is mostly working on a campaign in Seminole County to raise the millage rate in the county to support Seminole County schools. Helping the Seminole County community is something Van Gundy is very passionate about and he has established Lake Mary as his home. He is also spending significantly more time with his family (for real, this time at least).
That is not to say that Van Gundy will not be back coaching sometime in the future. And, again, it seems like Van Gundy is likely to be on TV in some capacity this season. From what I understand, Van Gundy has fielded offers for television appearances and potentially a book deal (what that book would entail is not entirely clear) but nothing is concrete.
That is the most important thing to say right now. Nothing is concrete in Van Gundy's media presence for the upcoming season.
It is not 100 percent certain what Van Gundy will be doing this basketball season. It certainly would not be a basketball season without him and I imagine he will not stay away from the NBA for long. He is too knowledgeable, too successful and, yes, too entertaining to keep off the air.
The question is will this be the only thing available to Van Gundy?
The reason many people like Stan Van Gundy is his brutal honesty. And that might be what actually ended up costing him his job… and maybe future jobs.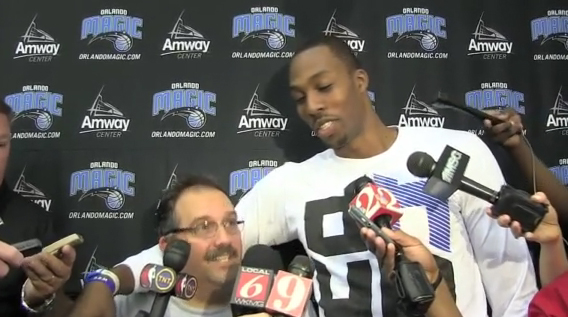 I linked to it earlier and talked about it on Twitter extensively, but Stan Van Gundy and Jeff Van Gundy gave a revealing and insightful discussion with Dan Le Batard on Grantland's podcast.
A good chunk of the conversation is spent on how Stan Van Gundy handled the Dwight Howard drama and specifically the infamous press conference when Van Gundy revealed that Howard had tried to get him fired at least at one point. Van Gundy said that he put a lot of thought into how he would handle the question about the rumors and decided he needed to be honest and "cut through the BS" for his locker room. He said a lot of players respected him for clearing the air publicly and trying to get the focus back to basketball. Dwight obviously didn't and Van Gundy said things never really played out because of Dwight's injury.
That is Van Gundy's side of the story, at least.
The one thing Van Gundy said that was very intriguing was how things have changed in the NBA. Part of that is the culture, part of that is the money the players are bringing in — at an incredibly young age too.
Van Gundy said coaches nowadays have to be both respected and liked to survive with superstars able to pull the strings like Howard ultimately was able to in Orlando. And Van Gundy, as the panel noted, was probably the first guy to push Dwight Howard and expose and pressure his flaws to make him better.
As his "brand" grew bigger, Howard seemed to get tired of the constant chirping for improvement and wanted to strike out on his own. Thus, some of the blowback against Van Gundy. That seems to be the theory that Van Gundy is pushing forward.
The interview is well worth your lsiten and Le Batard does a good job challenging Van Gundy some on his reasons for why things went down the way they did. It is, at least, Van Gundy's theory of what happened.
Someone will take a chance on Van Gundy because he is an incredible coach. But seeing how he and Shaquille O'Neal butted heads and now he and Dwight Howard butted heads, it will be interesting to see how he handles his next superstar player in his next job — a return to coaching seems relatively likely for a guy like Van Gundy, although that is not on his mind now as he seems happy to take the year off.
That year off may include some television time for Van Gundy. This is not the last we have heard from the former Magic coach.
Images: The Basketball Oracle, NBA.com