We are one day away from Media Day and the opening of Orlando Magic training camp.
It has been a long summer full of change and a whole ton of uncertainty. It is difficult to sift through everything. Now that training camp is starting, we can really begin to do that.
Josh Robbins of the Orlando Sentinel invited myself, Eddy Rivera of MagicBasketball.net, Andrew Melnick (now) of SBNation and Brian Serra of MagicBasketballOnline.com to begin sifting through this uncertain future and answer some of the most pressing questions for the Magic in training camp:
2. What's the most pressing issue the Magic have to address during the preseason?
Melnick: I don't think the Magic have addressed one of their biggest needs from last season: backup point guard. They brought Nelson back to be the starter and re-signed Ish Smith, but that clearly won't cut it. The Magic are bringing several other guards into training camp, but none of them are true ball-handlers.
Rivera: For a rebuilding team, I don't think there's issues to address in the short-term. I think there's goals to be set for the long-term. A few come to mind: (a) lose as much as possible (i.e. tanking) to accumulate high draft picks, (b) trade any expendable players for assets and (c) concentrate on player (and coach) development.
Rossman-Reich: The Magic will need to really buy into the team concept on both ends of the floor this preseason. Without Howard or a consistent offensive option, Orlando has lost the safety net to clean up mistakes on both ends of the floor. Defensively, the team will have to work together to cover each other and work harder individually. Offensively, the team needs to find a way to generate points consistently and work together to do so without that go-to scorer. This is the best bet for this team to find an identity. Otherwise it might just drift into the cellar.
Serra: Stability. This is a core group of players who spent their last two years in a pure state of chaos. Clearly established roles and a clear path forward for roster spots 1-15 will be pivotal to getting off to a competitive start. Winning breeds contentment, losing breeds contempt.
***
With the season fast approaching, the Magic are hitting the sponsor circuit to talk a bit about the season and what the future holds for the Magic. I will have some more thoughts on it later in the week, but have hinted at it in previous posts, the overwhelming response from Magic fans that I have talked to is relief and a sense of optimism moving forward.
Know that Rob Hennigan is feeling that too as he tells John Denton of OrlandoMagic.com:
When he's out to dinner or attending events such as the one Monday night at the Amway Center for corporate sponsors, Orlando Magic General Manager Rob Hennigan is regularly approached by fans willing to offer opinions on the changes the team has made the past four months.
And somewhat to Hennigan's surprise the reactions from Magic fans have been overwhelmingly positive about the new direction for the franchise. The sense that Hennigan has gotten is that the fan base is excited about a rebuilding effort that will center around acquiring selfless players who want to win and be in Orlando.
"I've been blown away by the support and the passion of our fans," Hennigan said. "Everybody that I've been fortunate enough to speak with has been excited about the new direction and has been enthusiastic about the changes and the new opportunities that they will create for us."
***
Another week, another Dwight Howard quote hinting at where things went wrong.
This is not so much about Dwight Howard any more, but about helping the franchise grow and improve. Someone has to shine a light on the failures. The blame goes both ways — to Dwight and to management. And so I found Dwight's latest comments to Joe McDonnell of FSWest slighlty more interesting than previous comments (even if they are still along the same message Howard has put out in the past):
"I just need a change for my life. I was going back and forth with the whole 'should I leave?' or 'what if I do leave and it doesn't happen the way I want it to?' It put Howard in a very difficult position, because he wanted to do the impossible—make everyone happy.
"I wanted to make the fans happy, this person happy, that person happy. Finally I realized that I needed a change for me.
"In Orlando, it was very comfortable, but I understand that there's more out there. I just had to go out and get it. Go earn it. I could have stayed and been happy, been comfortable with what I had, but as a basketball player I want my goals, meaning I want more.
"I want to be a champion and I want to be great, so I had to go out and get those things. Sometimes you have to leave things behind. You don't want to, but if you really want to get somewhere, you have to get out of your comfort zone to get there. It was very tough to do, especially at a young age, but I'm glad I got over that hump.
"It was a risk, but everything is a risk. If you're going to take a risk, take a big risk, because at the end there might be a very big reward. I always look at Walt Disney. He put everything he had into making (Steamboat Willie with Mickey Mouse), and it turned into Disneyland and Disneyworld. That's how I look at things."
There is a lot in that long quote from Howard. First, there is a sense that splitting up may have been inevitable (how it was handled aside). The relationship may have just run its course. Nothing wrong with that. Again, the break up was sitll awful and Howard relates how some of his actions and the reactions to it ended up really hurting him.
Also packed in there though is a sense that he felt the Magic coudl not deliver him a championship roster. Certainly the roster had been deconstructed to a really bad point. But judging on some of the other rumors, you wonder if there is not a little bit more. We may not know.
I swear at some point, we will all be able to move on.
***
There goes Dwight Howard talking about his move to Los Angeles again.
There is not a whole lot new in his ESPN Sunday Conversation with Ric Bucher of ESPN. Howard sticks to his normal lines about focusing on the future and letting the past be the past. Howard, it would seem, has come to turns with being persona non grata in Orlando. But what people thought of him did play into his decision in what Howard views as a negative way:
"That's one of the lessons that I learned, you know. I can't make everybody happy.
"And it was a tug of war between my feelings and the fans and everybody else and their feelings and what happened to LeBron. And I saw him — everybody hated him for leaving Cleveland and what he did. I never wanted anybody to hate me, you know. I wanted everybody to love me, you know, like me, for sticking around and doing what they wanted me to do. And making everybody else happy. And that was a valuable lesson for me, you know.
"I can't make everybody happy."
That feeling of being liked many suspected was why Howard played the yo-yo game with Magic emotions. He probably realizes now how much worse he made it. And he is right, it is time to move forward. So give the interview a listen if you want. It is not there to make you feel better as Magic fans.
***
These conversations, of course, inspired my own conversations with a few of you on Twitter, which I will get into a little bit later. Like us Magic fans, Suns fans are coming to grips with what their beloved superstar, Steve Nash, has done by going to the rival Lakers. Maybe the split was not as acrimonious (nowhere near it, Nash got a standing ovation in his final games while Dwight just disappeared without so much as a thank your or Go Magic message for fans during the Playoffs).
More than at any time, as Michael Schwartz of Valley of the Suns notes, we are just cheering for laundry:
When you strip sports down to the basics it all does seem a little ridiculous, but the reason we do care so much and root so vigorously for laundry is because it's fun. It's fun to watch your team through the years and all the accompanying ups and downs, from the thrilling come-from-behind wins to the heartbreaking defeats. It's fun to talk a little trash and to take real pride in your team's accomplishments even if you personally have nothing to do with them.
It's also fun to boo that flopper on your team's biggest rival and to make a ruckus in hopes of causing a missed free throw so that you can at least tell yourself that you made a contribution to your team's effort.
***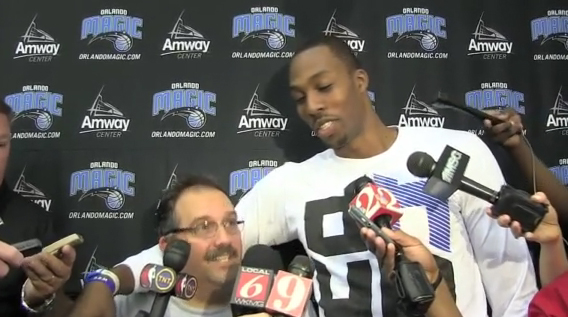 If you have not listened yet to the Grantland podcast featuring Stan and Jeff Van Gundy, you really should.
If you do not have an hour and a half to give it a listen, then I guess you can read the summary of what Van Gundy said that I wrote up for Crossover Chronicles:
At this point though, Van Gundy probably cared less about his job and more about clearing the air, solidifying some semblance of leadership and certainty and focusing on basketball. That was something the Magic had been unable to do throughout the season last year because of all the Dwight distractions.
Then with the Dwight distraction mostly gone thanks to his opting-in, Van Gundy seemed to be the focus of attention. He did not want to lose that locker room. Van Gundy said by clearing the air and cutting through the "BS" and focusing on the team and the task at hand.
***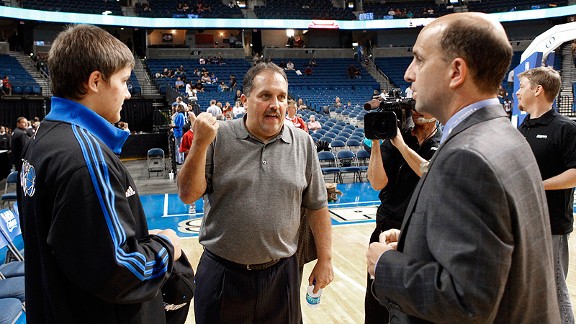 Grantland's Dan Le Batard had an insightful and revealing interview with Jeff Van Gundy and Stan Van Gundy. The discussion ranges from the changing role of the media in portraying and reporting news, to that infamous press conference, to the culture in the NBA.
As always, Stan and Jeff Van Gundy are very perceptive and very honest in their opinions on all these topics. Well worth your listen.
***
Dwight Howard took out an ad in the Orlando Sentinel's sports page Sunday. Here it is in its entirety (h/t Josh Robbins of the Orlando Sentinel):