Tonight, Ryan Anderson makes his one, and only, appearance at Amway Center this season. After three stunningly efficient seasons it seemed like a slam dunk that Ryan Anderson would return to Orlando as a free agent. It seemed like the Magic would match any offer teams made on him.
That turned out not to be the case. New general manager Rob Hennigan took a calculated risk in declining to match New Orleans' offer.
So now that Anderson is returning, the emotions may run a little high for Orlando's former sharpshooter as Josh Robbins of the Orlando Sentinel writes:
'Some people have the crazy idea that I wanted the trade and I wanted out of there, and that's not necessarily how it went down,' Anderson said from Louisiana in a phone interview. 'It's a game, and I understand it and I am glad that I'm here. But I just want people to know that I wasn't turning my back on the team or anything.

'The thing is,' he added, 'Orlando didn't even make a move at me. So it was a situation where every other team we spoke with thought that Orlando was going to match, and the only team that was willing to take that risk was New Orleans. It was just a real different situation.'

The Magic (12-15) don't regret their decision. Neither do the Hornets (5-22). And Anderson expresses no bitterness toward the franchise that developed him over three seasons.
I expect a pretty warm ovation for Anderson when he is introduced tonight. It will at least bea warm homecoming.
***
The Magic might have lost their superstar in Dwight Howard and they might no longer be selling out the Amway Center anymore (and attendance numbers have dipped below 17,000 for the first time in the building's three-year history). But, surprisingly, the stadium is still relatively full on average.
As Brian Serra of Magic Basketball Online reports, the Magic are still in the middle of the pack in the league coming in at 15th in the league in attendance and filling their stadium to 92.3 percent of its capacity.
The Magic are sitting in the middle of the pack among NBA franchises in total attendance this year, but are still filling the building at an impressive 92.3 percentage. The building(s) hasn't been that empty since Dwight Howard's second year in the league. And look at how bad it was in the 2003-04 season in which the Magic ended up with the #1 overall pick they'd use on Dwight, 83.3%!

The numbers certainly are not showing a fan base that has bottomed out after the loss of another superstar. Fans may be coming for the social activity more than the basketball, but they are still coming. After all, as long as dollars are coming through those doors, the DeVos family motivation will remain to field a winner.
***
J.J. Redick is getting a lot of attention because of his potential trade value and his superb play on the floor.
So let's talk about an intangible — his leadership and professional.
As much as anything, these qualities have endeared him to fans and have been a big part of his growth from a disgruntled young player requesting a trade only two or three seasons into his career to feeling completely at home in Orlando.
James Herbert of Hardwood Paroxysm spoke to J.J. Redick before Friday's game against Toronto and discovered the key to Redick's transformation as a team leader and player:
While Redick once was a shooting specialist, he's now an all-around threat. As well as averaging a career-high 14 points per game this season, he's averaging 4.9 assists, just about double what he did last year. Without superstar Dwight Howard in town, his usage rate has jumped to 21.5 percent. In order to earn minutes in his early years, the younger Redick had to add muscle without sacrificing speed. He needed to find his place in the offense and prove his worth on defense, chasing shooters around the screens he uses so well. The work he put in to be able to play the role ex-head coach Stan Van Gundy demanded of him has allowed him to step into a bigger one for new head coach Jacque Vaughn.

'J.J.'s just consistent with his approach to the game,' said Orlando guard Arron Afflalo. 'Beyond what you see in the game, he has a great work ethic. He takes care of his body. He's constantly training his mind and his body to perform at a high level, so I commend his steadiness and his consistency with maintaining what he's done to help himself improve, especially doing it all in a Magic uniform.'
***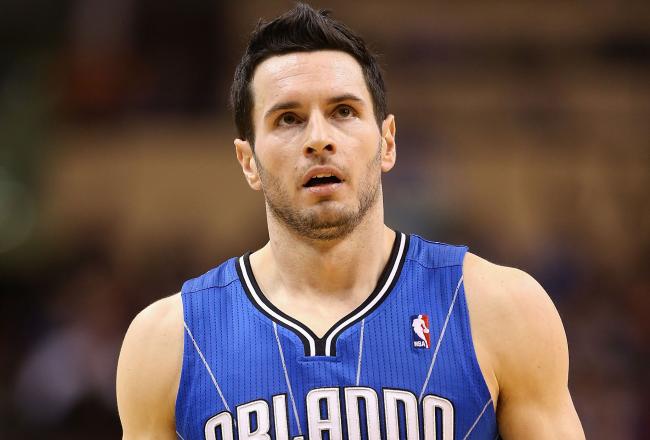 J.J. Redick is the Magic's most trade-able asset. On an expiring deal worth about $6 million and playing one of the best seasons of his career, he could help a Playoff team a whole bunch.
The problem is Magic fans absolutely love Redick and Redick loves Orlando. But, as Redick told the David Baumann Show this morning, it is a business and he is sort of at the whims of the trade winds:
First of all, I don't think that I'm eligible to get an extension right now because I'm on a 3-year deal, so in terms of re-signing and locking up now, that's not a possibility, so there's hasn't been talk there. Rob (Hennigan) and I talked back in August and Rob knows my agent (Arn Tellum) fairly well so I don't think I'll be blindsided by any trade. The trade story that came out the other day that was on HOOPSHYPE was more of a non-story than anything else, so I wasn't too frazzled by that or anything.
Brian Schmitz of the Orlando Sentinel is firmly in the don't trade camp. He believes Redick — for all the love and adoration for him and his play on the court — is someone the Magic should make part of the the franchise's future.
Forget about him being a fan favorite. He's become much more than that.

The Magic need to re-sign J.J. this summer because he's earned it, period.

He's become one of the league's best bench players, and yes, the club can afford two $6 million-dollar shooting guards, speaking of Arron Afflalo.

The only way you think about dealing Redick is if a team agrees to take on a pricey, lengthy contract, say Big Baby's. It would be a tough call for Hennigan.

Still, the bottom line to me: Redick makes his teammates and his community better. If the Magic trade J.J., they are going against everything they want their post-Dwight culture to be about.
We will see what the future holds for Redick.
***
This season is quickly becoming about the development of players — both rookie and veteran. For Glen Davis, it was always about developing as a leader and a go-to player. It was a challenge he wanted and accepted.
Generally, things have gone well for Davis. There have been hiccups on the road, but Monday was a sign that Davis is not letting his past habits and frustrations affect his duty as a leader.
Monday, after receiving a technical foul out of frustration with his play, Davis turned in a superb second half that enabled the Magic to come back and win. Josh Robbins of the Orlando Sentinel writes Glen Davis is growing up:
"Big Baby" appears to be growing up.

Glen Davis did something Monday night that his basketball coaches and teammates have wanted him to do for years. Instead of allowing his own frustration to spin him out of control, he channeled his negative emotions in a positive direction.

After a first half in which he was outplayed by All-Star Kevin Love and he committed a technical foul, Davis played almost flawlessly and helped lead the Orlando Magic to a comeback win over the Minnesota Timberwolves.

'I can't be up-and-down,' Davis said Tuesday.

'I have to be one way the whole time because people are watching me. It's easy to not do as much when nobody's really paying attention to you. But when everybody's paying attention to everything you do and everything you say, and you want to be a part of the team and you're in that position, you do whatever it takes.'
Davis' continued maturation will continue to be a story for the Magic this year.
***
A very heart-warming story this weekend, one that has only an ancillary connection to the Magic.
Stanley Roberts has been the butt of many jokes throughout his career. His one year with the Magic was far from fulfilling expectations and he was eventually moved on to make room for his college teammate, Shaquille O'Neal.
Roberts though has really accomplished something astonishing. After the NBA dream died, derailed by his ballooning weight and drug issues, Roberts graduated from LSU on Friday. Jim Kleinpeter of The New Orleans Times Picayune explains the story:
Basketball always came easy for the physically gifted and affable Roberts, who truly fits the never-met-a-stranger label. But the five-year challenge to get his sheepskin was fraught with obstacles, expected and unimaginable, and now comes to a conclusion with his degree in sports administration.

Roberts didn't just pick up where he left off from his college career, which ended in 1990. He started over at academic ground zero in 2007 and — with the help of his friends and his former school — fought through financial limitations, a learning disability, helping support four children and ultimately triple-bypass heart surgery four months ago, which required him to remain bed-ridden for the first four weeks of his final semester.
Congratulations Stanley from your Magic family in Orlando.
***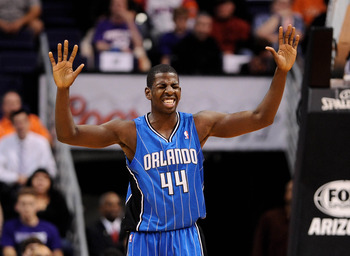 Andrew Nicholson has been a steady contributor for the Magic in the first 20 games of the season and has made Rob Henningan look pretty smart for taking the four-year forward from St. Bonaventure.
As Brian Schmitz of the Orlando Sentinel reveals, Nicholson has always been a bit understated. But he has always talked big on the court — like that career-high 16-point performance at Phoenix last weekend:
A man of few words or syllables, Magic rookie Andrew Nicholson really does let his game do the talking.

And it is being rather chatty this season.

In fact, his game won't shut up. It was downright loquacious against the Phoenix Suns (19 points, nine rebounds) on Sunday, effusive against the Detroit Pistons (14 points) and blabby against the Minnesota Timberwolves (11 points, five rebounds).

It is getting louder by the basket.
Yes, Nicholson does have a personality, as you know if you follow him on Twitter. But he does not ever seem to give himself much credit or glory. He has taken the word "professional" to heart and ducks his head and does his work.
It has been a good start for the rookie.
***
The Magic are 24 years old this year. Nearing on the quarter-century mark of existence, the fan base has developed. Fans have grown up with the team and had the Magic for their entire lifetimes (I have, at least and have never known Orlando without the Magic as part of its identity).
Before I started writing, I was a kid whose family had season tickets and followed the Magic with an obsession that was probably a bit unhealthy — thank goodness blogging came into existence.
The Magic family lost a very valued member and fan. As Mike Bianchi of the Orlando Sentinel relates, the Magic became more than a team to Mike Janeczek and his family:
And the Magic were a part of that family. Little Mike was in middle school and grew from a teen-ager to a grown man in the old Amway Arena. Karen was just 6 during that first season, and originally Dad didn't buy her a season ticket. He thought she'd be bored and the ticket would be a waste of money. But after he took her to one game, she was hooked.

'He bought me my own ticket by the end of that first season," Karen remembers. "And I was so proud.'

She's 30 now, and the Magic memories tearfully come flooding back in the wake of her father's death a few days ago. The memories are not about what happened on the court but about just spending time with her dad at the games and watching him express his love and loyalty for his family, his team and his town.

In 23 years, he missed only eight home games and that was usually when he couldn't get off work in time. It seemed nobody at the arena was a stranger to Mike. He was on a first-name basis with the fans around him, the ushers, the concessionaires, the security officers.
Janesczek passed away earlier this month. One of his last moments was listening to that cathartic win over the Lakers on the radio while he was in the hospital. Hopefully, Janesczek still gets to watch his Magic wherever he is.
***
Jameer Nelson still has a shiner over his eye from a head butt he took from Mo Williams Wednesday. Nelson is a boxing fan and so the battle scar is something he is used to seeing, if not experiencing.
The injury did lead to this little exchange, according to Josh Robbins of the Orlando Sentinel:
Nelson experienced a bit of blurry vision immediately after he absorbed the shot from Williams — so much so that he had some trouble finding the Magic's lead assistant coach, James Borrego, near the Magic bench.

'J.B., where are you?' Nelson asked.

Coach Jacque Vaughn happened to be standing nearby and thought Nelson was joking.

'You need a standing eight count?' Vaughn asked. 'Let me see your gloves.'

Vaughn then grabbed each of Nelson's arms to check if Nelson could hold his arms up — just like a referee would with a wobbly boxer.
Contrary to popular reports, Jacque Vaughn does have a sense of humor.
***
The Magic have gotten off to a surprising 7-12 start and many people around the nation are taking notice of the effort and hard work the team is putting in, projecting a somewhat rosier picture for the team at the 20-game mark.
Marc Stein of ESPN.com gathered his experts and scouts for a review of some of the early storylines this season. The Magic did come up:
Jacque Vaughn is already a good coach. His guys play hard all the time and he should get a lot of credit. Everyone is surprised because of their roster and their injuries, but this guy is a leader.

'There are some technical things you can question, but that's to be expected because this is the first time he's going through it. He really wasn't even on the front row of the Spurs' bench (before Orlando hired him), but you see a lot of Pop (Gregg Popovich) in him. I haven't seen him rip into players like Pop does, but his presence and calm … having been with Pop and Jerry Sloan (before that) was great schooling for him.

'Managing players and personnel is No. 1 for a coach today. Xs and Os is No. 2. And he's a leader.
Indeed, Stein echoed the praise for Vaughn and made the claim that the Magic may have won the Howard deal… so far.
***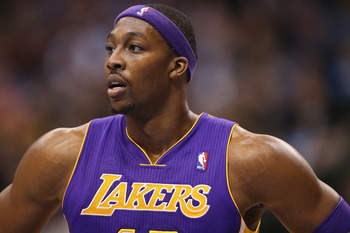 Tonight, the Magic will face Dwight Howard for the first time. A tumultuous year of questions and indecision will not be remedied or rectified in this one meeting. Apologies and forgiveness will not be handed out.
At this point, all the parties are more interested in moving on.
Dwight Howard is moving on, recognizing that he made some mistakes, although perhaps not realizing fully what he put himself, his image, the fans and the franchise through, and getting on with the task of winning for his new team. That is all you can ask for a player.
Orlando still has questions though. Josh Robbins of the Orlando Sentinel was in Los Angeles on Friday ahead of the Magic to begin piecing together what this first rematch means and where the Dwight-mare finally ended:
Not even the upcoming game Sunday night against the Orlando Magic can displace that grin.

'Everything in L.A. has been great for me: the fans, the team, the players,' he said.

'I had eight great years in Orlando, but this is a great situation for me to accomplish all the things that I want to accomplish as a player and as an individual. So there's no need to be ashamed that I made a move for my life. Everybody's not going to understand it, but, at the same time, I only have one life. Nobody was there but my mom and dad when I was born, and nobody will be there when I die. So if they don't like my decision, that's fine.'

Howard has found refuge in Southern California.
'I think it was a tough year for him, the whole year," said Lakers point guard Chris Duhon, who was sent with Howard and Earl Clark to Los Angeles in a 12-player blockbuster trade Aug. 10.

'He's even sillier now than he has been in the two years I had been with him in Orlando,' Duhon added. "You can just tell that it's like a weight off of his shoulders and he's moved on and he's onto the next page, the next chapter in his career.'
This will be an interesting game for what happens on the court as much as off it.