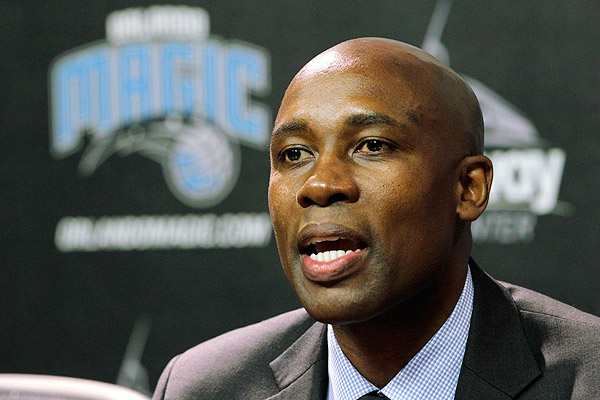 The puzzle pieces are falling into place.
Thursday the Orlando Magic and Jacque Vaughn officially announced his coaching staff. As expected, James Borrego, Wes Unseld, Jr. and Brett Gunning were named assistant coaches. In addition, Laron Profit and Luke Stuckey were added in player development roles. Gordon Chiesa was named special consultant to the head coach.
This is a very young coaching staff that is a little green when it comes to experience. But it is a coaching staff that has an emphasis in player development, if the two coaches who have a specific focus in that area denotes.
The three main assistants, as I noted last week, all have backgrounds in scouting and player development. Unseld started his career as an advance scout for the Wizards in 1997 and was promoted to an assistant coaching position. He spent last year in Golden State with Mark Jackson. Brett Gunning was Houston's director of player development before joining the coaching staff last year. And James Borrego is part of the Spurs family, having started with them as a video coordinator.
All three have plenty of player development and scouting experience. Undoubtedly that will be important as Orlando moves through its next phase of development and unearths the process Rob Hennigan wants to create.
"Each coach brings a unique skill set to the staff," Jacque Vaughn said. "Collectively, this staff possesses a diverse basketball background. We are truly fortunate that these men have decided to join our Magic family."
The Magic also added Laron Profit. Profit was originally drafted by the Magic in the second round of the 1999 NBA Draft but was traded to the Wizards before the season began and never suited up for the Magic. Profit played in 135 games in four seasons, playing his last NBA game in 2006. He retired in 2010 after playing in Turkey and Puerto Rico. This is his first position on a coaching staff.
Stuckey is also making his first foray into the NBA. Stuckey spent the last four years as the head coach of San Dieguito Academy in Encitas, Calif. Stuckey's Mustangs went 14-13 last year but he projected to Jay Paris of the North County Times that they should be a top-10 team in their Division next year.
Both Stuckey and Profit are new to the NBA coaching game. There will be a lot of learning from them in the coming year. It is looking like the whole year will be a general learning experience for the team as a whole.
Chiesa does have some experience in his new position. Chiesa spent 16 years as an assistant coach with Utah from 1990-2005. Last year he was a consultant for the D-League. Chiesa is going to add some much-needed experience to the staff and, hopefully, help guide and teach Vaughn how to navigate through the perilous 82-game season. There is a lot for everyone on the roster and coaching staff to learn.
This will be a learning process. The coaching staff is learning as much as the players.
The key to this staff, and the judge for its success, at least in the short term, is how well players develop. That is the focus of this staff and of this team for the next few years. The coaches seemed qualified to provide that instruction and development. That is clearly the focus now.
Image: John Raoux/AP Photo