Believe it or not, we are less than one month away from the first Magic preseason game. Orlando will open training camp on October 1 and open the preseason in Mexico City against New Orleans on October 7. So how will we get ready? By counting down to the beginning of the season on November 2 against Denver. Let's continue: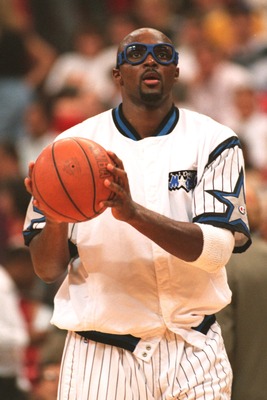 54? That could only mean one player in Magic history.
The Magic signed Horace Grant on September 14, 1994 (dang five days from now, would have been another good day for Grant talk) to be an enforcer along side Shaquille O'Neal. He was a gritty defender, a strong rebounder and was a solid jump shooter. The shot from the top of the key was the Horace Grant shot.
Grant though had one thing the 1995 Magic desperately needed — championship experience.
Orlando was too young to know what it was getting itself into at the top of the Eastern Conference. The Magic were just coming off their first ever Playoff appearance. They hadn ot even won a playoff game. In 1995, Orlando was the top team in the East and went to the NBA Finals. It was quite a big jump.
Shaquille O'Neal, Anfernee Hardaway and Nick Anderson deserve a ton of the credit for getting Orlando there. So too does Grant, whose leadership was probably invaluable that first season. The emotional Game Six win in Chicago was done without Grant after he suffered a minor injury, but his presence was certainly felt from the bench as he gave Brian Hill the go-ahead to stick with the unit on the floor in the come-from-behind series clincher.
Grant averaged 12.7 points per game and 9.6 rebounds per game that first year in Orlando, posting a 16.9 PER in the process. He would go on to play seven seasons in Orlando from 1995-1999 and a two-year stint (well really just one after he and Doc Rivers had a falling out) from 2002-03.
Horace Grant had us excited for the future of the Magic and taught us… It's Got to be the Goggles!
54 more days!
Recapping the Countdown:
55: Laron Profit, or how we got Jameer Nelson.
Image: Andy Lyons/Getty Images