Today is July 11, 2011.
On this date 15 years ago, while basketball fans around the world remained captivated in the moment by Jordan, Shaq, Ewing, and Barkley, the future face of the NBA was actually cemented on this very date.
One decision proved to be a move of glory for one NBA franchise and a corresponding move of long-lasting infamy for another.
On July 11, 1996, George Shinn and his Charlotte Hornets pulled the trigger on a trade that sent Charlotte's 13th overall draft pick, Kobe Bryant, to the Los Angeles Lakers in exchange for center Vlade Divac.
Oops.
To repeat, Kobe Bryant was drafted by the Charlotte Hornets in 1996. Just imagine what could have been in the Queen City….
Yes, Orlando Magic General Manager Otis Smith has been questioned on various occasions for his trade decisions in recent years, but in hindsight, its tough to top a massive trade blunder that shipped out a guy like Kobe Bryant.
In a draft touted by many to be one of the highest quality drafts in NBA history, Kobe fell to the #13 spot for Charlotte's choosing. However, at the time, the Hornets were more focused on remedying their desperate need for a legitimate center to anchor the team after trading Alonzo Mourning to Miami. When Kobe Bryant was still available in the draft, Charlotte management took him, yet soon after turned their attention westward for the prospect of acquiring Vlade Divac, a player and contract the Lakers were looking to unload with hopes of later luring Shaquille O'Neal.
At first glance at the time, the deal actually seemed like a win/win situation for both the Hornets and Lakers. Charlotte got the proven, quality center it needed, and Los Angeles cleared salary space for the potential (and eventual) free agent pickup of O'Neal later that year.
Oh yeah, and the Lakers got a 17 year old, straight-outta high school kid with no proven experience. Sounds less appealing, but Kobe was simply the "icing on the summer-acquisition cake" for the Lakers as John Delong of the Winston-Salem Journal summed-up a few years ago. Clearing space was the key, and whether Bryant evolved into a star or a dud was really a moot point for Jerry West's Lakers. West was just looking to get rid of a big contract, and various other teams were in talks in Los Angeles to move Divac.
Well, in retrospect, this has to be one of the most successful efforts to clear cap space in NBA history. Not only did the Lakers manage to pull in O'Neal a year later, Kobe Bryant, the mere "icing" of the 1996 trade deal, obviously catapulted to NBA stardom and helped to etch a new era of Laker dominance in professional sports history.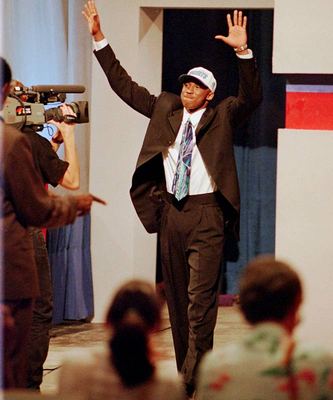 With Bryant as ringleader for 15 seasons, the Lakers won five titles and Bryant was a two-time NBA Finals MVP, NBA MVP in 2008, 13-time All-Star, and an Olympic gold medal winner.
For a move that some Lakers fans initially criticized, it surely worked out very well for the Los Angeles Lakers. In 1996, although a big concensus agreed that Kobe Bryant was a good basketball player, Lakers fans had trouble seeing Jerry West's vision. Understandably, West was criticized for taking such a bold move on an unproven guy. Skepticism was definitely heard in LA about an even trade of a good starting center for a 17 year old high schooler.
Perhaps Jerry West could foresee Bryant's bubbling-over potential to be a NBA superstar, or maybe Jerry West was just plain lucky.
Regardless, the Divac-Bryant trade ended up being one of the biggest steals to ever occur in pro sports, with Los Angeles enjoying all the spoils of a decade and a half of an all-star in purple and gold.
As for the Charlotte Hornets, the last 15 years have had far fewer spoils.
Actually, the acquisition of Divac was rather fruitful for the Hornets. During his three seasons in Charlotte, the Hornets remained Eastern Conference contenders every season, including a 54-28 mark in Divac's first year. Although Charlotte routinely struggled come playoff time, the Hornets did not really have any immediate negative effects from the 1996 trade.
The trade did not necessarily hurt the Hornets, but it definitely gave away their golden opportunity to become continuously great year after year.
The Hornets were a good team, even up until their final season in Charlotte. From 1996 to 2002, the team never finished below .500, quite a commendable feat considering Charlotte's revolving door of a roster during those years. However, the Hornets simply could never get to the next level of prominence to become an elite NBA franchise, and one has to assume that Kobe Bryant would have been the final link to help pull the Hornets to greatness. Could the Charlotte Hornets have been mentioned in the same company as the elite Spurs and Bulls teams of the 1990′s and 2000′s? A 13-time all-star surely could have helped.
Fast forward 15 years, and the fact the Hornets now call New Orleans home is largely a result of owner George Shinn's unwillingness in 2002 to compromise about funding for a new arena in Charlotte. Who knows – by 2002, it is completely reasonable to assume that the Hornets could have won a title or two with Kobe, especially since the Eastern Conference was exceptionally weak during those years. Perhaps a team with Kobe Bryant at guard would have sweetened the pot to get a deal done to keep the Hornets in the Queen City? NBA championships speak volumes.
Yet, still today, some say that Kobe only became a huge superstar because of his supporting cast with the Lakers over the years, playing with the likes of Shaq, Pau Gasol, Lamar Odom, Andrew Bynum, Derek Fisher, and Robert Horry.
Yet, I argue that Kobe Bryant, much like Jordan, has had such unique skill and power to play at such an elite level that the name across the front of his jersey would not have mattered all that much with regards to success. Bryant has proven that he is such a great all around player that I believe he could have made almost any NBA team a champion.
Yes, even the Charlotte Hornets.
Looking back to July 11, 1996, its impressive how one single trade blazed the path for the future of the NBA.
Photos property of NBA Draft Insider, BleacherReport, and CommonRed.com