As the NBA continues to cruise along in lockout mode, NBATV has been whetting the diehard basketball fan's appetite with throwback games from the past, bringing back to life to the greatest moments in NBA history.
In recent days, matchups like the 1977 Philly-Portland Finals and the 1987 Magic Johnson-Larry Bird Finals faceoff have been aired, showing today's basketball fans a look at the evolution of the NBA.  The throwback games highlight when basketball was played without a three-point line, guys more often took the lay-up instead of the highlight reel dunk, and players rocked a vast array of time-specific fashion and style choices with on-court apparel.
Short-shorts and Chuck Taylors, any one?
Looking back, its interesting to see how some of the current-day 'looks' of various NBA teams were actually cemented over 40 years ago.  For example, with a slight difference here and there, the classic Laker purple and gold jersey of the 1970s is still rocked today by Kobe.  Bill Russell's uniform of the 1960′s is pretty much identical to the one worn by Paul Pierce and crew today, granted with a few more inches on the shorts (thankfully).
However, even though decades worth of basketball has developed some very solid, classic 'looks,' NBA history is also chock full of "what-the-heck-were-they-thinking."
In an ongoing effort to make the proverbial " fashion statement," some teams proved to have been a bit too heavy-handed with creativity when designing new jerseys.  Sometimes a new uniform gives a team a fresh, updated look, much like the new pinstriped duds gave the Magic a modern flair while still paying homage to the team's early '90s uniform.  Yet, sometimes a jersey design just comes off as tacky and, thanks to sources like NBATV and the World Wide Web, such ridiculous uniform fashion statements live on forever.
For sure, many uniforms could qualify to be the Association's most "creative" ensembles, including the teal Pistons jersey of the Grant Hill days and the 1996 Bucks jersey, complete with a huge green deer head.
Yet, below, I rank what I believe are the three craziest uniforms in NBA history.  They are quite laughable and incredibly tacky, and all three have (understandably) long since been retired and replaced with a fresher set of duds.
Regardless, I still appreciate the effort to be unique.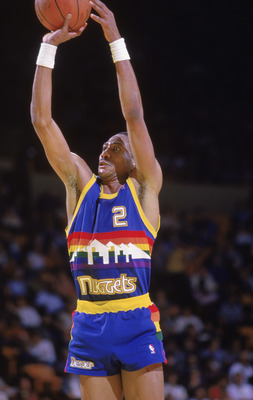 #3 – Denver Nuggets (1982-1993)
Nothing says "Denver" or "Nuggets" like a rainbowed mash-up of Legos/Tetris, huh?  This jersey is the definition of awesomely tacky, and is probably one of the most famous of the "bad jerseys."  With the crazy colors and geometric tetris shapes, this ensemble definitely has a distinct '80s look.  Most amazing is that, while other teams with bizarre uniforms tend to redesign their look after a handful of years, the Nuggets actually suited up with this uniform for over a decade, in all of its technicolor glory.
While the fashion of this uniform has definitely fallen out of style, and even though the bold jersey doesn't really have anything to do with gold or mountains, I can appreciate the rainbow lego look.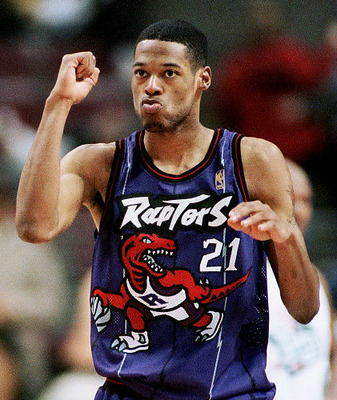 #2 – Toronto Raptors (1995-1999)
Draw a huge dinosaur, throw a jersey and shoes on him, surround him with ransom-note letters and jagged pinstripes, and put it all on a professional basketball team's official uniform.  Oh, and why not…make it all purple.  The result?  A mish-mosh of over-the-top design that is incredibly cartoonish.  Actually, come to think of it, this jersey would have actually been better suited as the uniform for the Mon-Stars in the popular '90s animated movie, "Space Jam."  
I don't particularly hate this jersey.  For a team that was essentially named after a blockbuster movie, why not be a bit dramatic with the uniform.  But, the anthropomorphic dinosaur doesn't exactly scream NBA champion.  Seeing this Raptor squad, adorned with a cartoon dinosaur on its chest, hoist up the Larry O'Brien trophy just would have looked pretty goofy. 
#1 – New Jersey Nets (1990-1991)
Basketball fans, I present to you the sultans of swagger, the New Jersey Nets of the early 1990s.  How could Nets basketball not be played with swagger when taking the court in this whopper of a uniform?
I am not sure if this look was an alternate or main uniform, but of all of the NBA jerseys to ever rock the hardwood, I argue that the red, white, and blue tie-dye uni of the 1990-1991 Nets is by far the tackiest of them all.  There aren't too many photos online of the Nets in this uniform, perhaps because the 1990-91 Nets team wasn't exactly memorable with its 26 win season.  But, there are enough images, including this glimpse of Drazen Petrovic, to see that the Nets rocked one heckuva tacky uniform. In fact, you know it was an embarrassing jersey when the Nets don't even acknowledge the existence of this tie-dyed gem on the team's website.
When the Nets move over to Brooklyn, it is safe to assume that a Nets "Hardwood Classic" game to celebrate the team's history would not include this colorful uniform.